Managing a remote team may be difficult, especially in keeping your staff motivated and engaged. Motivating remote employees is an essential component of managing a remote team. Most of the workforce consists of workers who work at least some time from home. Thus, managers need to know how to inspire their remote staff. 
How to keep your teams motivated? Top ways to follow:
Almost every organization nowadays has some remote work arrangement. Many will be venturing into uncharted regions. Remote workers provide unique problems. They also bring many advantages to a company. Managers can keep their remote workers engaged and motivated. They do so by implementing the correct tools and methods.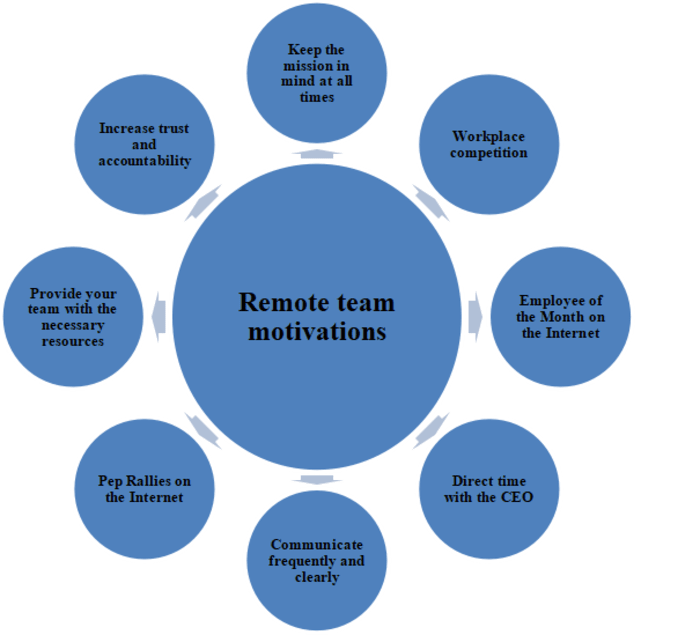 Keep the mission & vision in mind at all times:
If your staff understands why they are working on your project, they will be more motivated. This involves offering an appealing proposal for the work. 
How will your organization make an impact on the world? 

Why is everyone's work important? 
It appears simple enough. Yet when going remote, it is possible to overlook this essential mission-oriented communication. When you don't see your staff in the office, you miss out on concrete, human-to-human suggestions. This is something you share only sometimes and then forget about. It takes frequent communication to ensure the unity of your team behind the mission.
Workplace competition:
Workplace competitions are one of the most traditional methods of motivating a team. Friendly competition inspires hard effort and innovation. Furthermore, having an audience encourages players to achieve. Workplace competitions involve many things. Like onboarding new clients, closing the highest-value sale, or doubling creative production. Remote workplace competitions can help work-from-home employees feel more connected to the firm. Not to mention, contests can help you avoid a work-from-home slump. Virtual work competitions include virtual office Olympics, online hackathons, and remote referral races. Moreover, prizes such as digital gift cards or complimentary meals encourage participants.
Employee of the Month on the Internet:
Employee of the Month is a tried-and-true method of motivating staff. An employee of the month program shows employees that the organization recognizes team members. Every month, the organization recognizes a team member for achievements. These honors are less common in virtual teams than in typical office environments. Yet, you can and should realize outstanding employees remotely, especially if virtual work could be more evident to coworkers. You can announce a work-from-home employee of the month in various methods, such as an internal email, blog, social media post, or during an online awards event. You can also combine the honor with a fun reward, such as allowing the team member to design a page on the company website or selecting a fun incentive for the team.
Direct time with the CEO:
CEOs have tight schedules and rarely have time to meet with staff one-on-one. In remote workplaces, run-ins with upper management are rarer. Team members may need to see or hear from their peers or the company's CEO. Having personal time with the boss is both an honor and a treat. You can motivate staff to achieve goals by rewarding them with time with the CEO. These sessions could be brainstorming sessions or a casual video chat. These one-on-one meetings provide networking opportunities and make employees feel acknowledged and valued. 
Communicate frequently and clearly:
Communication is essential for every successful team. It is more important for remote teams. You must express your expectations, goals, feedback, and recognition consistently. To communicate and collaborate, use a variety of channels and tools, such as video conferencing, instant messaging, email, and project management software. Avoid overburdening your staff with too many communications or meetings. Create a communication rhythm that works for your team. You should also respect their time zones and preferences.
Pep Rallies on the Internet:
It is the most enjoyable way to motivate employees remotely. Virtual offices frequently need more energy than more traditional workplaces. Employees who work from home are often alone for most of the day, and Zoom fatigue can set in. Remote pep rallies allow team members to get together. It will enable them to let off steam and exhibit business pride. These meetings serve no purpose other than to bring employees together. You can schedule a weekly meeting on Monday morning to kick off the week on a high note. You can also plan to celebrate the week's success on Wednesday afternoon or at the end of the day on Friday. Send a Zoom link to all colleagues then; once everyone has arrived at the meeting, let go of the energy. Here are a few suggestions:
Play lively music such as Survivor's "Eye of the Tiger."

Have a dance party. 

Chant a team cheer. 

Applaud each other. 

Dress up in company swag or hilarious outfits.

Make use of video filters and special effects.

Exchange compliments

Perform karaoke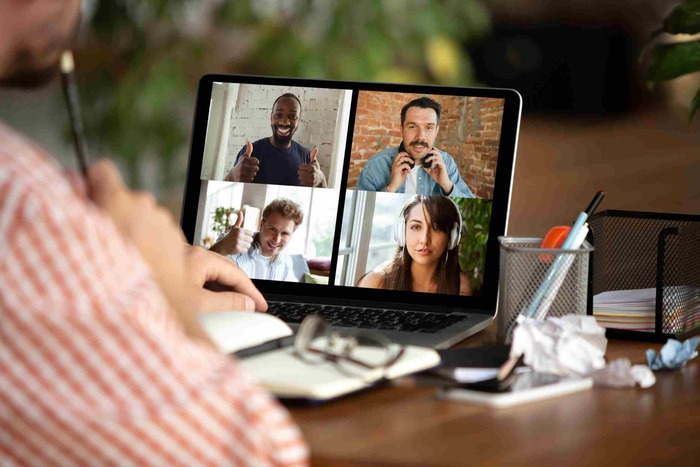 Provide your team with the necessary resources:
Tools can help your remote staff feel more connected and connected. Each team member must have access to tools. Here are five critical tools for remote teams:
Slack:

This messaging tool lets you communicate with your team in real-time. It sends messages, shares files, and collaborates on projects.

Google Drive:

Google's cloud storage solution allows teams to store and edit documents with their team members.

GitHub:

If you're working on code, GitHub is an excellent tool for storing it in the cloud.

Trello:

It helps you organize tasks and projects. It allows you to build boards and assign cards to team members. It's simple to use and offers excellent mobile apps.

Asana:

Keeping track of project tasks assigned to specific people or teams.
‍Increase trust and accountability:
For remote teams to perform effectively and efficiently, you need trust. You must trust your team members to complete their tasks without micromanaging them. They must trust you to support them and provide them with the necessary tools and direction. You must set clear and realistic expectations and check progress and results. You must also provide constructive and timely feedback to build trust and responsibility. Provide your team members the authority to make decisions and share their thoughts. Encourage them to disclose any difficulties they are experiencing. Also, provide your help and advice.
Note: Apart from the team motivation, the team's responsible for managing their accounts effectively. However, when discussing money management, the best thing is to use paystub creator; many platforms can help in this regard.  
Conclusion:
Working from home needs a great deal of self-discipline and motivation. Regardless, remote managers must keep their personnel on track and engaged. Telecommuters are easily sidetracked or disengaged. Careful supervisors can keep remote team members from becoming burnt out or distracted. Clever remote incentive strategies allow employees to look forward to going to work every day. Increasing motivation within your remote staff is vital for your firm's success. Although it is different when it is virtual, your staff will benefit from a motivation boost from time to time. And as a dedicated team leader, you can do so in various ways. You may set clear objectives, provide feedback, plan team-building activities, etc. The goal is to recognize their efforts and their growth.