What is affiliate marketing?
Affiliate marketing is a business model where publishers earn commissions to promote a given product or service. The publisher, i.e. the promoter, gets paid based on the delivered result of their activities. This result is usually a sale, but it can also mean that an affiliate program rewards you for acquiring a customer, making a deposit on the investment platform, or downloading the application by the customer.
How to promote affiliate programs?
As you already know, affiliate marketing is all about recommending a product or service, but how to do that? There are many solutions, including:
Social media,

Own website/blog,

Ads on Facebook/Google,

Internet forums,

Streaming platforms.
You can promote virtually anywhere you think there are potential recipients. The publisher, i.e. you, earns money each time someone makes a purchase or performs any other action that the advertiser wants in a given program. A very useful tool when promoting on social media will be a link cloaker – HideLink, which is available on MyLead.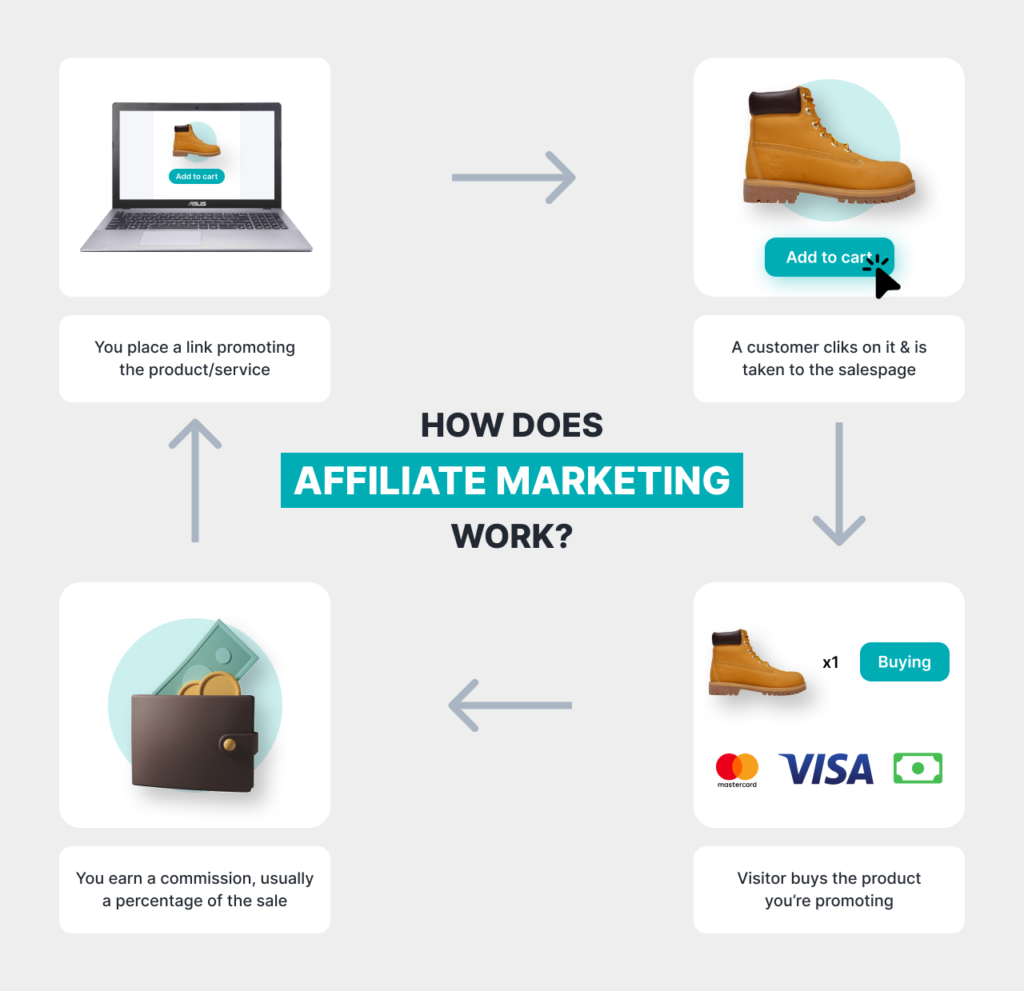 How much can you earn on affiliate marketing?

When it comes to earnings in affiliate marketing, it's hard to indicate exactly. Publisher earnings vary by company and offer. At the lowest level, you will earn about 1% of sales, but there are also those that will reward the marketer up to 50% of the value of the shopping cart. There are also many programs that offer a flat rate per sale instead of a percentage. Then earnings can range from a few cents to even several thousand dollars.
Do I need money to get started?
You don't need any financial contribution to start your adventure with affiliate marketing. Most of the affiliate programs are available for free, so it's your job to find the right place for promotion. And that can also be free. Of course, there are paid promotion methods, but initially it is worth focusing on organic methods. Remember that if you try hard, affiliate marketing can become your main source of income.
Where to find an affiliate program?
The process of finding a good and lucrative affiliate program is very time consuming. Instead of wasting a lot of hours on research, it is worth using an affiliate network such as MyLead. Why? Affiliate networks are a great choice because of the enormous amount of help and educational resources they offer. Affiliate networks are all about numerous tips, a wide selection of affiliate programs, information about new programs and specialized content to help you earn money online. When it comes to the selection of affiliate programs, MyLead offers over 3,500 to choose from. You will surely find something for yourself.
What are the monetization models?
Affiliate networks can often offer programs with different types of monetization. Let's take a look at models offered by MyLead.

CPL (Cost Per Lead)
It is a form of remuneration that is awarded just for acquiring a customer. The user must provide their personal data and agree to be contacted, or, for example, set up an account on a portal.
CPA (Cost Per Action)
This is the remuneration awarded for the performance of a given action by the customer. This is a fairly wide model, because it combines actions such as taking a loan, providing credit card details, or passing a level in a mobile game. You can often earn hundreds of dollars for one lead on such programs.
CPS (Cost per Sale)
This is a kind of remuneration for a customer's purchase. This model is most often used by online stores and auction platforms. It is an excellent promotion model for all kinds of portal owners who want to create high-quality content and at the same time earn money on it.
PPI (Pay per Install)
This is the remuneration for the customer downloading an app, both computer and mobile ones. When it comes to categories of such applications, there is a very wide selection, from games to computer optimization software, so you will surely find something for yourself.
COD (Cash on Delivery)
This is the remuneration for the purchase by the customer with payment on delivery. It's the same as in CPS programs – a purchase is required. What's different is the timing of payment. This is a good solution for small and new companies that have not yet gained the trust of customers, which makes them prefer to pay cash on delivery when they have the product physically.
What are the advantages of affiliate marketing?
Let's put this straight – you should start your affiliate marketing journey. The truelist portal estimates that this industry is worth around $12 billion, and you can enter it completely for free. While industry growth is a good indicator of success, entrepreneurs choose this affiliate marketing pathway for several other reasons.

Low risk
Since there are no costs involved in joining affiliate programs, you can start earning money on products or services without any investment. Affiliate marketing can also generate passive income. Of course you will have to invest some time in creating a traffic source initially, so be patient. However, it will pay off with time.
Easy to scale
Successful affiliate marketing is like a snowball that grows in size as you roll. By acting in the affiliate industry, you will earn a lot of money over time. You can recommend new products to your existing audience and build campaigns for additional products while your existing work continues to generate revenue.
Before you get overly excited, however, know that great affiliate marketing is built on trust. Theoretically, there is an endless number of products and services to promote, but the list of qualitative ones is much shorter. Remember to choose only programs that you think are decent yourself and you would easily recommend them to your loved ones.
No stable salary
Just like in your own business, there is no boss who will give you a monthly payment. So the only person responsible for earnings is you, and you are accountable for the effect of your work.
Does affiliate marketing have any disadvantages?
Before you start doing anything, it is worth knowing a few disadvantages and challenges that await you.

No quick results
Affiliate marketing is not one of those business models where you will earn fast. It takes time and patience to grow your audience and get leads. You must first test different methods to find the perfect traffic source. Later, find the most quality and reliable products to promote. The final step will be creating content for your blog, publishing content on social media and other lead-generating activities.
Imposed promotion rules
As a publisher, you must follow the rules set by the company that offers the affiliate program. These rules often apply to what you say and how you present a given product or service. Competitors must adhere to the same recommendations, so you need to get creative in order to stand out from the crowd.
Conclusion
Affiliate marketing is a business model that is constantly evolving. And everyone is definitely able to try their hand. Especially with the help of a good affiliate network that will make this task easier and help you earn money.