With Android and iOS being the two most mobile platforms in the world, their popularity needs no introduction. However, what needs to be introduced is that there exists a need for softwares that allow easy transfer of files between the two platforms. While both platforms have their own efficient file sharing softwares, there's a wide gap when it comes to transferring files between the two. If you too have been facing this problem, you have come to the right place a today we'll be talking about s software that not only allows you to do that but is also one of the best music downloaders available out there. So let's get started with our review of the Wondershare TunesGo.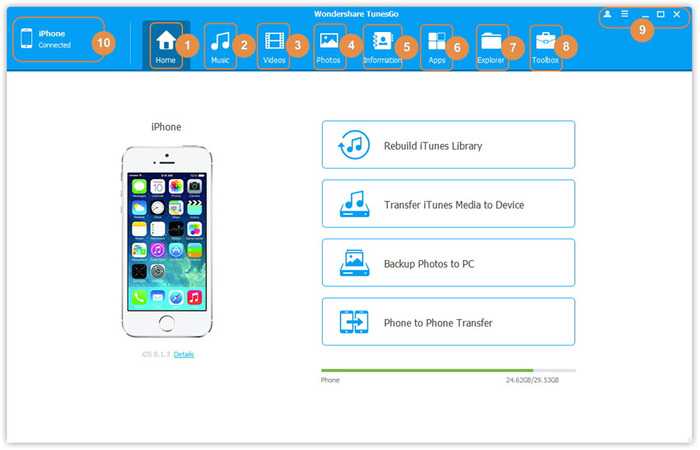 Features
Discover, Record and Download Music
The primary feature of Wondershare TunesGo is to allow you to make all the music available on the internet your personal connection. You can discover endless new music on the app, browsing by genre, artist and top lists popular amongst the users. You can also browse playlists fit for particular situations like gym workout, road trips, Spotify top tracks and more. Once you come across a track that you want to save for using later, just click on the download button next to it and the track will begin downloading.
Looking for a particular track and can't seem to find it? No problem. TunesGo supports popular music and video streaming websites such as YouTube, SoundCloud, Spotify, Vimeo and a 1000 other such websites. So just enter the link to the audio, video or whole playlist and TunesGo will download them for you.
You can also use the recorder in TunesGo to record your fav audio track from a live music streaming service. Just start the recorder and then proceed to stream music. This way, you can also convert video to audio.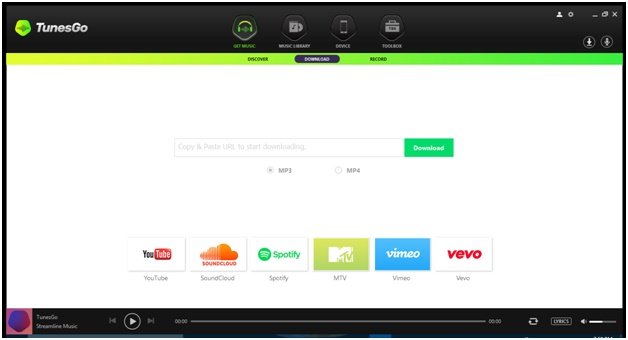 Transfer Music Across Devices
There are very few softwares out there that offer multi device compatibility and allow you to move media files from a device to another if they run of different OS platforms. TunesGo is one such software. Share files between iOS devices, iTunes, PC, Mac and Android devices without having to worry about the compatibility as TunesGo automatically converts the files into the compatible format for you.
Organize Your Entire Music Library
Not only the songs that you have downloaded using TunesGo but you can also access your personal offline music library using this software to have it all in one place. Not only that, TunesGo also organizes you music library for you. All the tracks are sorted out and arranged in order for easy accessing.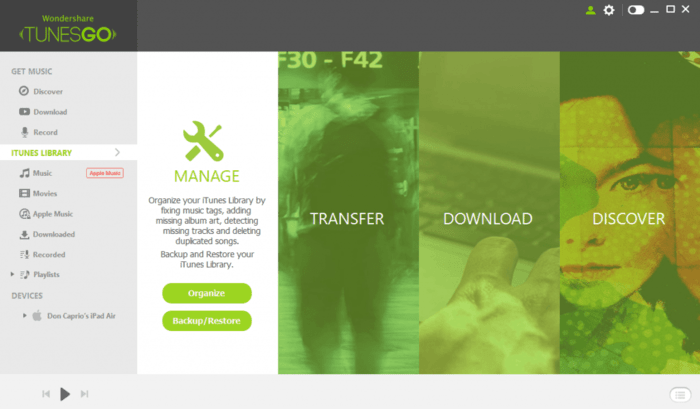 Toolbox To Fix Your Music Library
Music tracks in one's library are often incomplete and lack information like the ID3 tags, lyrics or album art. With TunesGo installed, you don't have to worry about any of this. TunesGo scans your library to find songs with missing tags, lyrics and album art and then in no time fixes all the tracks so your music library looks perfect.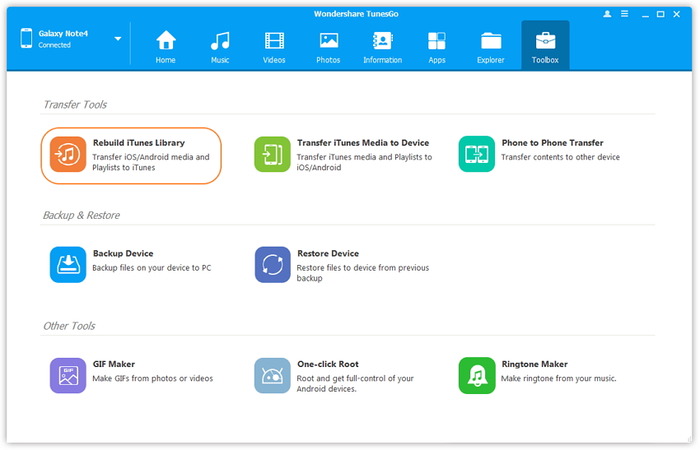 TunesGo also allows you to connect your device to the computer and organize your device music library too. Just connect your device to the computer, turn on the USB Debugging mode and TunesGo will recognize your device. You can then perform a number of tasks such as transfer music between iTunes and your device and also from your device to another device. You can also backup all the media and playlists on your phone to a safe location on your computer using TunesGo.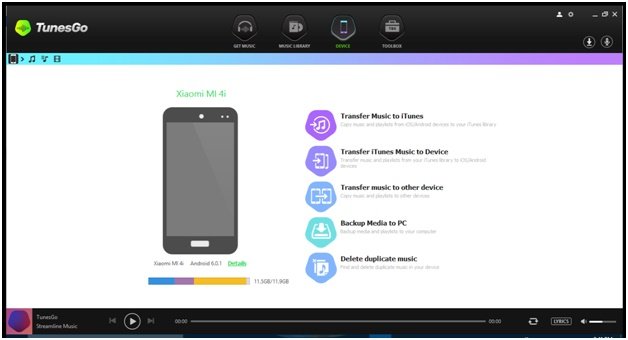 Wondershare TunesGo recently introduced a new feature that allows you to download music and complete playlists from their website. So anytime you want to get a fresh taste of music, head to their website and download music and playlists.
Conclusion
After using TunesGo for over a week to download and record tracks from various sites over the internet, one thing we can say about the software is that it is really good at what it does. All the tracks were downloaded in high quality with complete ID3 tags and album art. Over a 1000 websites supported mean that you can find almost any track you're looking for. The in-built file converter also works smooth and we had no problem with file compatibility. All in all, Wondershare TunesGo is an all in one solution for all your media needs. If you were looking for a software to download music and other media off the internet, your search ends here.