What is the best app for remote control PC? If you seek a solution for remote work and support, the answer lies here. 
Is there an app to control your computer remotely?
Nowadays, the importance of remote computer management has taken center stage in our daily routines. The demand for free PC remote control software is on the rise due to various reasons. For example, the need to access files on your work computer from home or assist friends, family, or clients with computer issues, even when you're far away.
Are there apps for remote computer control? Absolutely, there are numerous apps and software options at your disposal that enable you to manage your computer from a different device. When choosing a remote control application, consider factors like compatibility with your devices, security features, performance, and the specific use case. 
AnyViewer: Best free app for remote control PC    
For those seeking a cost-free solution, AnyViewer stands out as the top pc remote control app. This application provides free services compatible with Windows, iOS, and Android. AnyViewer has gained the trust of a vast user base, numbering in the thousands, for its seamless performance in tasks like remote access, remote work, and global remote support.
AnyViewer for remote access & work
AnyViewer grants you unrestricted access to your files, applications, mobile devices, and servers, enabling efficient work from anywhere. Say goodbye to the confines of a VPN and embrace the flexibility of working from any location while maintaining complete control over your devices and data.
Here are some key features that make AnyViewer the ultimate choice for remote access and work:
Unattended access

: Stay connected to your work computer, even if it's unattended, ensuring constant access to your vital files and applications.

File transfer

: Effortlessly exchange files between your office and home computers via the user-friendly file manager or by simply dragging and dropping files for swift and secure transfers.

Screen sharing

: Whether you need to provide guidance, demonstrate a process, or collaborate on projects, AnyViewer offers seamless screen-sharing capabilities.

Multi-monitor switch

: Enhance productivity by easily toggling between an all-monitor display and a one-monitor display when connected to an office computer with multiple monitors.

Privacy mode

(for professional and enterprise users): Take control of your remote session by disabling the remote display and restricting remote mouse and keyboard input from your end, ensuring privacy and full control.
AnyViewer for remote support
IT experts and teams can now relish the convenience of swift remote support. Say farewell to the expenses associated with on-site visits as they can efficiently tackle their IT hurdles by harnessing the market's most secure and potent support platform.
Let's explore some of the features that establish it as the best app for remote control PC for remote support:
Remote management

: With a single click, you can remotely lock, reboot, or shut down computers with issues effortlessly.

Multi-session handling

: AnyViewer lets you effortlessly oversee multiple remote sessions, whether you're an IT expert or a multitasking enthusiast.

Real-time communication

: Send text messages directly to the remote computer via the convenient chat box, ensuring efficient and effective communication during remote support.
AnyViewer for mobile device support
AnyViewer ensures comprehensive mobile device support from any location and at any time. Access work computers from your mobile devices or efficiently resolve computer issues, whether you're using an iOS or Android tablet/smartphone. You can also enjoy all the impressive features mentioned above on your mobile devices.
Steps for remotely controlling your PC with AnyViewer 
See how easy it is to use AnyViewer, the best remote control app for PC.
Part 1. Configuring AnyViewer on the remote computer
Step 1. Download and install AnyViewer on the remote computer, then launch the app. If you've registered on the official website, you can log in directly.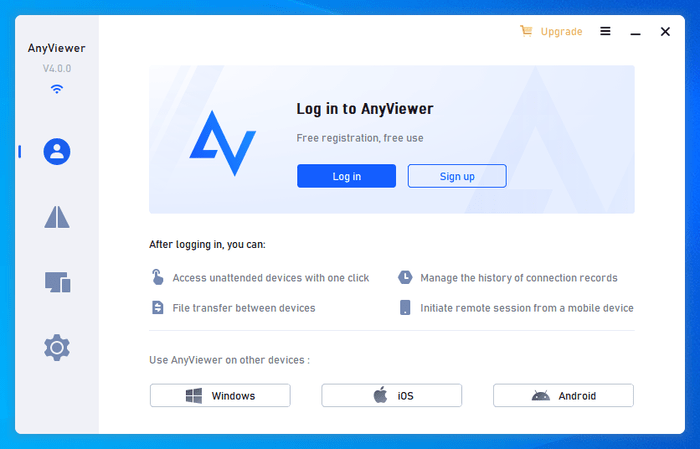 Step 2. Complete the sign-up process with the required information.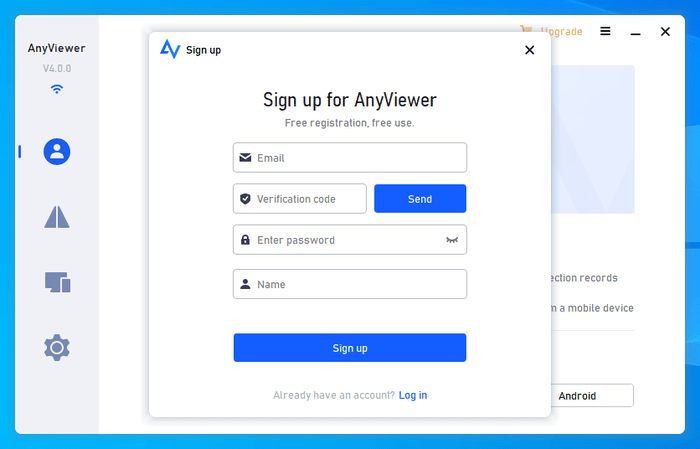 Step 3. After a successful login, your device will be linked to your account in the AnyViewer interface.
Part 2. Remote Access to the remote computer from a local device
Once AnyViewer is set up on the remote computer, accessing it from a local device is a breeze. We'll guide you through connecting from both a local computer and a mobile device.
Case 1. Remote access from a local computer
Step 1. Download, install, and launch AnyViewer on your local computer. Use the same account as on the remote computer to log in.
Step 2. In the Device tab, select the remote computer from the list. Click "One-click control" to establish a connection and access the remote computer easily.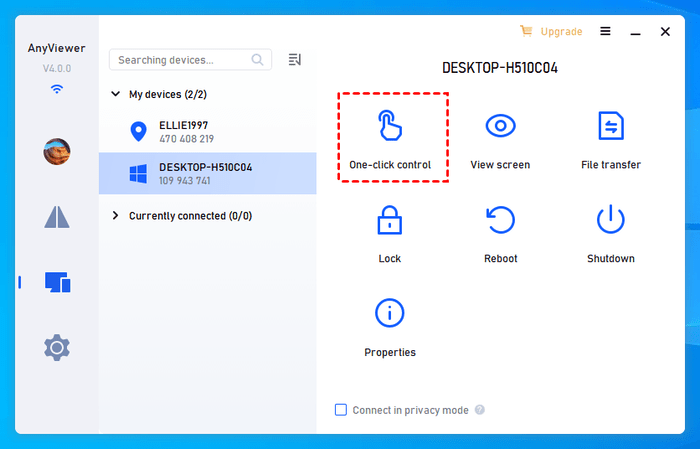 Case 2. Remote access from a mobile device
Step 1. Install AnyViewer on your iOS or Android device and log in with your account credentials.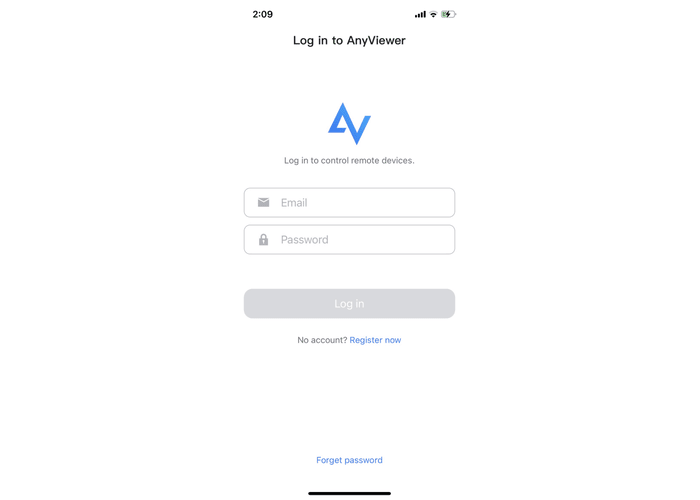 Step 2. In "My devices," choose the target PC from the list.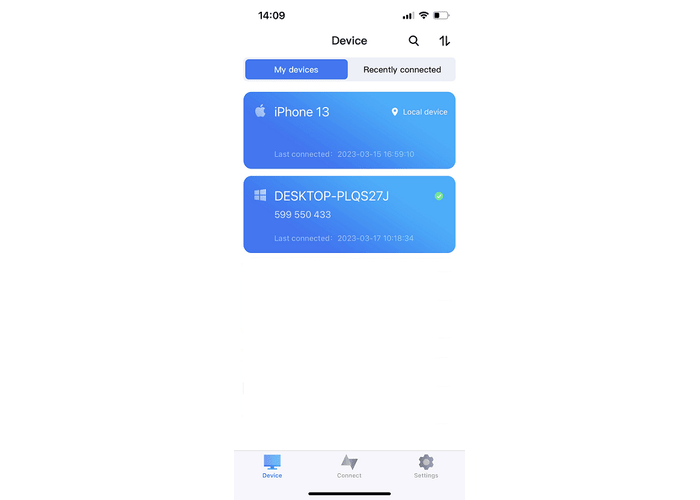 Step 3. Simply tap "One-click control" for an instant connection.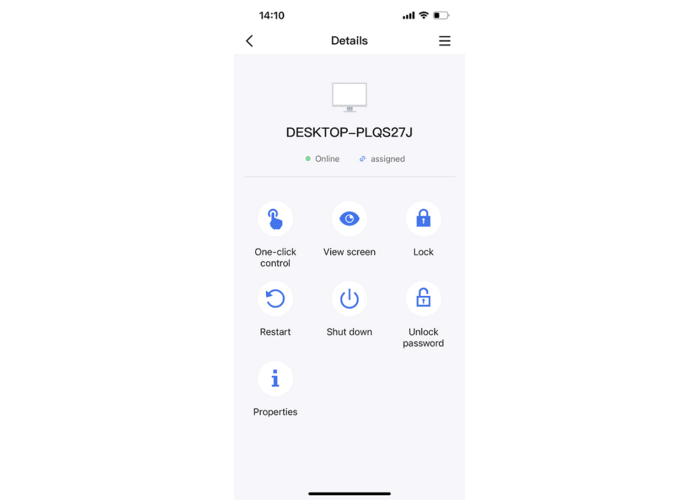 Step 4. Take control of the remote PC using your Android device. Use the virtual mouse and keyboard via icons in the bottom-right corner for easy control.
The closing words
AnyViewer, the premier app to control another computer remotely, provides users with a top-tier, free remote desktop solution. It delivers fast and stable remote connections, ensuring a smooth and efficient experience. Beyond its core capabilities, AnyViewer boasts a plethora of impressive features that elevate its desirability. These features combine to solidify AnyViewer's position as the ultimate choice for a PC remote control app.