Here's an app that takes sports betting to another level. With 888Sport being a fast-growing, innovative bookmaker; the App further pushes its reach and offerings to players demanding an on the go feel of betting. Let us give you a glimpse of the App and its key differentiating points.
Features
A slick interface: We found the black and orange look cool enough and there seemed to be less clutter on the screen than we imagined. The color scheme made it easy for one to read the tabs and navigate quickly.
A multitude of sports: You can bet on the most popular sports as well as test your odds on others ranging from Horse Racing, Football, Cricket to Ice Hockey, Baseball, Tennis etc. And the adrenaline rush out of LIVE streaming on events like Bundesliga and from Racing UK tracks is absolutely fantastic!
Multiple secure deposits, withdrawal options: Be in total control of your cash by utilizing the over 21 alternatives to stock money as well as withdraw the rewards whenever you want to.
Globally flexible: Supporting multiple languages along with over 5 currencies to choose from for cashing-in; the App has certainly kept its aim of expansive global reach in mind. LIVE betting with such flexibility is bound to attract international punters.
Non-sporting events: For the punters who bet on events like elections, TV specials or even the Oscars; you've got an App. And for those who would like to try out different avenues apart from sports, 888Sport app offers you an added edge of fun with its introduction of non-sporting events.
Want to try? Get it!
Here are different ways to get the App:
Go the website and get the app on your iOS/Android through one of the 3 routes available on the page.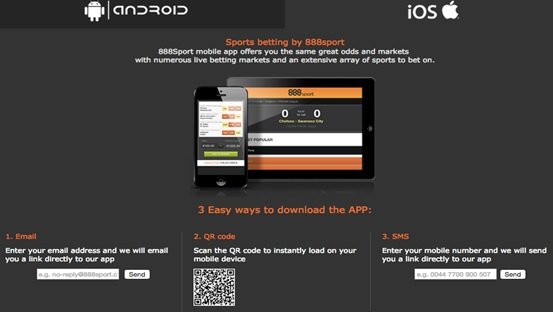 iOS users have a dedicated app for the same unlike the Android users who need to get the web app through the first step.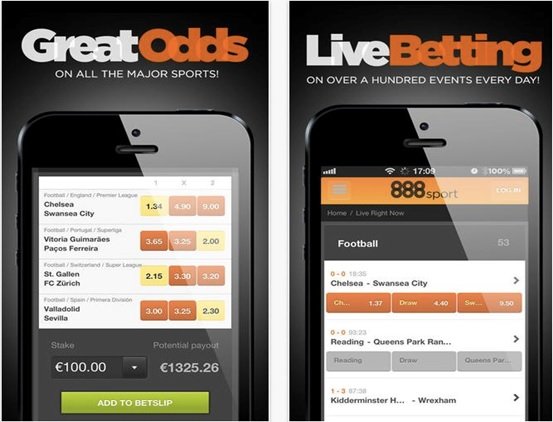 Our take
We tested the App both on an iPad and an iPhone. Turns out that it is actually more comfortable to bet on a larger screen as more LIVE information is displayed and navigation tabs are more spatially arranged. To streamline the experience, we believe that the App can introduce timely updates.
Apart from that, the hassle-free bet placing, ease of withdrawing and cashing-in and flexibility with respect to the languages and currencies offered is very well thought of and clinches quite a few brownie points for the App. The useful cash-in feature helps one make instant money or minimize losses in a very short period of time that adds to the excitement that hovers.
Also, the App offers an online help bar that offers assistance in case snags affect the user experience or if the user aims to gain more clarity about things.
The option to try out a variety of games and events like casino, Oscars and elections would certainly help the App amass new users under its umbrage.