These days, even the digital content needs to be protected and DRM takes care of that, DRM is an abbreviation for Digital Rights Managements, it has taken a systematic approach towards copyright protection of digital media content.
Its basic purpose is to remove the unauthorized access to the digital content and put restrictions on what can be copied and what cannot. These restrictions can be tiresome and they put limitations on your content usage, so in such cases, you have to make use of DRM removal software or conversion software, TunesKit DRM Media Converter is on such software, it works for Mac as well as Windows.
iTunes is one website that has a strict DRM policy and most of the applications, movies, and TV shows you discover there are expensive and you can't always afford to buy them. and it might seem unfair at times, for such cases you can utilize TunesKit DRM Media Converter DRM Media Converter, TunesKit DRM Media Converter DRM Media Converter was created to give you a chance to utilize the content on the internet, it removes the DRM restrictions so that you can have the unlimited access to the files you download on iTunes.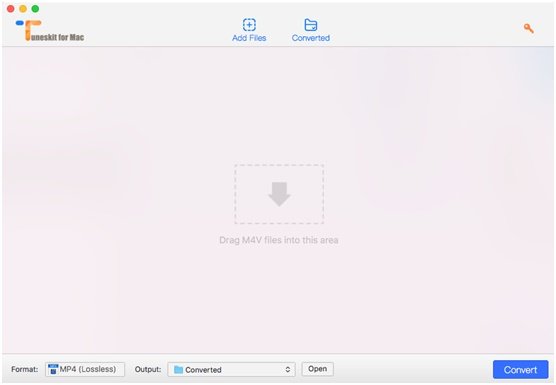 Here is everything that TunesKit DRM Media Converter which can do for you irrespective of the OS you are using it could be Windows or Mac:
First and foremost is the removal of DRM decryption from the iTunes movie rentals and purchases, TunesKit DRM Media Converter for Mac and Windows will free you from the iTunes DRM constraints by getting rid of the DRM control from both of these iTunes M4V rentals as well as purchases on Mac. It cracks the DRM lock and after it is done you will be able to keep the rentals permanently and you will be able to enjoy any iTunes or videos, including the popular 1080P HD movies and TV shows, which works smoothly on all kinds of devices.
Next, you can convert the iTunes M4V format to a DRM-free MP4, M4V, MOV, AVI, etc. which provides an adjustable output customization, TunesKit DRM Media Converter for Windows and Mac is a converter that provides a lot of advanced method using which you will be able to convert the DRM-protected iTunes M4V to common MP4, AVI, and various another popular video as well as audio formats. With it, you can even make the necessary changes in the output video settings, changes can be made in few of these things, video codec, video bit rate, video size, as well as audio codec, audio channel, and bitrate these are just a few of the things that you can change.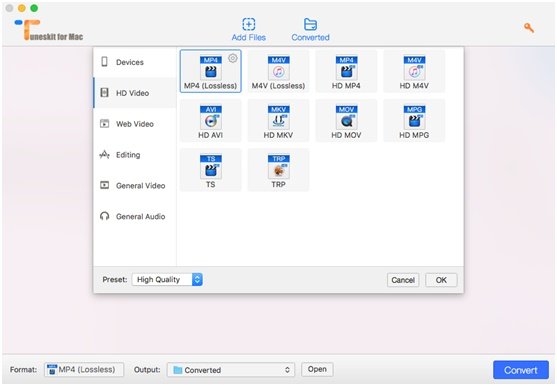 TunesKit DRM Media Converter for Windows and Mac behaves as a DRM removal software and lets a user have full control over the content such movies or tv shows that a user has legally purchased from iTunes so that the user can watch those on any device he/she wants to. it comes with a full range of preset profiles, which basically means that you will be able to convert iTunes M4V movies as well as TV shows so that they can be viewed on popular media players, smartphones, and tablets, a few examples of those are iPhone 6S, Apple TV, iPad, Samsung Galaxy, HTC One, PS4, Xbox 360, Google Nexus, Sony Xperia, and various others.
TunesKit DRM Media Converter for Mac and Windows is one of the smartest DRM removal tools, other than converting the m4v to mp4 and various other useful formats, it also assists the user in keeping the original subtitles, multilingual audios and 5.1 audio tracks when you set the output video format to HD lossless MP4 or M4V.
TunesKit DRM Media Converter for Mac and Windows utilizes the most advanced version of DRM Decryption core, it has been created using the fastest iTunes DRM media converter which works at 30x speed and provides a performance far better than and other DRM decryption tool for iTunes that is available online.
Its intuitive interface is absolutely easy to understand so that even a person who doesn't know a lot about the topic or who is not tech savvy can access it without any kind of trouble, it has been designed to provide ease to everyone while they remove the DRM decryption that is limiting them by putting restrictions.
TunesKit DRM Media Converter offers regular updates, so once you order it you are unlikely to face any DRM constraints and in case you do face some issues you can contact the customer care at all times, they not only make you comfortable but also help you get quick solution regarding the problems you have with either the installation process or the services that have been provided by TunesKit DRM Media Converter which is a pretty great DRM tool and so far it has managed to convert most of the iTunes videos without any fail, and it is the only software that has provided what it has promised to all its users.