India is a country where sport is gaining a cult and is highly valued among the main interests. Various games are played every day in this country. In addition, sports fans love to watch their favorites play. Mostly Indians love to play and follow the events in such sports as football, tennis, hockey, baseball, golf and kabaddi. But the most favorite sport in the country is cricket. This game has become a national form of entertainment for the masses. 
Cricket has become a widely popular sport in India and is the most popular sport in terms of statistics from ordinary people. Both children and adults, both men and women, are interested in this. People, regardless of their caste, faith, love to play cricket in India. It's nice to see young children start playing in the yard at such a young age, and from them the future champions and players of the Indian national cricket team grow up. By the way, the national team is the pride of all residents of the country, where the players are almost national heroes. That is why cricket is and will remain in the leading positions in popularity among other sports in India.
Let's take a closer look at why cricket is so popular among Indians and why people consider it a national sport.
The simplicity and affordability of cricket 
Cricket is a really simple sport for Indians. It can be enjoyed by all people. Therefore, you can easily see boys playing this game right on the streets of the settlements. Cricket involves multiple players, but amateurs can play with at least two batsmen and a ball. This is enough for a certain amount of experience, as well as having a limited space is quite acceptable. Playing on the busiest streets will not surprise the people of India, who, with a special desire, can join the game or watch others play it, having received a certain charge of emotions. This is how, in most cases, the love of cricket is born at the national level.

The infrastructure is at a decent level 
As mentioned earlier, cricket is a game that can be played anywhere, even in courtyards. It is noteworthy that there are many cricket training centers in India where children, youths and even adults can train without obstacles. Young people can become cricket stars at the level of India or the whole world by being born in the provinces. Experienced coaches can help build the strength and proper tactical skills for the future growth of young athletes. 
Professional cricketers have even more options. They have at their disposal all the equipment and stronger colleagues. In addition, coaches prepare teams more professionally. The level of training and the availability of all the amenities make Indian athletes very strong. All of this would be difficult to achieve if not for almost every state in India there were cricket stadiums. Each state boasts at least one decent playground, so we can safely say that everything is in order with the infrastructure in India. It really helps to promote and expand this sport in India, unlike some others where the infrastructure is poor.
Physical parameters and capabilities of the Indians
If you have ever seen an Indian, then you should imagine how they look in terms of not only appearance, but also physical form. Usually, the parameters of height and weight are reduced to a certain average value. Knowing such a typical portrait of an Indian, you can determine what kind of sport they are most inclined to do.
In this aspect, it can be argued that sports such as football, hockey and basketball are suitable for people in India with a low degree. Basketball requires tall stature, and hockey requires a lot of physical strength. Growth and fitness at the super level is something that the majority of the population of India does not have. Genetics and Indian traditions made Indians what they are, and this fact is difficult to undo, although there are rare exceptions. When it comes to cricket, the Indians have enough strength and physical fitness to play the sport both on an amateur level and in professional competitions. This sport, if not ideal, is definitely very close to this indicator and the popularity of cricket is therefore easily explained.
High degree of prestige and low degree of contact of the sport
There is a version that cricket is a bit of a caste sport, i.e. aimed at the upper strata of society. Even today, many of the top cricketers are of the upper class. Moreover, cricket is not a contact sport such as football or ice hockey. It does not require any physical interaction between players. Players are not forced to collide with each other and disdain moments of contact. The acceptance of cricket by the upper echelons of society and the lack of contact led to an increase in the financial patronage of cricket, which developed more vividly and purposefully.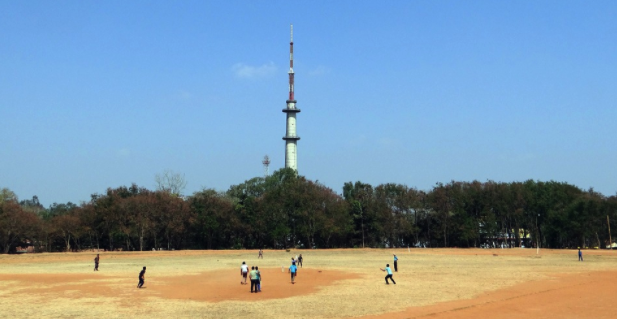 Famous cricketers who inspire
Many Indians are inspired by world-class cricketers. And if they were born and raised into a world-class athlete in India, then this is generally just super news and a charge of motivation for fans and young people. India has given the world many outstanding athletes and this greatly praises them and makes the locals happy. Many Indians, thanks to the performance of their idols, also strive to become part of cricket as a national sport in order to become a hero at the level of their fellow countrymen. They are inspired by these athletes and also dream of participating in competitions, including international ones, defending the Indian flag.
Let's take a closer look at the players who have achieved success and fame in the cricket industry. Indian fans of this sport know for sure about them and are proud of their glorious heroes. For example, Sachin Tendulkar is known in India and beyond as the God of Cricket. He is definitely among the most famous Indian players. Sachin started playing cricket at the age of 16, which is a relatively early age. It is noteworthy that at that time he was already performing at international competitions, defending the prestige of Indian cricket. His heroism in the world of cricket lasted more than two decades and this is an amazing fact. Sachin was awarded the highest recognition that a civilian in India can receive, namely Bharat Ratna.
Sunil Gavaskar is one of the most popular and high-ranking batsmen players from India. His technique against fast bowlers made him extremely popular. His beat averages impressed even seasoned experts. Yuvraj Singh amazed everyone with his universalism. This versatile and destructive batsman has always attracted crowds of fans and admirers. It has been a part of many victories of the Indian national cricket team in international competitions and was awarded by a decree by the Government of India.
Saurav Ganguly is the Dada of Indian cricket. He received this title deservedly, because he is one of the most successful captains, also known for his long sixes. Many winning records gave him many awards, and the Government of India bestowed Padma Shri on him. Virat Kohli is known as a rising cricket star who conquered everyone with his fast batting technique. In addition, Virat is the fastest batsman in the history of Indian cricket.
India's victories at major ICC tournaments
The performances of Indian cricketers are a topic for another discussion. They perform very well at ICC tournaments. It was victories and trophies that played an important role in the popularity of cricket. The Indians have won the Cricket World Cup twice. They won in 1983 and 2011. They were also champions of the first T20 FIFA World Cup in 2007. These major tournaments and the success of the Indian teams in them led to the elevation of the status of cricketers to the status of celebrities and national heroes. These victories have motivated many young people to pursue careers in cricket and play for their nation, feeling special emotions and delight.
IPL status
After they became the T20 world champions of India, the Indian Premier League was founded. It is the most popular T20 league in the world. You will not find a more prestigious championship in the world than this national one. The combination of entertainment and sports has become a big explosion in India, where residents are delighted to watch the events of the IPL. It is noteworthy that the IPL helped cricket develop with greater strength and penetrate into smaller states and centers. The Indian Premier League is becoming more and more popular every year and this process is unstoppable.

Monetary gain
India's interest in cricket is certainly extremely high and because of this, the country is producing players with great potential and experience. The popularity of cricket in India is directly tied to money. The players definitely have a good income at the professional level. Notably, they lead a better lifestyle and can afford a lot that other athletes in India cannot. This is why most of the people who are thinking about a professional career and choose cricket.
Ordinary Indians can also get money or additional income from this sport in many ways. They can play cricket for money as an amateur or use another method. This is a sports betting that is available on betting platforms.
Sports betting issues
Cricket is one of the first places of honor in the interests of Indians in terms of sports in general. The IPL (Indian Premier League) is the largest and most prestigious favorite competition of all cricket fans in India. The league is considered to be ranked as the most popular T20 cricket league in the world and is attracting the most attention of any good competition. This enormous scale of success and interest in the IPL certainly applies to those who are into cricket betting. This fact is related to the fact that the number of bookmakers in the Indian market is increasing every year, as well as the number of players themselves involved in this interesting process.
Cricket betting is available online at various sports betting sites and apps. Therefore, it should come as no surprise that IPL betting is readily available online. Indian gamblers have a huge selection of portals that offer legal services. Every fan cricket betting is able to choose a platform that suits their interests and capabilities. Among the IPL online betting sites in India, the following legal bookmakers can be distinguished.
In this regard, it is very important to choose a good website. It should attract with amenities and good bonuses. Cricket fans are required to have complete freedom to choose IPL betting options, which should be sufficient. It is also worth paying attention to the convenience of banking functions for deposit and withdrawal of funds. There should be as much of them as the Indian market requires, the acceptance of Indian rupees as currency is also a significant plus. By the way, there's a need in drawing attention to the diversity of bets and rates. Let's take a closer look at these options.
Futures betting
These are bets on who will win the entire season and who will be the best player in the long run.
Live Betting
These are bets on matches that have already begun with constantly changing odds. Here you can place bets on different scenarios and outcomes, starting with who will win and so on. I am personally convinced that 4rabet is one of the sites with the highest IPL chances in India in the online segment. Plus, it's nice to place bets and watch live broadcasts along the way.
Moneyline odds
This type of IPL betting involves predicting the winners of matches.
Handicap match
As for this bet, here a certain team or player is given an advantage in a certain equivalent, which must be overcome.
Props Bets
These bets cover points not related to the outcome of the game. Examples of this kind of IPL betting include the following bets: win in coin toss, best man of the match, best team batsman, total runs, etc.
Power cricket live betting
Real-time cricket match predictions are especially powerful. Many bookmakers such as live cricket betting provide quality live cricket betting services. True Indian cricket fans should not, however, dive into this business without knowledge of the features and advice on cricket. The experience of the player may not be enough because this sport is not easy to place bets. Professional advice can make it unequivocally easier to understand the various aspects of live cricket betting. These items include budget control for cricket betting, monitoring of weather and field conditions, in-depth statistical analysis and market odds research.
So, cricket is very popular in India for various reasons. Among the main ones it is worth highlighting such points:
The simplicity and affordability of cricket

The infrastructure is at a decent level

Physical parameters and capabilities of the Indians

High degree of prestige and low degree of contact of the sport

Famous cricketers who inspire

India's victories at major ICC tournaments

IPL status

Monetary gain

Sports betting issues

Power cricket live betting
This list can be continued with other aspects and influential points. All of them can only prove how important cricket is for Indians. This national sport will surely be the heart and engine of India for centuries to come.