Ever had to work outside your usual office setting? Well, if you've ever had to work on a vacation or when you visit a family member's house over the holidays? You probably know that you can get your work done with the three most important things: a computer/tablet, a reliable high-speed Internet connection, and power. 
These 3 are the typical must-haves when it comes to working remotely, and since most employers will give you a decent laptop, all you need are the 2 essentials: power and an internet connection. While this list is quite short, it may not suffice when you are working from home on a regular basis. You'll therefore need more equipment and other necessities to be productive and comfortable.
As such, we've put up an ultimate work-from-home starter kit that you should be expecting from your company when you're compelled to work from regularly. Our comprehensive list includes a list of all the essentials you might want to acquire on your own for enhanced comfort.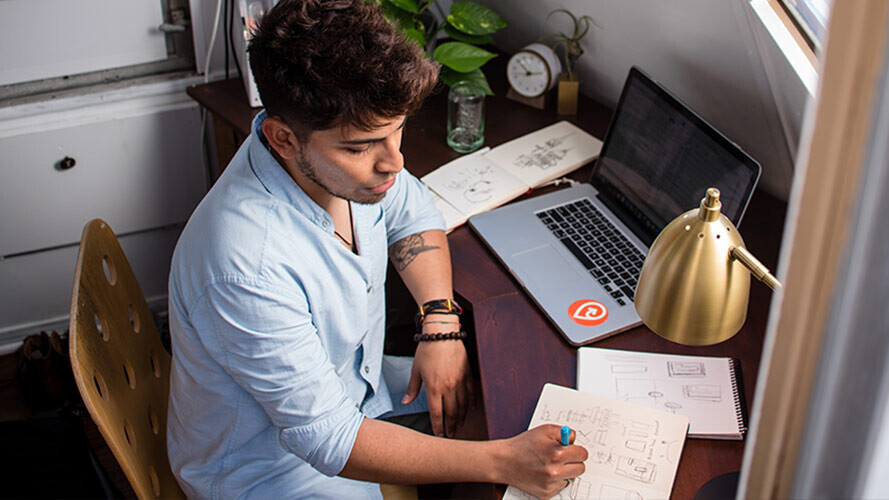 Work-At-Home: What You Need?
More than 50% of the employee teams today work from home, although there is still a substantial number that has to commute to their New York and Los Angeles offices regularly. As such, it's right to speculate that most of us are used to working from home. More so, we're now familiar with the strangeness of working remotely due to the quarantine rules issued by the authorities after the spread of COVID-19.
In light of this guide, I spoke with several employees along with representatives from 5 companies to learn about what employers had provided to their employees who were telecommuting day after day. Here are the most typical pieces of equipment and software you'll need when you start working from home:
Computers:

Laptops with various specifications to meet your needs

Keyboards & Mouse:

A set of ergonomic Bluetooth/Wireless keyboard and mouse

Docking stations or USB hubs

: As per your work you need USB-C hubs or docks 

Headphones

: A pair of quality noise-canceling headphones/wireless headsets/USB headsets

Cables and Chargers for the above gadgets

: USB-C cables and adapters, as well as other types of cables and chargers depending on the nature of your work.

Necessary Software

: Microsoft Office and Adobe Creative Suite. A password manager so that you can easily access all the shared accounts and VPN software.

Other Specific Gadgets and Software

: You might get a drawing tablet if you are a designer.  Wi-Fi hotspot depending on your role and

portable power banks

.
Note however that If the employer does not provide a computer or equipment (such as a scanner app on a phone), some employees may be forced to utilize their computer or tools.
Home-Office Gear
Most workers leaving their office space can't take their belonging with them. Besides this, they also have to forgo the free snacks & beverages provided by their company.
Unfortunately, while some organizations have provided remote workers with nearly everything as they set up a home office, others haven't done anything like that. Most companies who provide full home office gear provided them long before the pandemic necessitated such arrangements. For example, Buffer covers 100% of the Internet and coworking costs, and Automattic and Zapier provide allowances for home-office setup and several other things when new employees join. 
Other companies, like Twitter, responded to this unexpected situation by reimbursing employees for emergency home-office setup costs. If your firm does not provide these benefits when you work from home, you'll have to meet the cost by yourself for you to be comfortable while working from home even if working from home is a temporary thing.
Almost anything is better than a rigid, non-ergonomic dining-table chair, but if you're searching for a comfortable chair for under $300, we recommend the HON Exposure. (Our other top selections for office chairs sometimes take weeks to arrive, but you might be able to find one at an office furniture liquidator or borrow a decent office chair from a friend, as one of our staff members did.) A lumbar-support pillow, in particular, will come in handy if your present chair cushion is acceptable but you're concerned about back support over lengthy durations of sitting.
The best laptop stands save you from hunching over your keyboard, improving your posture, and reducing your risk of shoulder strains and neck injury.
Webcams embedded inside laptops or all-in-one computers are tough to position properly. They are not as good as standalone webcams like the Logitech C920S HD Pro Webcam. As such, if video conferencing is one of your primary methods of communicating with coworkers, ensure sure your webcam can provide you with real-life clarity.
A desk lamp will assist prevent eye strain in the evenings and when you need to focus on work like reading a book or writing in a planner. During virtual meetings, you'll also need suitable lighting. Note that even if you have overhead lighting and plenty of natural light in your home office, a desk lamp may still be necessary for focus lighting. 
How Much Would a Full-Time Home-Office Kit Cost?
Depending on what you choose, the above could cost you between $400 and $450. As such, ask your employer if they will compensate you for such expenses that will allow you to operate more efficiently and ergonomically.
Consider the following options if you have more money to devote to your home office (or if your company does):
The Advanced Home Office
We advocate adjustable-height standing desks, but because these models are expensive, a standing desk converter that can be placed atop any surface can let you gain the health and productivity benefits of cycling between sitting and standing throughout the day.
With these, you'll enjoy additional screen real estate. They are available in a variety of sizes and costs, so choose the one that best suits your needs. Consider a monitor arm to go with your monitor, which allows you to alter the monitor's position so that you're not craning your neck.
Wind Up
Having all of the tools you'd need in an office makes transitioning to remote work a lot easier. This list should assist you in getting started quickly. That said, use the preceding shopping list for comfort, focus, and productivity!