Start-ups take up a unique position in the business world. Acting as the gatekeepers of economic growth, start-up businesses play an important role in delivering value through fresh approaches and new ideas. At the same time, businesses of this kind are also faced with a series of unique challenges during their infancy, with many start-ups failing to make it through those crucial first years.
With this in mind, most start-ups will be looking to minimise costs wherever possible. As one of the key contributors to their overhead, their choice of office space can go a long way in reducing the financial burden, which is exactly why start-ups of all kinds have begun to recognise the advantages of a serviced office space. That idea is reflected in the numbers, with research by Coworking Resources suggesting that more than 65% of coworking space is occupied by new businesses.
With the help of leading office brokers Office Freedom, we've been looking into the reasons why serviced offices are an ideal match for start-up businesses.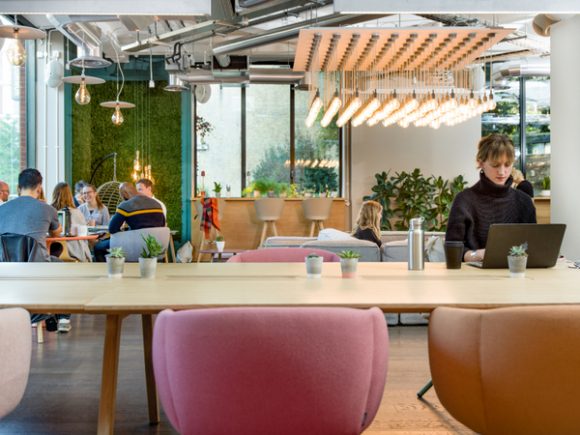 1. Great Location at a Great Price
"Location, location, location" is undoubtedly the most famous mantra ever to have emerged from the property sector, and its relevance extends into your selection of offices. Offices situated in a prime location offer a number of significant benefits, including easy access to transport links and increased visibility. On the flip side, prime locations are also one of the key culprits in driving up prices, a fact that can specifically deter start-ups with limited resources available to them. 
The financial challenge of finding the right start-up office space in London is a prime example of this, but the growing popularity of serviced offices is helping to change that perception. In 2018, more than 11 million square feet of flexible office space was in use in London alone. As the available stock continues to grow, start-ups are well-placed to benefit from falling workstation rates.
Many serviced offices benefit from a prime location in the same way that traditional offices do. However, as serviced offices can often be shared between multiple occupants, many start-ups are opting to benefit from an excellent location at a fraction of the price – a smart move for businesses looking to find their feet in the marketplace.
2. Limited Startup Costs
Anybody who has ever moved into a new business premises will tell you that the financial burden doesn't end with deposits or rent. The cost of fitting an office out to your requirements can quickly rise, which is exactly why some start-ups are choosing to opt for a pre-fitted office space instead.
Serviced office spaces often come pre-furnished, so there's no need to worry about decorating, equipment, maintenance and many other costs that put a strain on resources. Instead, budding entrepreneurs can start to focus on what's important straight from day one. 
3. Flexibility
The flexibility offered by serviced and coworking office spaces is one of the driving forces behind their popularity, and that same characteristic is especially attractive for start-ups looking to minimise unnecessary commitments during their first few years in business. 
There are a number of ways in which serviced office spaces set themselves apart from traditional offices as far as flexibility is concerned. From flexible, short-term leases to minimal upfront costs, these business centers are all about taking away the pressures associated with long-term commitment.
Many start-ups are faced with uncertainty in today's economic climate. To compensate for this, serviced office spaces provide them with room to grow or downsize as they see fit, marking good news for businesses in need of a little breathing space. With this in mind, it's no surprise that scale-ups are also increasingly flocking towards offices of this kind.
4. Attractive Qualities for New Employees
Finding the right talent is crucial to achieving commercial success, and the quality of office space provided can be a key factor in attracting potential employees. In this day and age, jobseekers are increasingly looking for a more comprehensive employment package that includes the right amenities and perks to go along with their preferred salary.
A serviced office space can go a long way in attracting and retaining employees through supporting staff well-being and job satisfaction. Offering a vast range of amenities to suit every expectation, they can provide staff with the facilities they need for both work and play. 
This could be especially important for start-ups who are unable to match the salary package provided by larger organisations. In that case, offering an attractive serviced office space might just be the clincher your future talent is looking for.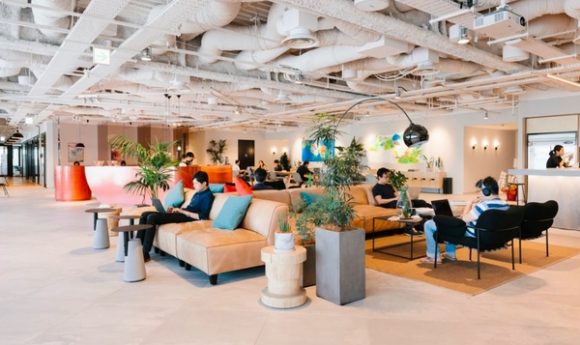 5. Unique Networking Potential
Connections continue to be valuable to businesses of all descriptions and complexities, and start-ups are no exception to the rule. As serviced office spaces can often be shared between different organisations, they provide the ideal environment to meet like-minded individuals and build your network. 
This is one of the main reasons why the popularity of coworking spaces in London has taken off, with many start-ups looking to establish themselves in the midst of a commercial hotspot whilst keeping an eye on their budget. The 2019 Office Freedom report 'The Flexible Workspace Boom in London and Beyond' echoes the sheer diversity of those businesses, with flexible offices being adopted by organisations active in a wide range of sectors including finance, technology, marketing, retail, real estate and HR.
By placing themselves amongst professionals working in different disciplines and sectors, the stage is set for fruitful collaborations to emerge.