You finally feel like you're ready to take the next step and start a business, but you're really not sure where to start. Of course, you'll want to take different steps depending on what type of business you're starting. The steps you'd take before starting a lawn mowing company will be different from the steps you'd take before starting an online store selling your paintings. Still, there are some universal things that every business owner will want to consider before opening shop.
1. Build a Website
Regardless of whether you want to open an online store or a brick-and-mortar business, you'll want to construct a website. Even kids have their own websites. Having a website in this day and age is equivalent to having a sign with your company's name on it and a phone number in the telephone directory 50 years ago.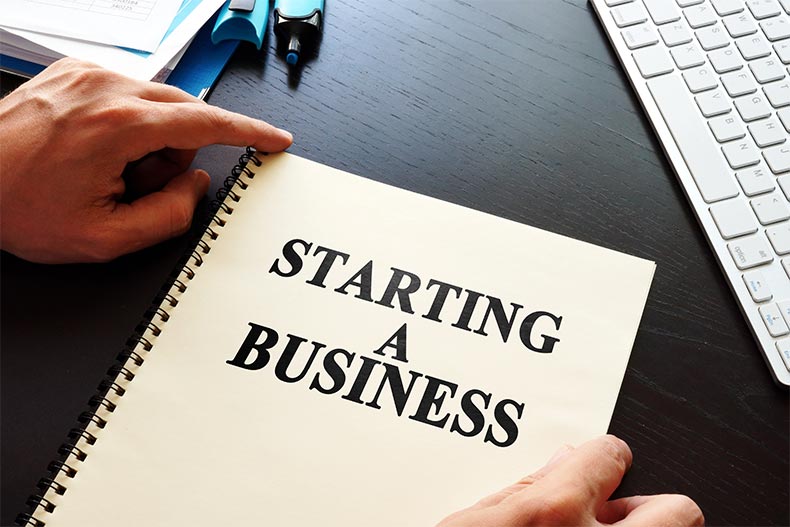 With a website, you're able to let potential customers know what your business offers and what sets you apart from the competition. Build your own website or have a company (or any 15-year-old) build one for you.
2. Use Promotions to Announce the Opening of Your Business
If you have a business that's seasonal, such as tax preparation or snow removal, consider sending out promotional materials that announce your business at an appropriate time. For example, you may want to send out Christmas trinkets to promote your snow removal business. You can also purchase inexpensive decals for your vehicle to help promote the services provided.
In fact, low cost ways to promote your business are practically endless. The trick is to think creatively and, at times, outside the box:
Have you considered making YouTube promotional videos?

What about a raffle or a giveaway of some kind?

How about partnering with another brand?
3. Create a Business Plan
Creating a business plan includes everything from obtaining any necessary licenses and permits needed for your business to figuring out who your target market is. Obviously, you don't want to set up a snow removal service in Florida, but you do want to make sure that there's a market for what you're selling. Then again, if you're planning to open an online store, the sky's pretty much the limit.
Still you will want to have a clear objective, in terms of what you want out of your business, what you're able to provide to your customers and what your strategy is for success.
4. Realize You Likely Won't Be an Overnight Success
Unless you have millions of followers on social media to whom you can announce your upcoming business venture, you're likely not going to be an overnight success. It's been said that having a business is sort of like having a child. The business needs time to grow and mature. You will likely make mistakes and find there's simply a lot you didn't know, but that's all part of the process.
Once you're up and running, you may even find that people aren't beating down your door. Just remember that owning a business is a marathon, not a sprint.
5. Take Time to Enjoy the Crazy Process
Sometimes new business owners get so bogged down with the ins and outs of setting up a new business that they forget to give themselves credit for taking the leap into the entrepreneurial waters along with millions of others. In the U.S. alone it's estimated that there are more than 30 million small businesses in existence.
So even if you aren't raking in millions initially, you've taken the step to do something that you're passionate and hopefully joyful about.
Final Takeaways
Starting a business is a big step for most people, but it's something that millions of others have done with success. Making sure you have all your ducks are in a row before opening the doors to your business will serve you and your customers well in the long run. And although running a business has its challenges, the rewards usually outweigh the drawbacks.