Email signature might not be the first thing you think about when creating your email marketing strategy. However, it's the thing you definitely should pay attention to.
Email signature could play a significant role in an email campaign. It has two primary tasks:
to catch the readers' attention;
to give the readers information about you.
Furthermore, such signatures increase brand recognition: if you make the design consistent, you'll help your customers remember your brand better and recognize it quicker. That's why it's necessary not only to create great email signatures but to invest in their design as well.
What can you do to make email signature design look professional and be effective for your business? It's as simple as it can be: all you have to do is memorize the tips we offer you below and start implementing them on practice.
Tip 1: Keep it simple.
Classic email signature must contain the following information:
sender's name;
their title and department they're working in;
company name.
Do most email signatures contain only that information? Definitely not. You can add social media buttons, mobile number (or even numbers), the company's logo, links to PDF files, eBooks, new offers, etc. However, we strongly advise you not to overdo here.
It might be tempting to make an email signature look like that: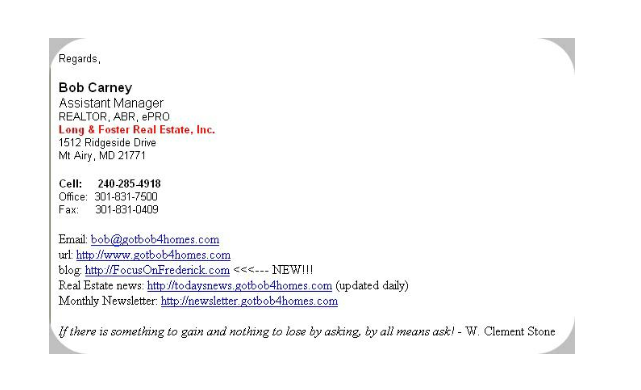 However, many subscribers would probably find it too cluttered with data. It works in situations when your goal is to provide as many contact details as possible. But if your goal is to drive the subscribers to your social media, such signature most likely won't work: the subscribers could find it hard to identify your main social media channels with all these links.
Please keep it simple and add only the information that would be truly necessary. Mind the hierarchy as well: put the essential information first or use font formatting to help it stand out. This can help you maintain brand consistency and make your email signature look good even in a minimalist design.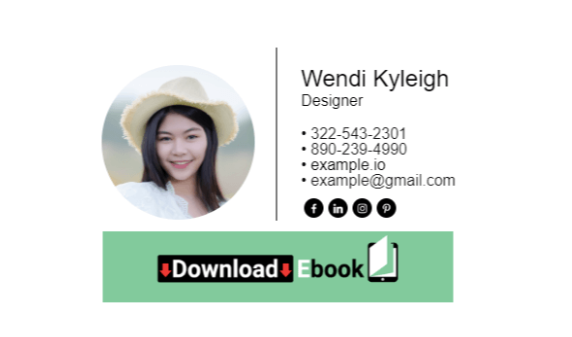 Tip 2: Font and colors matter.
An email signature should match both the style and the tone of the email itself. Therefore, you need to pick a font and colors carefully.
Use only one font in your email signature (a text logo could be the only exception). Try to pick a font that is easy to read and looks professional and don't use more than 2-3 different sizes of it.
You shouldn't use too many colors as well: 2-3 would be enough; otherwise, your signature might distract the subscribers from the main content of an email. Furthermore, pick the colors that match your logo and overall brand design. After all, you wouldn't want your email signature to look out of place.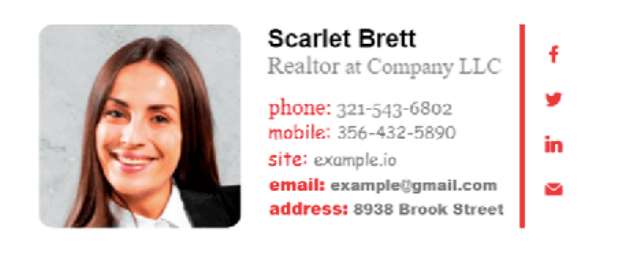 Tip 3: Make it consistent yet diverse.
If your company has several departments sending emails to your customers, this might be an excellent option for you. Try to come up with different email signature designs for every department: for instance, the sales team might have one type of email signature, the customer services another, etc.
Doing so will help your subscribers easily differentiate the people who are reaching out to them. However, keep in mind that such signatures shouldn't look too different: we're trying to stick to the consistent branding, after all. Using different colors for each department is already enough.
Tip 4: Keep the mobile in mind.
Your email signature might look amazing on its own. However, it still may become blurry or pixelated when viewed on mobile devices.
According to Adestra research, 61.9% of the users open and read their emails on mobile devices. We definitely cannot ignore that while creating email signatures.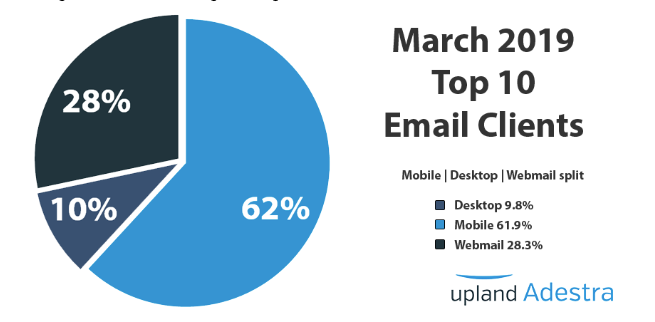 Therefore, always run tests to see if your email signature looks just like you've expected. Keep in mind that email clients could display it differently as well, so check that too.
Tip 5: Use great photos.
Just like addressing the subscribers by their names helps build their trust, adding photos to email signatures makes emails look even more personalized. This isn't a strict rule: you can replace photos with illustrations, logos, or avoid using them at all. However, if you decide to include photos, make sure they are good.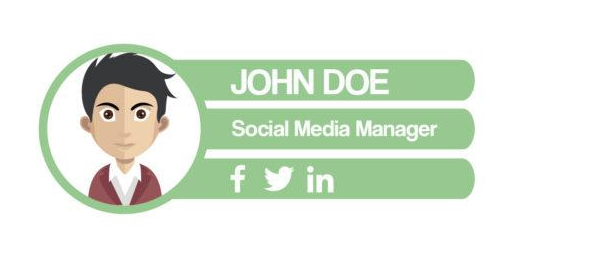 If you can, use professionally taken photos and make sure that they look similar as well (or hire a photographer to take pictures of your employees). Use PNG or JPEG images to maximize compatibility and make sure that they aren't too big to upload.
An email signature is a great final touch to any of your emails, so you should do your best to make this final touch look professional and impressive. It's easier to achieve than you might think, and you might not even hire a graphic designer to do that. Instead, consider using a good online signature generator  and see for yourself how easy and enjoyable it can be.