55% of consumers have returned a product because they couldn't understand how to use it. If only there was a way to explain it to them properly, right? Well, we hope you're sitting down — there is, and it's called customer onboarding. 
This is a process where a company starts the journey of a client with a comprehensive explanation of their product or service, a demonstration of how to use it, and where to go if any questions arise. It sets the tone for your relationship with your customer. Customer onboarding is vital for every business, however, it's still unclear how to get it right. Here we've gathered some of the best tips on how to make this process a success.
Utilise technology
The first rule to an outstanding customer onboarding experience is — and we cannot stress this enough — technology. There's no reason to fiddle with manual lists when there are a tonne of amazing apps out there that can not only eliminate most of the admin work but also streamline the process and make it more successful. Does a 50% reduction in onboarding time sound appealing?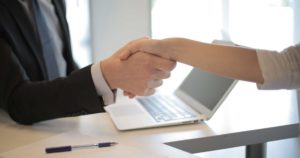 Companies like Precursive offer templates and management systems for a customisable onboarding journey. It also feeds from your existing CRM if you work with Salesforce, which cuts the time and effort of adding information twice. You can collaborate with your customers, use advanced analytics to finetune your process, and even forecast your needs for future projects based on your current experience. Without a nifty onboarding app, it will be easy to lose track of things and provide a sub-par experience to your customers.
Set goals and expectations
Now that you have the correct tools to conduct it, you should start thinking about the main aspects you want to achieve in your onboarding process. It's not just about activation — making sure they use your product or service — it's about showing them how wonderful it is and enticing them to operate with it in the long-term. As we mentioned before, this is all about starting your relationship with a customer on the right foot, so you should consider the lasting impact of it.
If you're a B2B service, are you looking to establish a tight-knit marriage between your companies? Or are you a D2C product, in which case do you want to use the onboarding experience to affirm your brand? Think about the process as part of your overall business strategy. Regardless, we recommend that your onboarding is geared towards getting clients to use your product multiple times during the first week, entrenching it into their routine, and highlighting the benefit of your offering.
Know your audience
Although it would save all of us a lot of time, you can't force your customers to do what you want them to. This means you need to understand your audience's psyche well enough to be able to empower them with the ability to do this when they are ready. A simple onboarding process consists of a welcome email or a greeting message, a product tutorial, and calls-to-action or callouts that will help them understand how to use your product in its natural setting. This, of course, is the very minimum — many businesses swear by extra steps, so you should consider your plan based on not only your audience but also the product or service.
The world is your oyster when it comes to the way you choose to do this. Is your audience used to reading long blocks of text? In which case, a written tutorial might be best. Are they all part of the TikTok generation? You may need to consider a snappy welcome video instead. Put yourself in your customer's shoes — what would they need to know, what would be the best method for them to absorb it, and how can you convince them to follow through? If you have customer personas set up for your business, it's good practice to use them when designing your onboarding journey.
Make it simple and engaging
We've already covered why it's important to give your customer something useful. In the same vein, you want to ensure your onboarding journey is as simple and engaging as can be. The truth is, not all of your customers will partake in your full onboarding process in the first place, so you want to ensure that the ones who do get enough value to remain in it. Too many convoluted messages, unappealing design or poor UX can be reasons for drop off.
Instead, ensure your messaging is clear and concise. Maintain your brand's character (a little joke here or there never hurt anyone), but avoid unnecessary detail or an overload of information — remember, your customer is working with your product for the first time, so don't overwhelm them. Think value-first. Is this useful for a first-time client? If not, you can always relay this later on, as the onboarding process doesn't end on the first day.
Follow up and collect data
The onboarding process is called that — a process — for a reason. It's not 15 minutes of intense information before your client is left to fend for themselves. You want to make sure they know you're there for them throughout their experience, whether they are complete newbies on day one or expert users who may be ready for another level of features. Continue to touch base with your customers, whether it's through emails, messages or phone calls. Provide them with new guides, suggestions, and information on functionality they may not be familiar with. And impress them with a hands-on approach that will make them buy into the product and the brand.
When you do this, though, collecting data is key. See which messages receive the most (and least) clicks and attention, what your users are saying about you, and how you can adjust accordingly. Only by utilizing data can you bring true success to any of your processes, and onboarding is no different.