In recent years, more and more businesses have started spending hundreds of dollars to create captivating banner ads. And, why wouldn't they? After all, banners ads can help you reach out to wider audiences and attract prospective customers to your business. Imagine, if you could get beautiful templates and reach out to wider audiences, free of cost? Yes, that's possible with the help of BeFunky's banner maker.
With BeFunky's banner maker, a beautifully designed and customized banner template for Facebook ads, wide skyscrapers and leaderboards is just a few clicks away. This banner maker is particularly helpful for small businesses. Let's discuss how small business owners can make the most from this banner maker.
Versatility:
Gone are the days when static images or posters could attract customers. Today, to leave an ever-lasting impression on your site visitors, you have to add richness in your ads by using animations, slideshows and streaming media.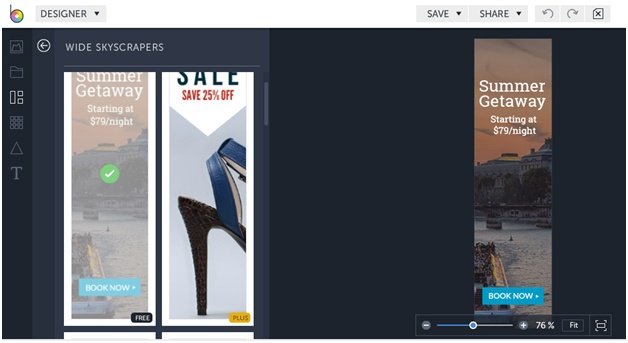 BeFunky's banner maker helps you to minimize the banner's size, thereby allowing you to design a captivating ad without affecting the page speed.
Given the ever-increasing competition, designing ads, which are relevant to your small business, is extremely important. You can use a variety of sizes and styles of BeFunky banner templates to advertise your offers or promotions. For instance, to advertise an upcoming competition or campaign on your website, you can use Facebook ad template, under the Small business category.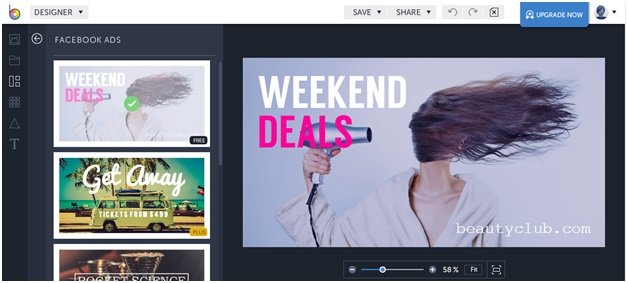 Whether your business is catering to innumerable people across the globe or it's restricted to a small region, BeFunky's small business templates can easily cater to your aesthetic. You can use these templates for amplifying your businesses content marketing and promotions.
Build Brand Recognition:
While banner ads have a reputation of generating sales, they can be also used for building brand recognition. This makes them an immensely helpful marketing tool because even if the visitor doesn't click on the ad, an impression of brand is left in his mind subconsciously. In other words, even if the visitor isn't directly focusing on your ad, his attention would be there and your brand's name gets registered. This is where BeFunky stands out. The name speaks for itself, so whether it's Facebook ads, wide skyscrapers or leaderboards, the templates designed using this designer platform will definitely catch the attention of web surfers and increase your brand visibility.
Affordable Pricing Structure: 
Most of the banner templates you view in the banner maker template section of this platform are available free of cost. However, some do require an upgrade to BeFunky Plus. Under each free template of this platform, you can view 'Free' and the templates that require an upgrade have 'Plus' written under them. Also, if you've not yet upgraded to BeFunky Plus, then an 'Upgrade Now' button will constantly appear at the top bar.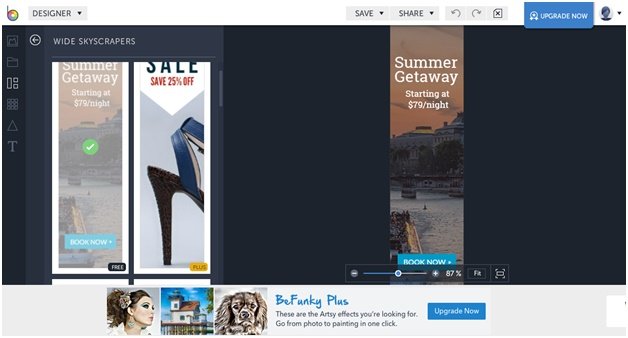 BeFunky's banner maker is particularly suited for small business owners who can't spend exorbitantly amount of money to get their banner designed. Such business owners can use BeFunky to design their own graphics, edit photos for their website and much more. You can upgrade to BeFunky Plus and get access to every feature and tool offered by this designer platform in their Photo Editor, Designer and Collage Maker section.  You can access these amazing tools and features at $4.95/month or $2.91, if you sign up for an annual billing.
Banner Ads at your Fingertips:
Now, creating a banner ad for your small business is just a few clicks away. This designer platform offers you a wide range of ad options, such as Facebook ads, wide skyscrapers, leaderboards, medium rectangles, and large rectangles. Interestingly, each of these categories has a bunch of free and paid templates. The best aspect of these templates is that they can be easily customized according to your requirement. Just click on a desired template and start customizing it right away.
So, are you ready to create some engaging and fascinating ads for your website or social media page? BeFunky's Banner Maker will help you create professional-looking ads at an affordable cost. This can go a long way in boosting the growth of your business.