The best (worst) part about Apple is that the tech giant releases at least one new iPhone every year. For the typical person who is stuck in the Apple ecosystem, it means a gradual upgrade. Today or tomorrow, you'd have to upgrade to the newer iPhone variant.
Fortunately, there is an option to trade-in your old iPhone and get some discount. This, however, poses a major issue, you know. You cannot know where your iPhone ends up or who has access to the data. It's the same reason why experts recommend erasing your iPhone before trading-in or selling the device.
Sorry if you were thinking that simple deletion of files would help. As it happens, you need a dedicated tool for completely erasing iPhone data. In this article, ware going to review one of the popular solutions available in the market — iSkysoft iPhone Data Eraser.
What Is iSkysoft iPhone Data Eraser?
The actual name of iSkySoft iPhone Data Eraser is iSkysoft Toolbox – Erase. It's a part of the iSkysoft Toolbox, which is a collection of tools for managing your iOS devices. At this point, we are going to use Erase function of the toolbox. Talking about iSkysoft iPhone Data Eraser, it lets you permanently erase all sorts of content from your iPhone or iPad. As we said earlier, it's built for a situation where you want to sell or trade-in your existing iPhone for a better offer.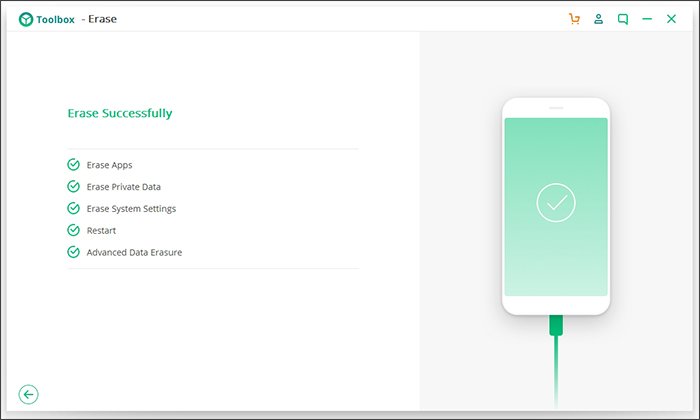 By the way, you can use the tool for other purposes too. For instance, iSkysoft iPhone Data Eraser will surely help when you want to speed up your iPhone or get rid of some tough junk. So, if you want to give the iOS device a clean start, a complete data erasure would help.
As it happens, there are a few ways you can use this iPhone Data Eraser.
Erasing Data Using iSkysoft Toolbox
It feels really easy to permanently erase content from your iPhone using iSkysoft iPhone Data Eraser.
Before Erasing
Just because you are selling/trading-in your iPhone, it doesn't mean that you should lose all data. If you like to prevent that, you should consider using an iOS backup software like iSkysoft Toolkit – Backup. It's an easy way to keep your data intact. So, when you have the new iPhone at your side, you can easily transfer all the data to the new device. Awesome, right?
Coming back to the process, it's as simple as it gets.
Once you have installed iSkysoft Toolbox – Erase, you can open the corresponding module.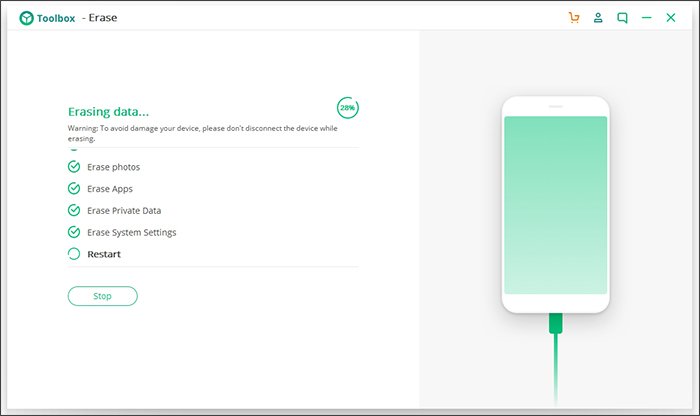 Regardless the type of erasing you select, you have to confirm the process and wait for a few seconds. In the meantime, iSkysoft Toolbox – Erase will make your device as something really fresh. It's really easier than it sounds, too.
Different Modes of Erasing Data from iPhone
As we said, iSkysoft Toolbox – Erase offers multiple modes for deleting data from an iPhone or iPad. You can choose the best option depending on your specific purpose.
Erase All Data — This would give your iPhone a clean start
Erase Deleted Files — This will make it impossible to recover files that you've already deleted
Erase Private Data — You can selectively get rid of sensitive data from your iPhone/iPad.
iOS Optimizer — This part would smoothen your iOS experience by deleting junk.
Space Saver — You should do this if you want to gain more free space on the device.
The way we see it, this feature is quite useful for the commons. More importantly, all the five methods have been well-optimized. For instance, iSkysoft Toolbox – Erase has some powerful algorithms to distinguish the junk files from useful files.
The UI
Permanently deleting data from iPhone should not be rocket science. iSkysoft Toolbox – Erase has managed to implement a rather simple UI for this complex task. You are likely to figure out how the tool works in the first look itself. In order to prevent accidental deletion, iSkysoft Toolbox – Erase has made use of Prompts as well.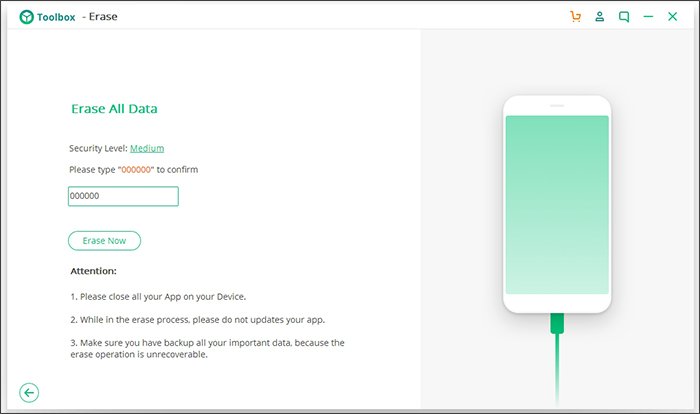 The Bottom Line
Is iSkysoft Toolbox – Erase the best iPhone data eraser in the market? Definitely. We haven't seen such an intuitive and powerful tool for iOS management before. As we said earlier, you don't have to worry about a Terminal command or rocket science to make sure that no one gets to your iOS data. And, if you ask us, it's a must before selling your iPhone/iPad.