There are a lot of good things when it comes to shifting between smartphones, especially if you are moving from Android to iOS or vice versa. You will be getting a better, enhanced and different user experience in a long run too. Nevertheless, there is one task that gives everyone headaches — data transfer between your two phones.
More precisely, data transfer between Android and iOS devices can be a real pain in the ass for most people. The last time we checked, most people are looking for something effective, safe as well as easy to use. And, that's when we stumbled across iSkysoft Toolbox – Switch (iOS&Android). And, today, we will have a brief review of this wonderful utility for all smartphone users out there.
What Is iSkysoft Toolbox – Switch?
In case you didn't guess that yet, iSkysoft Toolbox – Switch is part of a comprehensive toolkit from iSkysoft. This section, however, has been designed to help you transfer content between smartphone devices.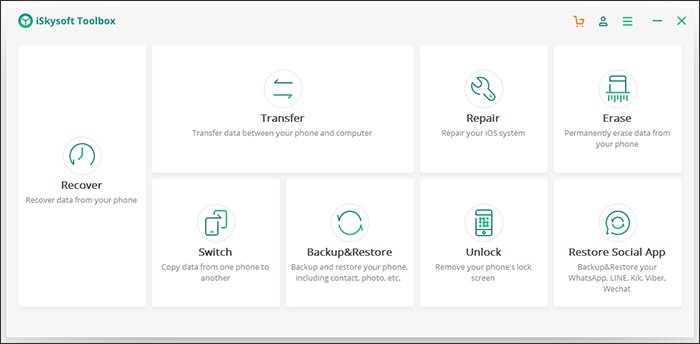 You can transfer data between Android and Android, iOS and iOS, Android to iOS and iOS to Android. It also comes with awesome compatibility features for all these devices. You will be able to run almost every Android or iOS device in existence right now.
iSkysoft Toolbox – Switch is available for both macOS and Windows. You can download and use this tool for free, but there's an upgraded version with advanced features. It's up to you to decide whether you want to pay $29.95 and get those features. If you are just getting started, the free version is more than enough.
Phone Transfer Process, Simplified
We've used a number of tools that promise easy data transfer, but only a few of them actually work. iSkysoft Toolbox – Switch is one of those exceptional cases. As the website says, you can finish the whole process in just three steps. Thanks to the wonderful UI here, everything is intuitive.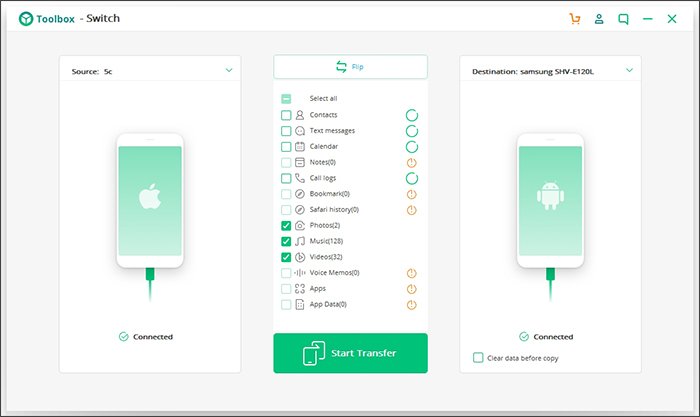 Once you have downloaded and installed iSkysoft Toolbox – Switch, just launch the software on screen. It's happening in a jiffy and you can connect both devices you have. Instantly enough, the program would detect both devices and display the possible options. Now, you can decide the type of content you want to transfer between the two devices. After this, hit the button and Switch would start the magic.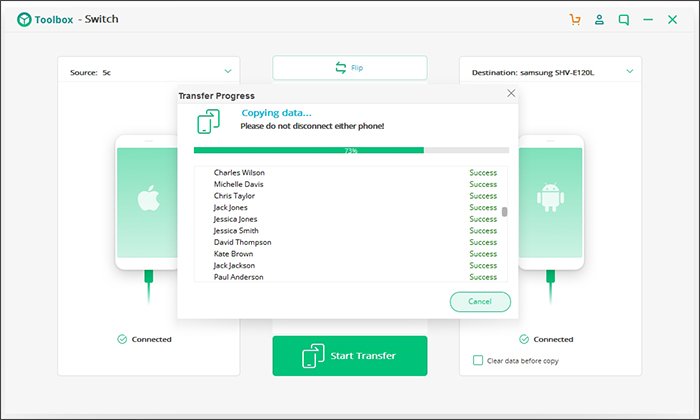 The whole process is just awesome. The best part is that iSkysoft Toolbox – Switch shows an updated list of all contents that are transferred between the devices. We found the process quite faster and organized — compared to most phone to phone transfer tools out there.
Ultimate Compatibility
We already talked about the intuitive UI and the speedy transfer process. iSkysoft Toolbox – Switch is also a great tool when it comes to the compatibility aspect. As we said earlier, iSkysoft Toolbox can work with both iOS and Android devices. Between these two platforms, you can transfer almost everything. The only thing you cannot transfer between iOS and Android would be Apps and Call Logs.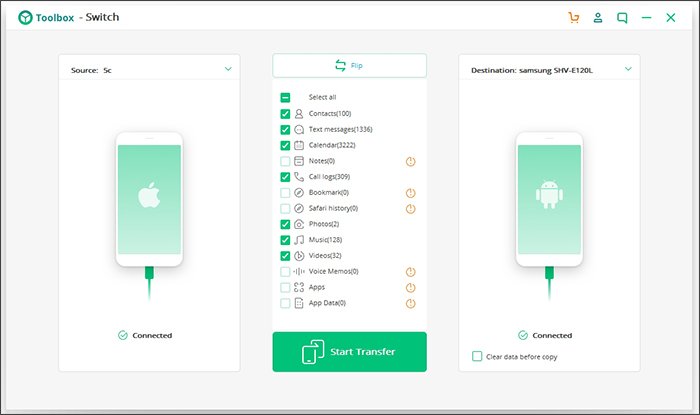 Moving further, iSkysoft Toolbox – Switch lets you take care of a wide variety of data sets, including the Text Messages, Contacts, Calendar, Photos, Music, Videos, Calendar etc. It's a complete data transfer solution in all senses possible. Because iSkysoft Toolbox – Switch has been built with the maximum quality, you needn't worry about data loss either.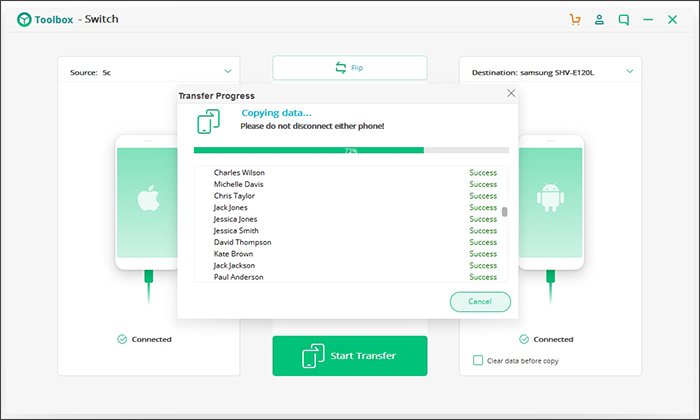 It is also worth noting that iSkysoft Toolbox – Switch has support for devices from various manufacturers as well as carriers. It does not matter whether your Android is running on Verizon or T-Mobile, iSkysoft Toolbox – Switch will help you transfer every bit of content to the new device. We really loved the fact that iSkysoft has trained the algorithm to automate the process here.
The Bottom Line
Now that you have seen the different aspects of iSkysoft Toolbox – Switch, it's time to decide.
It's pretty clear that iSkysoft Toolbox – Switch is one of the best and safest way to transfer data between iOS and Android devices. it's a completely hassle-free process and the intuitive UI makes the job a lot easier. Last but not least, this phone transfer tool is quite affordable when we consider the amount of time as well as effort that you're going to save.