Web development is a lot better nowadays thanks to the presence of Wix. Gone are the day of the past, when one had to code every last line to make a functioning web page. Today things are a lot more comfortable and a lot more convenient for site owners to set up their new websites. Cloud-based development platforms like Wix have made it a breeze for anyone to build a website from scratch without having any degree of programming knowledge in a matter of few minutes.
Wix has been around for some time and is little over a decade old now. Wix has been at the forefront of making web development and management a lot easier and convenient, and offering webmasters the flexibility they need to turn their dreams into reality. However, the best part about Wix is that you can manage your business website right from the comfort of your smartphone using one of Wix's app. Yes, they have added this functionality as well, and it's very useful!

Wix Mobile App:
Wix is one of the best website building platforms on the market. Especially because of their huge range of free website templates, you can always find the perfect choice for your site! The team at Wix isn't satisfied with just being one of the best, so they've gone ahead and created a mobile app that enables you to manage your business website on the go, with the use of your mobile device. Apart from the sleek and easy to use user Interface, the app also comes with tons of amazing new features that are tailored to make managing your website a breezy task. The app runs smoothly and swiftly without any hiccups. You don't feel the limitation of using the platform from a mobile device, compared to a PC. Now, let's take a look at some of the awesome new features that come with the app.
Features
#1 Increasing Visitor Interaction Metrics
When it comes to the job of running a successful website, it is a known fact that inbound traffic is often a very important metric that is used to determine the success of the site. The more quality visitors you get for your site, the more leads you can convert! Well, with the Wix app you will be able to interact with your site's visitors in real time. With it, you will be able to start and manage live chats, and reply to client queries on the go, while being able to view client history as well, right from your smartphone.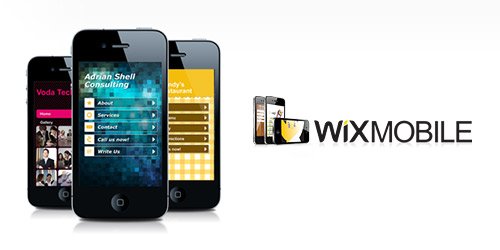 #2 Becoming a Truly Mobile Blogger
A lot of businesses are not tied to a single physical location anymore. Blogging on the move helps you stay updated on your things and the Wix app helps with just that by offering you all the features such as adding media, posting blog posts, and sharing the post to your social media networks in just a click of a button. This enables you to stay connected to your readers from anywhere on the globe with ease.
#3 Managing Your Store
Getting your visitors interested in purchasing from your store starts with a captivating landing page. Thankfully, Wix has a great selection of free landing page templates to get your audience hooked. Once you have your customers you can easily manage their needs right from your phone! The Wix mobile app lets you control all the basic store management stuff such as adding new products for sale, receiving sale notifications, tracking orders and even tracking inventory to stay on top of the product you have left.
Do you have any trouble managing your bookings? Well you can stop worrying with the help of the app. By using it, you can keep track of all your schedules as well as that of your employees! The app also provides added functionalities such as creating new appointments, adding participants and not notifying you when there's an event update.
#5 Tracking Your Invoices
The Wix app also helps you in managing all your invoices right from your smartphone while even notifying you about client payments, when they complete those invoices.
I hope this article was useful for you to learn more about the power of the Wix Mobile App and how you can manage your website and do more with it on the move. If you have any doubts with regards to this, let us know through the comments and we will be glad to help you out. If you have any suggestions regarding how we can improve the article, let us know them through the comments as well for us to improve.
Do you have any other reservations while using the Wix Mobile App? What are features that you liked the most while using the app? Do you have any feature requests? Let us know through the comments and we will feature it here.