Competitive businesses and marketers agree that heat maps are a make-or-break tool to optimize their websites and improve user experience. By visually representing data through color-coded maps, heat map software tools help businesses understand how users interact with their websites and identify areas for improvement. The top 4 heat map software tools in 2023, which include Hotjar, Maptive, CrazyEgg, and Mouseflow, offer a range of features to help businesses track and analyze user behavior, identify potential roadblocks to conversion, and optimize their website for maximum engagement.
This post will look at each in more detail.
Maptive
Maptive is a powerful heat map software tool that gained popularity and recognition as one of the top 4 in 2023. It is user-friendly software that offers a wide range of features and capabilities for businesses to analyze their data and gain valuable insights.
One key feature that makes Maptive stand out is its ability to easily import and analyze large datasets. It supports various data formats, such as Excel and Google Sheets, and allows users to visualize data using heat maps, cluster maps, and point maps, allowing businesses to identify trends, patterns, and areas of opportunity within their data.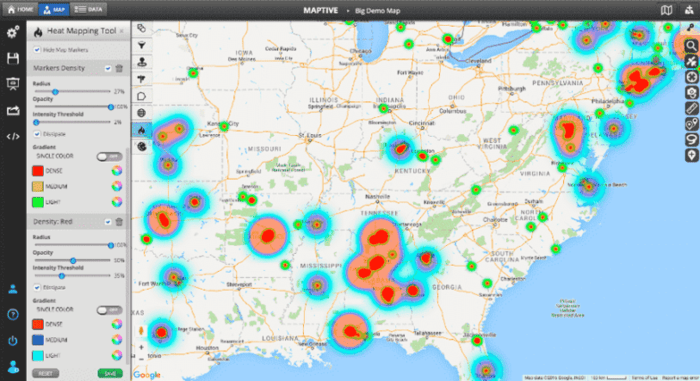 HotJar
Hotjar is another one of the top heatmap applications on the market. If you're new to the category, it's a fantastic option that provides a solid range of features centered around session replays. 
One of Hotjar's highest-rated features is its ability to help you collect qualitative feedback from your users. The platform supports targeted user experience research, allowing you to gain insights into how your visitors interact with your website. Additionally, Hotjar allows you to push surveys directly to your website, allowing you to gather valuable feedback from your visitors and incorporate it into your decision-making processes. The only caveat is that some users have reported difficulty accurately tracking mobile user behavior, which can impact the heat maps' accuracy. Finally, HotJar's pricing structure may be prohibitive for smaller businesses, as the cost can quickly add up for high-traffic websites or those with many pages.
Mouseflow
Mouseflow is a web analytics tool that helps businesses track user behavior and improve website conversion rates. It offers features such as heatmaps, session replay, and conversion funnels to analyze user interactions with a website.
One of Mouseflow's strengths is its ease of use, as it requires no technical knowledge to set up and use. Mouseflow also integrates with other marketing tools like Google Analytics and Hubspot. However, the platform has some drawbacks, such as limited customization options for heatmaps and a short data retention period for reports.
Businesses can use Mouseflow to identify popular areas of their web pages and optimize them for conversions. They can also use it to analyze user behavior and identify potential roadblocks to conversion. Additionally, A/B testing different versions of web pages and fixing areas causing high bounce rates are other ways teams have used the tool effectively.
CrazyEgg
CrazyEgg is a popular heat mapping tool enabling businesses to optimize their websites and enhance conversions. It provides valuable insights into user behavior by visualizing data in an easy-to-understand manner. The tool's features include heat maps, scroll maps, confetti maps, and overlay reports, all of which help businesses identify how users interact with their websites.
CrazyEgg's user-friendly interface and wide range of heat maps make it a valuable tool for businesses looking to optimize their website's performance. It enables businesses to identify the most clicked areas of a web page, how far visitors scroll down a page before leaving, clicks on individual elements, and the number of clicks on each page element. Additionally, it allows for A/B testing, enabling businesses to optimize web pages and integrate with other marketing tools.
However, the platform is not perfect, with many reviews commenting on expensive pricing being a limiting factor to accessing advanced features and technical knowledge requirements for some features, which can pose challenges for users without technical expertise.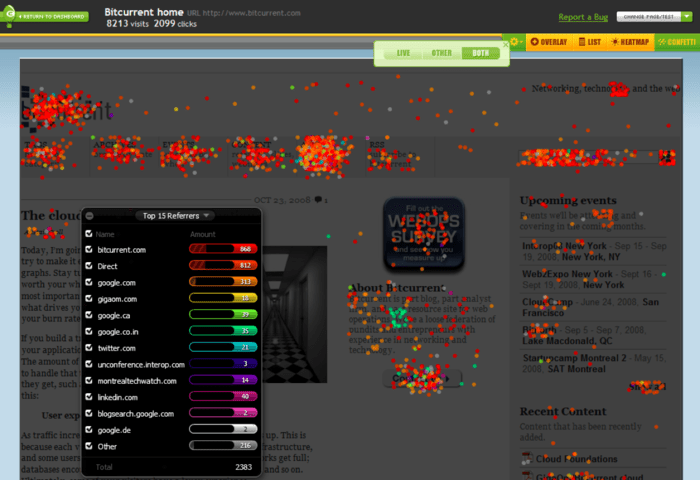 Making Your Choice
Heat map software tools have become essential to website optimization and user experience analysis. The four tools discussed – Hotjar, Maptive, Mouseflow, and CrazyEgg – offer unique features to help businesses gain insights into user behavior, optimize their websites, and ultimately increase conversions.
It is important to note that the popularity and effectiveness of these tools can change over time, and there may be new or emerging tools that become popular in the future. Therefore, businesses should remain open to exploring new tools and methods to stay competitive and meet the evolving needs of their users.