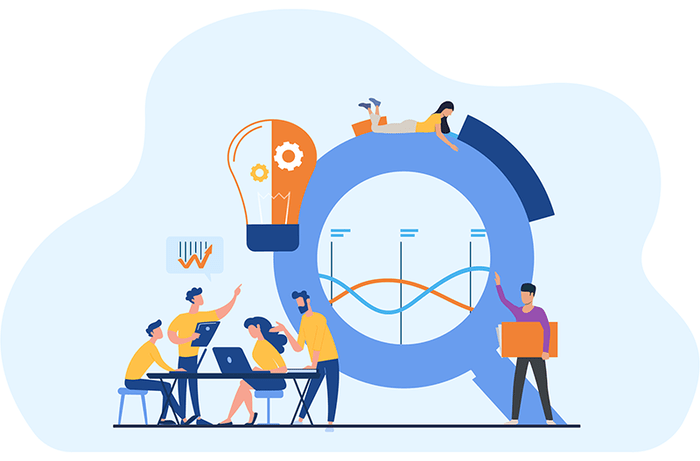 FinOps is a combination of finance and DevOps — A new concept hoping to drive cloud cost reduction in an organization while simultaneously providing quality cloud services. Therefore, FinOps is not limited to reducing costs because it is also concerned with an organization using the best cloud services. Different personas are brought together to make this possible, collaborating to ensure all FinOps objectives are met. 
What you should know about FinOps is that it is not an individual role; many departments/groups merge to create a FinOps team. Some are concerned with finance and management, and others with engineering issues. In this article, you will get more insights into the different roles in a FinOps team and their primary responsibilities. 
What Are the Roles of the FinOps Team? 
One person can't handle everything regarding FinOps in an organization, So more than two persons are needed to reduce cloud costs effectively. But generally, all the individuals and departments help to reduce the cost of operating in the cloud. So, they are concerned with invoice control, management reporting, quantity management, cloud product deployment, maintenance, and many others. Below are some of the roles embedded in a FinOps team and their responsibilities. 
The executives do not do the actual job of reducing cloud costs — Their role mostly involves supervising the entire team and ensuring they meet their goals and objectives. Furthermore, this role is mostly that of a project manager or supervisor or can also be given to CTOs. Nevertheless, the major responsibilities of such roles are to review budgets, ensure accountability, and provide efficiency and transparency. 
Engineering Part of FinOps 
The engineering department is a very important part of FinOps due to the crucial roles they play in the team. Apparently, these people or groups of people understand the engineering and technological part of the cloud. The engineering department handles the automation, troubleshooting, maintenance, and deployment of workloads. It comprises many persons, such as cloud architects, engineering managers, system engineers, and software engineers. 
Apparently, one of the major aims of FinOps is reducing the cost of cloud operations and storage. So, there needs to be a financial department that handles and identifies opportunities through which an organization can reduce costs. Identifying cloud cost opportunities isn't the only duty of this department; they also need to be versed in negotiations between cloud providers. Creating different cloud models depending on the situation is also crucial for this department. This department will often have to use cloud cost optimization tools such as Globaldot to help them in their tasks. 
Project managers are also a key part of a FinOps team, and they have a role similar to that of an executive. Apparently, their job is monitoring and ensuring the group meets its goals efficiently. The major difference they have with the executives is that they are mostly concerned with a smaller group or department. They might not be in charge of the whole group. 
Benefits Of FinOps Team in an Organization 
FinOps plays a very important role in an organization, and it can help them cut down costs and improve efficiency. 
In the process of reducing costs, one of the benefits FinOps brings to an organization is that it brings more visibility to its spending. With the updated reports, an organization can easily know how much they spend on cloud services. Also, the visibility of an organization helps to know if there's an anomaly in the organization's spending. Furthermore, visibility helps them detect opportunities to reduce costs, such as promos and discounts. 
When there's visibility due to a FinOps team's presence, it leads to accountability for many projects in an organization. Assuming an organization is undertaking a project, the employees involved can be held responsible for any misspend due to visibility. This makes them accountable for whatever they do, thereby creating efficiency in operations. 
Especially in the financial department of a FinOps team, one of the benefits an organization gets for having them is the cost savings. In many organizations, some cloud services are no longer in use, and they are still paying for them. In other cases, an organization might be paying for a cloud service that is not compatible with its model of operations. For instance, an organization might be paying for a cloud service meant for 1,000 employees when they only have 100 employees. The advantage of having a FinOps team is that they help identify these issues and find a way of reducing the cost of operations. 
Cost/performance Optimization
The benefit of FinOps in an organization isn't only about reducing costs — It is more than just reducing the cost of operating in the cloud. While reducing cost, the FinOps team also ensures they get the best cloud services. One of the ways they do this is by deploying cloud cost optimization tools such as Globaldot to help get cloud services at reduced cost. Not only will the cost be reduced, but tools such as this help to ensure only the best services, compatible with an organization, are purchased. 
Wrapping Up 
FinOps is a thought or concept that believes that an organization operating in the cloud can reduce how much it spends and, at the same time, maintain quality. So, an organization operating in line with this concept hopes to get the best cloud services without exceeding their budget or overspending. 
To achieve this goal, an organization needs a FinOps team — Made up of several groups working together to achieve this aim. Some primary roles in a FinOps team are the executives, project managers, finance department, and the engineering team. Nevertheless, organizations benefit from this as there's increased visibility, accountability, cloud cost savings, and optimized performance.