In this technical world, it is really easy for anyone to lose their data while operating their devices or due to any other reason. Keeping this in mind, we are here with the iBeesoft data recovery tool Mac 3.6. iBeesoft Data Recovery tool is simply the best and versatile tool that allows you to recover your data or lost files from your hard drive or any other modern storage device with ease. Moreover, this is a reliable tool that you can use in a variety of situations.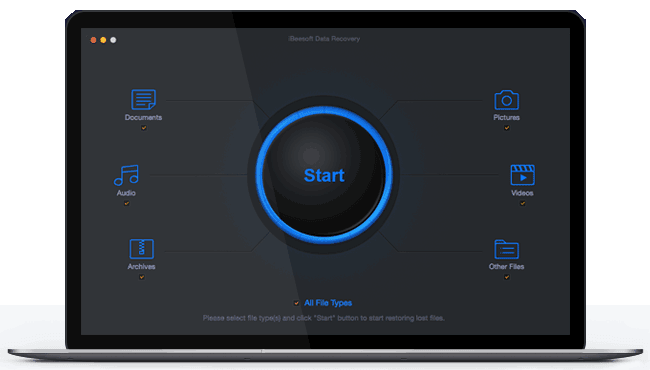 In this article, we are going to take a look at the different situations in which we can use this tool, the different features that are offered by iBeesoft Data Recovery, and the simple steps that you need to follow in order to operate this tool. 
Let's start with the different scenarios in which you can use this tool in order to recover your deleted or lost files. You just have to download this amazing software for free and thereafter, you can use it for your various needs. 
With iBeesoft Data Recovery, you get to recover the files that are completely erased from the hard drive of your Mac or any other storage device that is connected with it. 
Secondly, you also have the option of recovering the files that are deleted from the recycle bin of your Mac. 
Besides these two options, you can restore data from storage devices such as flash drives, SD cards, USB drives, and external hard disk drives on your Mac. 
The Mac disk recovery option makes sure that you can recover your deleted files that you lose during the formatting of the disks or get damaged during the partition of your disk. Similarly, the fully compatible APFS data recovery allows you to take full control of the files that are there on your Mac. 
Lastly, you enjoy the complete protection of your data from virus attacks and system errors with iBeesoft Data Recovery. 

What Makes IBeesoft Data Recovery The Best Tool Available Online?
Being one of the most reliable and user-friendly tool on the internet, iBeesoft Data Recovery is the first choice for most of the users. More importantly, all the information that is transferred or the files that you recover with iBeesoft Data Recovery are completely safe be it your photos, your PowerPoint presentations, or anything else.
1. The Advanced Technology
With the advanced technology that is used for the development of iBeesoft Data Recovery, you get a completely reliable and powerful software capable of handling more than 500 different file formats with ease. 
2. Efficient Scanning Modes
As you scan your Mac to recover your files with iBeesoft Data Recovery you get two different scanning options that are quick scan and deep scan. With the quick scan, you get a lightning fast scan of your drives while with the Deep scan option you get thorough research of all the drives giving you more detailed results. 
Unlike most of the recovery tools that are there in the market,  you get to save and share your results without scanning your drives every time. 
4. The Friendly Interface
The easy interface and an amazing customer support, with iBeesoft Data Recovery you get a professional recovery tool that you can use with learning all about the functions of your Mac. 
User Guide
In three simple steps, users get to recover their deleted files on their Mac as they use iBeesoft Data Recovery. 
Step 1: 
Start by launching the iBeesoft Data Recovery tool on your Mac and on the primary screen you can choose the type of scan that you are interested in. Here you can also uncheck the files that you are not looking for in order to save some time as you scan your drives. Once you are ready with all the preferences you can click on the start button.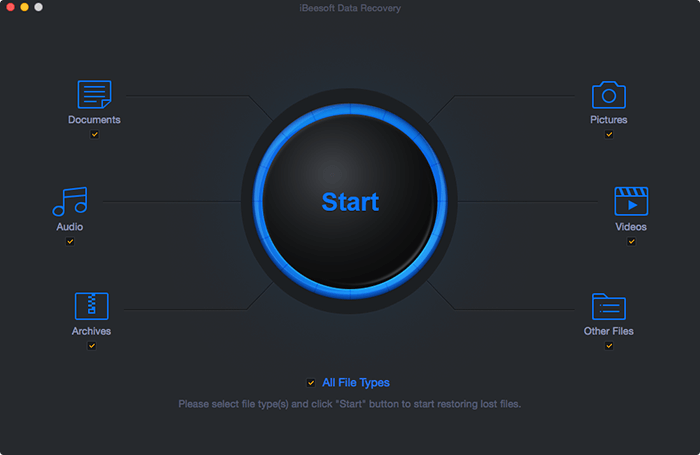 Step 2:
In this step, you have to choose the drive that you want to scan in order to restore your deleted files and once you are ready with your choice you can proceed to the next step.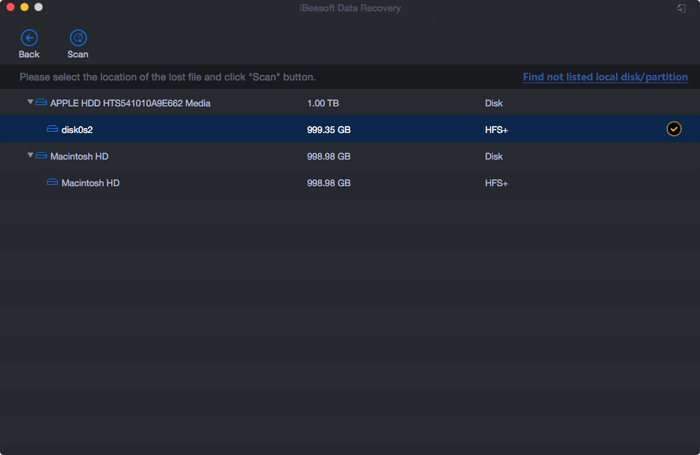 Step 3:
In the final step, you can preview all the scanned files and restore the files that you were looking for. You just have to select all those files and click on the Recover button that is visible on the primary screen.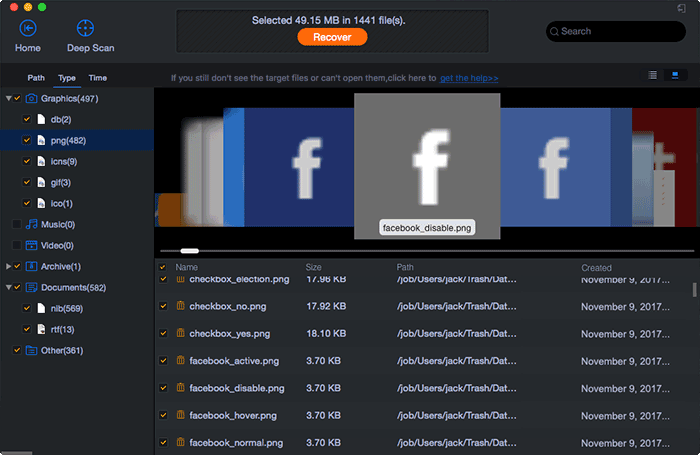 Conclusion
Without any doubt, iBeesoft Data Recovery is the ultimate tool when it comes to restoring your lost data from your Mac. You get a complete array of options that allows you to use this amazing tool without any advanced knowledge of computers. After using this tool personally, I can surely recommend it to other Mac users because of its simplicity and powerful features.