In this digital age, drawing tablets are there to make creation of digital art works easy and more efficient. Let's face it, it is quite difficult to work with a mouse in a carrying out the same task and achieve the same wonderful results.
That's why the digital pen is a haven for all digital artists. However, before purchasing a graphic tablet, it is wise to way the cost against the rewards when acquiring the gadget. Below are four best drawing tablets that will offer amazing services at an incredibly affordable price.
When it comes to graphics tablets, Wacom is definitely your trusted partner. The white Intuos draw creative pen tablet is particularly an artist's sure bet when under a budget. With four customizable express keys feature, it is quite easy to maneuver around shortcuts.
It comes in manageable 8.25 by 6.7 inches. This is ideal for limited working surfaces. This feature also makes it universally friendly for use to both left handed and right handed people. A size like this is quite portable too.
The intuos draw can be easily connected to your computer, a feature that indefinitely turns the monitor screen into a digital drawing canvas when your drawings and paintings appear.
The key purpose for the tablet is not only to make creating art pieces easy, but make you enjoy it as well. Every stroke makes it particularly favorable for beginners. Drawing, painting, editing and any activity that needs to be carried out is made easy with the digital pen.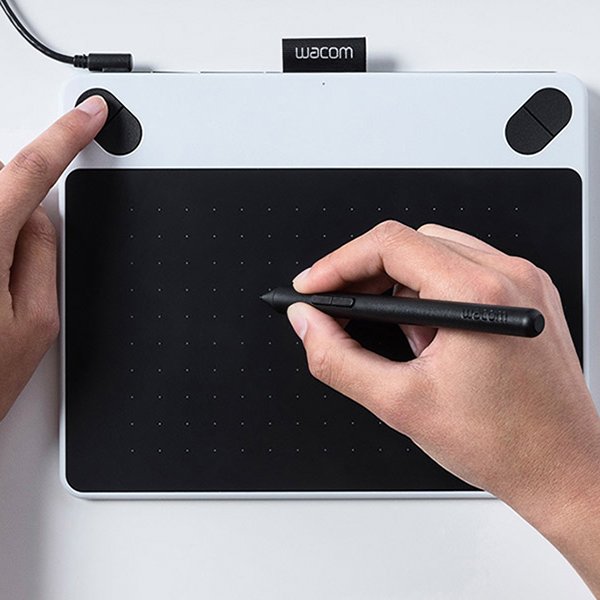 The tablet connects effortlessly with other operating systems. For example, Mac and PC computers. It also works with versatility with other programs such as Adobe Photoshop.
The pen itself cuts on maintenance costs since it doesn't use batteries. The fact that it is pressure-sensitive enables the artist to draw thinner or thicker lines depending on the pressure you apply on the pen. Clearly, digital drawing and sketching can't get easier than this.
What's more? The Wacom Intous Draw comes with a free drawing package. Talk of tutorials and a whole art range drawing software. Don't you forget, it is quite affordable. It will suit a budget below 100 dollars.
This particular product from Huion is giving Wacom a run for their money. Available at about seventy seven dollars, it is ridiculously affordable given the quality features it is equipped with.
The tablet comes with a working surface area of 10 by 6.25 inches. For artists. The larger it is, the better right? Its weight makes portability easy as well.
Huion Pro has a USB cable packaged to enable connection with your PC computer. Versatility is assured for users in that it is quite compatible with other operating systems. Observe that there has been claims it's more difficult to install the drives compared with other graphic brands that serve the same task. An artist also highlighted image resolution was clearer when connected to a windows PC than a Mac.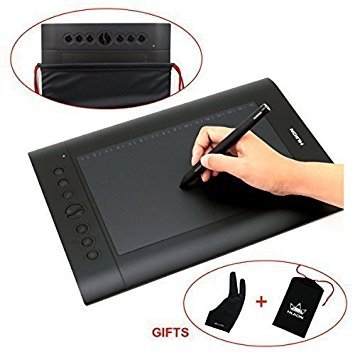 This shouldn't deter you from making a purchase though. The digital pen has 2048 levels of pressure sensitivity. This means a more natural control of lines' thinness and thickness, high responsiveness, transparency and optimal color illustrations is assured. How else can you bring out the finer sophisticated details in your artistic creations other than this? Accomplish your design, drawing, painting and writing tasks in style. The pen is rechargeable but it can also use batteries. There is a pen stand with four pen tips that come packaged with the graphic tablet. What's more? The pen enables a user to completely replace the mouse.
There are eight customizable physical express-keys on the left side of the tablet. Added sixteen hot cells on the H610 at the top providing the user with multiple shortcuts. This increases your efficiency.
Purchasing a Huion H610 pro will be totally worth your money. It is commended to beginners.
The Ugee M708 is elegant and slick considering its thin size. With a 10 by 6 inch size working area, it enables the artist to create in different dimensions.
The pen that comes with the tablet has a 2048 pressure sensitivity. It has two customizable express buttons, a feature not found in many related graphic tablets. This will enable the user to perform tasks such as switching eraser modes or performing redo and undo commands easily. The pen however uses AAA batteries to work since the tablet is electromagnetic. Be keen to note the pen doesn't have tilt sensitivity. On a positive note, the tablet comes with eight free replaceable tips for the pen.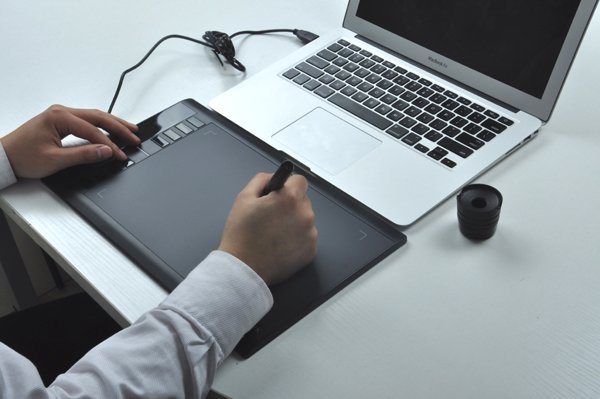 This drawing tablet too, is compatible with other operating systems and programs. The USB cable is 150 centimeters long, a feature quite favorable for free movement. You don't have to worry about right or left handed use, it is possible to use it easily with either hands.
The Ugee comes with a Pen Signer. A program that enables the artist to sign any document with their signature. At a below 90 dollars price in respect to the features it is equipped with, this tablet is pretty affordable.
The tablets has features similar to Huion H610 Pro. It comes with pressure sensitivity of 2048 levels. At 10 by 6.25 inches, the tablet provides ample working area. It has 8 keys and 16 customizable functional cells that make usage efficient. The pen however uses AAA batteries to run. Unlike other tablets, the turcom has driver has features that will adjust for left handed people. The tablet can be turned so that the buttons are on the right. There is versatility with other operating systems and programs. Generally, the Turcom TS-6610 has quality features at a very affordable price.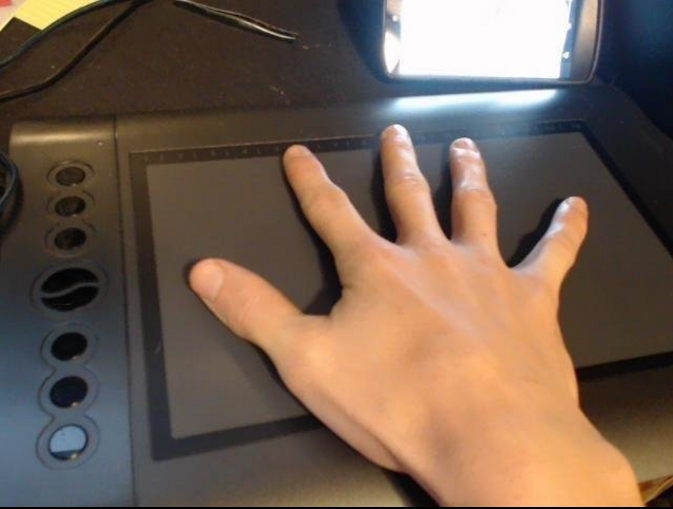 There you have it. Running on a budget? One of these four graphic tablets will come in handy. All the tablets come with a user's manual. It will be quite easy to work your way around either of them. Above all, they are quite user friendly for beginners.