Poker has become more than just a game these days. It has evolved into a hobby and even a source of regular income for some. Many people have earned huge amounts of money through this game and continue to do so. Also with the advancements in technology, Poker is no longer limited to just the club or the table. You can now play Poker sitting in the comforts of your house with people from all over the globe through mobile apps. One such app that we are talking about today is 888poker NJ. So let's get to it.
Features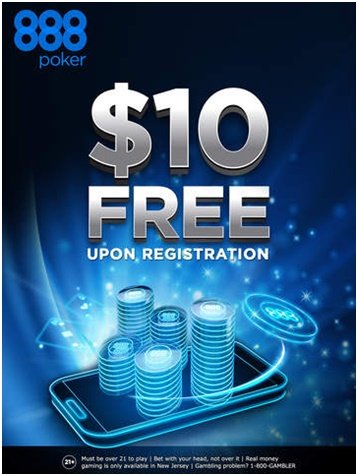 With more than 10 million registered players worldwide, 888poker NJ is an app that barely needs any introduction. Download the game on your iOS device and get $10 instant credit upon registering. Once you register and start playing, there's endless possibilities. You can choose your own poker game from many from the Texas Hold'em tournaments that take place often. Choose your table with bets starting from as low as 1¢. 888poker NJ is open 24/7 so you can play and earn money anytime you want during the day, 365 days of the year. All the monetary transactions are carried out under a license from the New Jersey Division of Gaming Enforcement.
There's no waiting on the 888poker NJ app. While you're waiting for a tournament to begin, you can check out the casino which features black jack, roulette and many more games. You also have access to cash games, Sit & Go's and multi-table tournament through the app so it's not just plain poker you'll be able to play.
Withdrawing the money is easy and secure, thanks to 888poker's safe & secure cashing portal which ensures you can withdraw your earnings safely without any risk of fraud. Once you download and register on the app, you'll be able to access 888poker NJ through the desktop website too with all the above mentioned features like cash games, Sit & Go's and multi-table tournaments.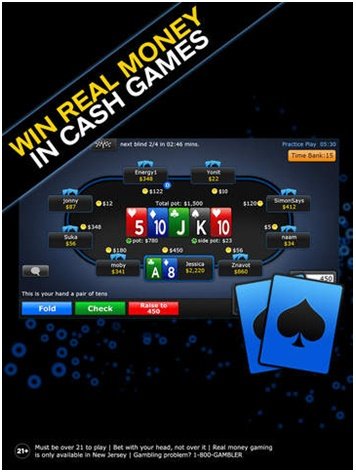 Conclusion
All in all, if you live in New Jersey and are 21 years old or over, 888poker NJ is the best poker app for you. One of the fastest growing apps for playing poker and other card games, 888poker has also received two awards, namely the Best Gaming Product 2012 and the eGR Online Poker Operator of the Year 2013.  Licensed by the concerned authorities, you can never get in trouble using this app to play poker and the huge base of 10 million registered users show the app's popularity. The app is supported on iOS devices running iOS 7 and above and if you face any problem during your time with the app, the customer support team will be more than happy to help you out any time of the day.
If you'd like to install 888poker NJ on your iOS device running iOS 7 or up, click this link here.