Do you want to save Netflix videos to your computer for offline playback? Are you searching for a helpful screen recording tool to get the work done? Honestly, though screen recording is feasible, it is a pleasant option. Screen recording only works for saving a single or a small number of short titles. If you want to download multiple movies or an entire season of a TV show, this is an inefficient and time-consuming choice.
Today, I am here to give you a better solution-a reliable and professional Netflix downloader that is able to save all Netflix titles you want to your computer at a time with the best video quality. No longer need to record videos one by one. Keep on reading to learn more about it.
Why do you need a Netflix Video Downloader?
As we all know, not all titles in the Netflix app are available for download due to reasons such as content rights, popularity, and other localized factors. Only movies and shows listed in "More to Download" or "Available for Download" support downloading. Downloads will expire after a period of time, and some have a limit on how many times they can be downloaded per year. Additionally, only the ad-free plans include the download feature. If you cancel your account, TV shows and movies you've downloaded will be deleted from your device. You will need to download them again if you rejoin in the future.
Sparkling features of MovPilot Netflix Video Downloader
There are many apps available on the internet for downloading or converting Netflix videos, but not all of them can fulfill your needs as some programs may contain viruses or malware, while some may be complicated to operate. If you haven't got an ideal tool, you can try our MovPilot Netflix Video Downloader. It is a 100% safe and reliable downloader without security risks.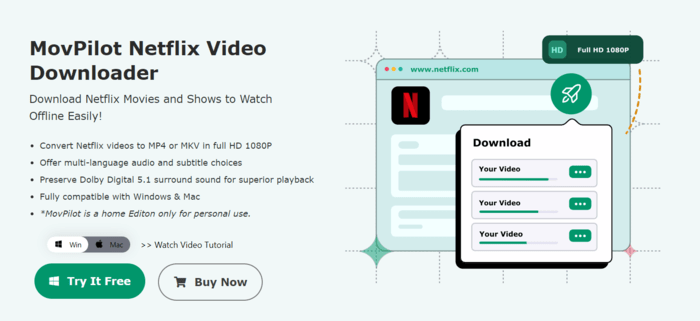 MovPilot Netflix Video Downloader can convert Netflix videos to MP4 or MKV formats. Once successfully downloaded, you can keep the videos without expiration. The widely-supported formats also allow you to transfer the movies to other devices such as TV, PS4, Switch, or your mobile phone for convenient offline viewing. You don't have to worry about video quality as MovPilot Netflix Video Downloader saves Netflix titles in 1080P Full HD resolution, providing you with a cinema-like experience.
It is widely known that there is still no Netflix app for macOS. Luckily, MovPilot Netflix Video Downloader can help you out. It performs smoothly on both Windows and Mac. So, even though you can't access the Netflix app, you can still enjoy Netflix movies and shows offline on your Mac.
More Features to Explore
Batch download an entire season
MovPilot Netflix Video Downloader supports downloading a single video as well as an entire season from Netflix with just one click. Multiple videos can be downloaded simultaneously, saving you time and effort.
MovPilot Netflix Video Downloader adopts hardware acceleration to maximize your GPU performance. So, the downloads can be up to 5X faster than the Netflix app.
Offer flexible subtitle choices
You can download Netflix subtitles with 3 options. Choose Soft subtitles if you want to build subtitles into the downloaded video; choose Hard subtitles if you want to merge subtitles into the downloaded video; choose External subtitles if you want to download subtitles as an SRT file.
In-built browser for Netflix
MovPilot Netflix Video Downloader comes with a Netflix browser, so you can access the whole Netflix library your account can reach without launching Netflix app or opening its websites.
High download success rate
MovPilot Netflix Video Downloader currently has a nearly 100% download success rate.
After a smooth download process, all metadata of the Netflix titles including, series title, audio channel, video codes, etc. can all be retained.
Tutorial on MovPilot Netflix Video Downloader
MovPilot Netflix Video Downloader is not only feature-rich but also user-friendly. Now, you can follow the steps below and learn how to download Netflix video on Mac/Windows with this program.
Step 1. Download and launch MovPilot Netflix Video Downloader on your computer. Then log into your Netflix account.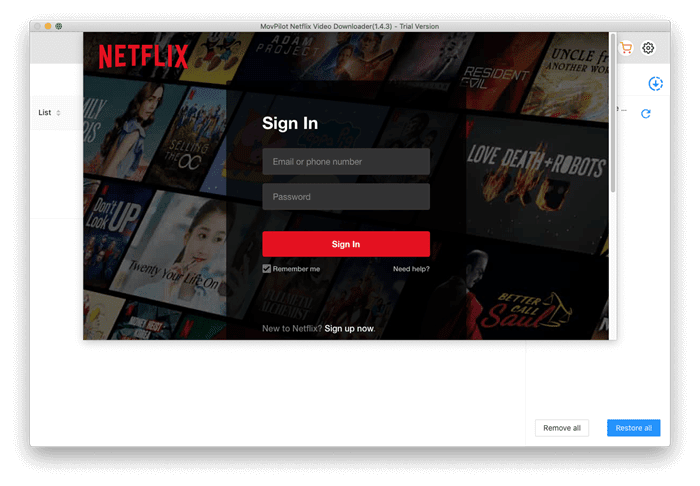 Step 2. You can directly search for the title of the movie or TV series you want to download in the search bar. Or copy the URL of the show from the Netflix website and paste it into the program. Hit the arrow icon under the search bar to filter the result.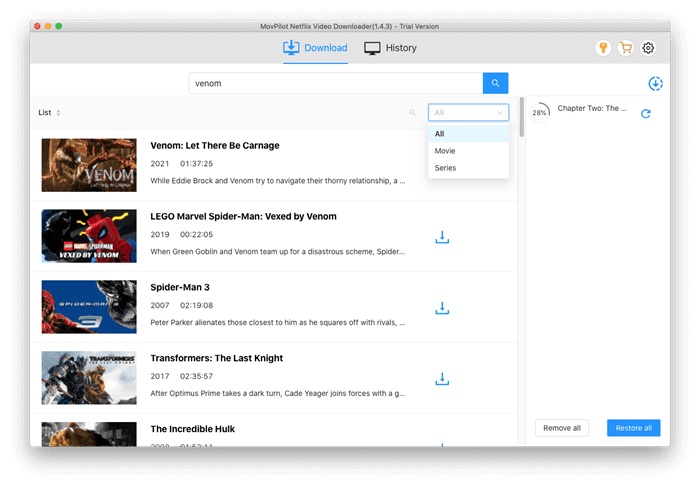 Step 3. Before you start to download, click the "Gear" icon on the upper right side and go to "Settings". Here, you can adjust video output format, subtitles languages, download speed, and more.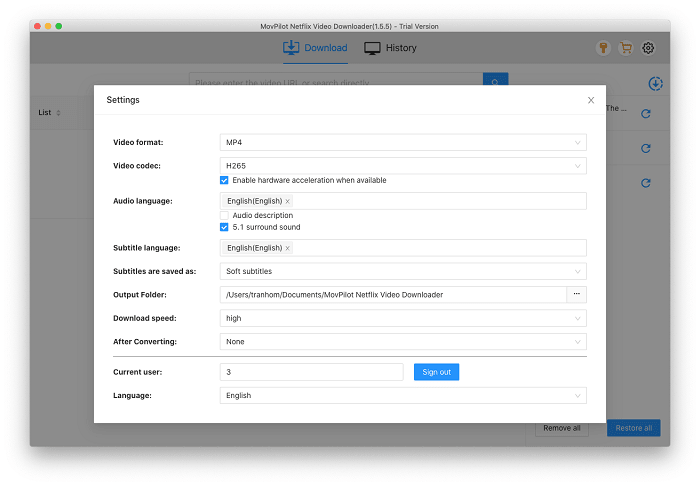 Step 4. Click the "Download" icon on the right side of the video result and start the download process. You can see the download progress on the right side of the screen.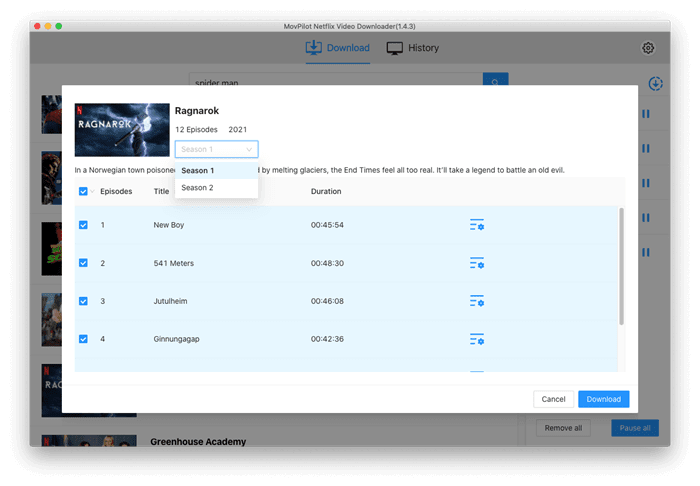 Step 5. When you're done, you can click the "History" button and view the downloads on your local drive.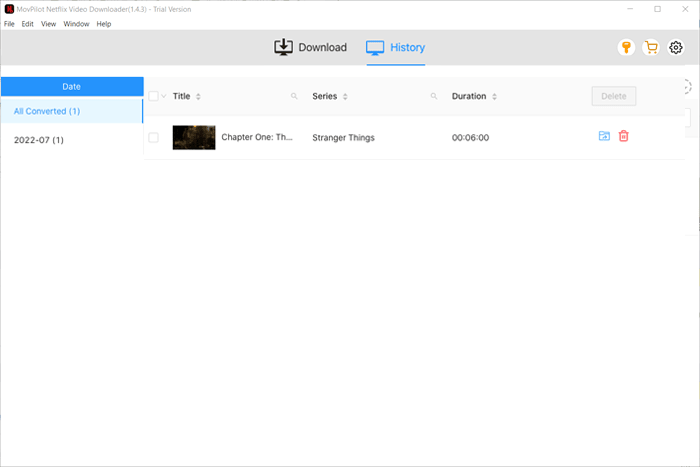 Conclusion
Obviously, using MovPilot Netflix Video Downloader is more efficient than screen recording. And compared to other downloading software, MovPilot Netflix Video Downloader offers a better user experience. It has a simple and straightforward UI. With it, you can one-click download your beloved movies and TV shows to MP4 without even a Premium subscription. If you no longer wish to be limited by the download feature of the Netflix app, just give MovPilot Netflix Video Downloader a try.