The methods of storing data are being renewed and upgraded every single day. From floppy disks to cloud storage, we have come a long way. Although the era of DVDs seems to have come to its end, there are still people who would much prefer backing up their data on a DVD rather than on cloud. There are plenty of online tools that would help you copy your data from your old DVD, but there are very few dedicated copiers who can take care of all your needs, and the best of the lot is the WinX DVD Copy Pro
What Is WinX DVD Copy Pro?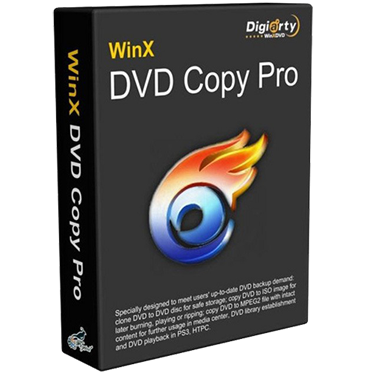 Winx DVD Copy Pro is one of the best DVD copying and burning software out there. Its user interface is designed to be friendly and the software is designed to meet all your up-to-date DVD back-up requirements. It debuted in 2011, and since then has been the most trusted and the most optimal DVD cloner all around the world.
Why Should I Use WinX DVD Copy Pro?
Every DVD has a shelf life. The older it is, the more prone to scratches and dust damage it becomes. This causes a failure to play content flawlessly. WinX DVD Copy Pro is one of the best in copying broken and damaged DVDs to a blank new one without quality loss. Some other highlights of WinX DVD Copy Pro include:
9 DVD Backup Modes: For DVD disc backup, WinX DVD Copy Pro can copy DVD to DVD, DVD to ISO Image, and DVD to Video_TS Folder. For DVD content backup, you can copy DVD to single MPEG2 file, copy DVD chapter, or extract video/audio only. You can also burn DVD from ISO image.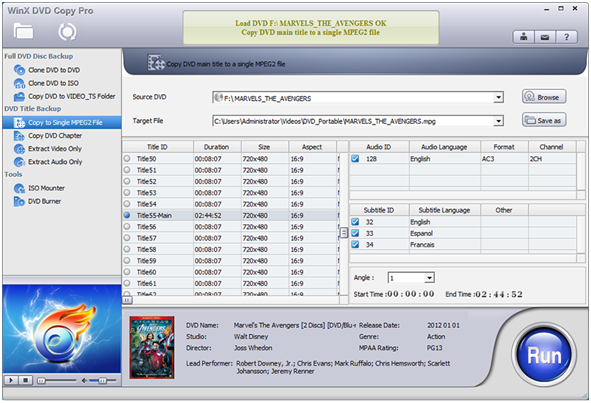 Sector by Sector Duplication: WinX DVD Copy Pro has the latest backup techniques like sector-by-sector duplication and One-to-One DVD scanning, which enables you to get the best quality of content.
Recover Lost Data: WinX DVD Copy Pro goes where no DVD copier has gone before. Recovering data from scratched DVDs, corrupted sectors, Disney's fakes, Sony ARCOS bad sector, etc. is no big feat for WinX DVD Copy Pro. It can backup scratched DVDs at 1:1 ratio. Now that's a claim not many can make!
Time-Saver: With a copying time of 12-17 minutes, WinX DVD Copy Pro is one of the fastest copiers out there.
Low CPU Cost: No need to leave your computer alone while DVD copying, there is plenty of CPU power left for other programs. With an average CPU cost of less than 1%, you can easily copy DVDs without your computer burning up!
Installation Guide
After the setup file is downloaded, open it and click 'Yes' if the UAC window pops up.
Select the preferred language, accept the terms and conditions, select the desired location for installation, and click 'Next'.
Click 'Finish' and the software will be installed on your PC.
After downloading, the app will launch automatically. Enter the license code you grabbed from the free giveaway to activate the product, or click on 'Buy Now'
How to use WinX DVD Copy Pro to Backup DVD to DVD
Insert the old DVD in the DVD drive, and browse it on the app's interface.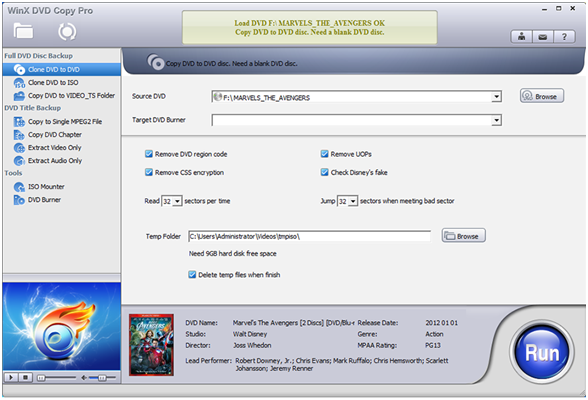 Choose any one of the 9 DVD copy modes from the list.
If you have multiple DVD drives, then you can copy DVD to DVD directly. Otherwise, save the old DVD as ISO file or DVD Video_TS, and then burn it into a blank DVD.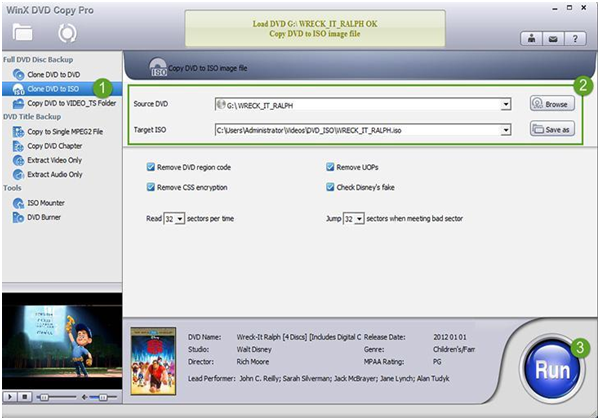 Click Run to start DVD backup.
Conclusion
WinX DVD Copy Pro is one of the best and the most versatile DVD copier in the market. You can never go wrong with it. So hurry up and backup your DVDs before the opportunity ends!