After months of relentless wait, iOS 11 is ready to hit your iPhone, iPad and iPod devices, right? There are a bunch of reasons why you should be excited about this update, especially on iPhone and iPad. From smarter version of Siri to easier multitasking and from an enhanced Control Panel to system fluidity, the latest version of iOS is enriched with features. Despite all the good stuff, upgrading to iOS 11 can be a tough task for some of you, especially if you have an older iPhone or iPad. There have been many instances where people lost a lot of data and even corrupted their devices while upgrading to a newer iOS version.
Anyway, you need to upgrade to iOS 11, right? It will be a big loss otherwise. Don't worry, as we have come up with an effective way to fix almost all the technical issues you may come across while upgrading to iOS11. These issues were also present during the upgradation to earlier versions of iOS, and we've one solution to take care of all. Before we begin to talk about the actual solution, shall we have a look at the common issues faced during iOS upgrades?
Possible iOS Upgrade Errors and Problems
There can be multiple reason why your iOS upgrade is corrupted or gets into trouble. Most probably, there can be some serious errors that occurred while downloading the update package from Apple servers. If you'd a non-stable internet connection, it can be the reason. On another scenario, random technical errors might also arise. Depending on the type and intensity of errors, you can see different results on the device screen. Let's have a look at the common ones.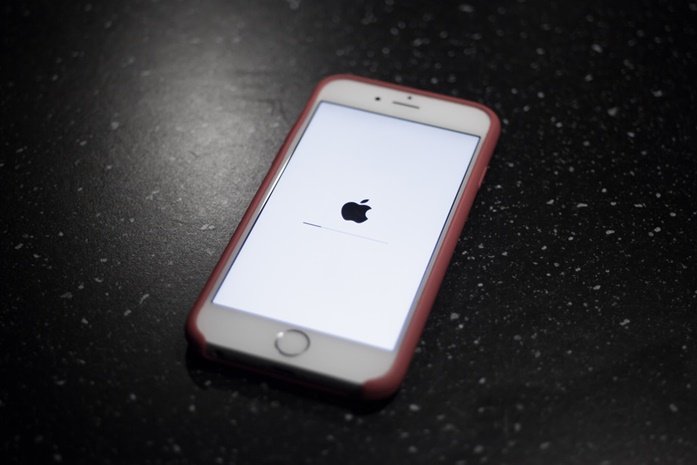 Update Error: This happens if there was some error in the package or while upgrading. As you know, a few things may go wrong while the upgrade package is being extracted.
Stuck on Apple Logo: This is another issue that puts you into trouble. While booting up, your device may become stuck at the Apple logo screen.
There may also be a situation of Boot Loop, where the booting process continues forever.
On top of all these, these iOS Upgrade errors can make you lose your data too. Now that you know the issue, we have the best way.
How to Fix All the Issues with Upgrading to iOS 11?
There can be manual methods, but we prefer going with the easiest one — using iMobie PhoneRescue.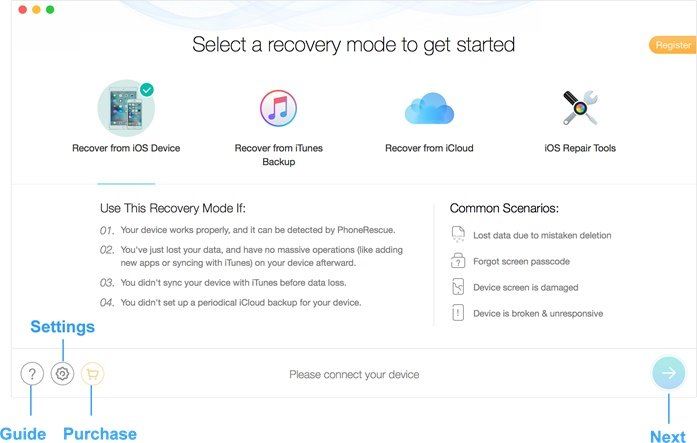 If you don't know, iMobie PhoneRescue is a popular iOS Data Recovery software, which doesn't restrict the actions into that category. It means you can do more than simply recovering lost/deleted files. In this certain scenario, you can use iMobie PhoneRescue to repair your iOS device that may be broken/stuck after trying to upgrade to iOS 11. It doesn't matter whether you've come across Apple Logo, Boot Loop or Black Screen, iMobie PhoneRescue should help you get over it.
Another advantage is also there. Suppose you already lost your data while trying to upgrade to iOS 11. Then, you can use the same iMobie PhoneRescue to recover the data and get started afresh.
How to Use iMobie PhoneRescue to Recover Stuck/Broken iOS Device?
You just need to take care of the following steps if you want to repair/restore/recover your broken iPhone or iPad. Shall we have a look at them?
First of all, you can download and install the corresponding version of iMobie PhoneRescue, as it has been made available for both Windows and Mac. In both cases, you have complete support for iOS 11. The installation is pretty simple too.

Once launched, you can connect your iPhone/iPad to the Mac/PC. It may take a minute or two for the program to recognize your device and gather required resources.

From the menu of options, choose iOS Repair. It will lead you to a simple wizard that will recover iOS device. Just follow the steps and wait for a few minutes when iMobie PhoneRescue gathers info from its algorithms and fixes your devices.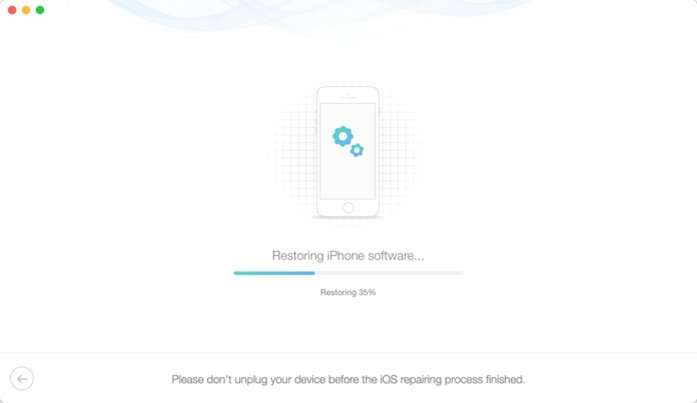 Tada! In just three steps, iMobie PhoneRescue will not only recognize the issue and reason but also apply an effective solution to fix it. Don't you find that simple?
The Final Word
This is how you effectively and complete get rid of all the issues you may find while upgrading to iOS 11. Did you think it is going to be this easy? Although some other software may be there, iMobie PhoneRescue is an effective choice that offers better recovery rates and reliability as in terms of iOS Repairing. So, there is 99% chance that you can restore your iOS device back to normal.