Kajabi is a remarkable service that lets you create and sell online courses. It is an all-in-one solution that provides remarkable services from hosting to creating and customizing a website, to putting products up for sale, to marketing your products and receiving payment through an organized procedure. It provides a platform for hosting content such as videos, audios or text documents. You can customize the appearance of your products for your website, market them to collect leads and nurture them into customers.
It also eliminates the need for integrating other services into the tool, making the processes smooth and fast.
Kajabi pretty much compiles all the features needed to produce, market and sell your products online, at a single location. It enables you to turn content into products, market it in a unique manner and generate revenue through it.
Apart from that, the list of features and services offered by Kajabi includes payment systems and options, built-in affiliate tools, VAT compliance, upsell, landing pages, custom forms, member management etc.
Turning content into products
Kajabi stands out due to the convenient and advanced features and tools it provides, to convert content into the product, market it, and sell it. It enables you to create an array of digital products including online courses, membership sites, downloadable files, training portals, etc.
You can add products to your website through Products tab in Kajabi Dashboard. In the Products tab, you'll have to fill in some product details including title, thumbnail (for branding) and description.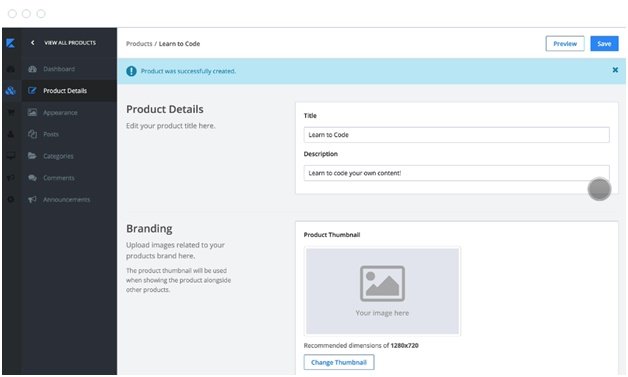 Next, you can choose a tempting theme for your product, which complies with the nature of your product and brand. There's a wide variety of themes available, all of them being fully-customizable. While we're at it, it's worth mentioning that all of the themes provided by Kajabi are optimized and responsive for all devices including smartphones and tablets.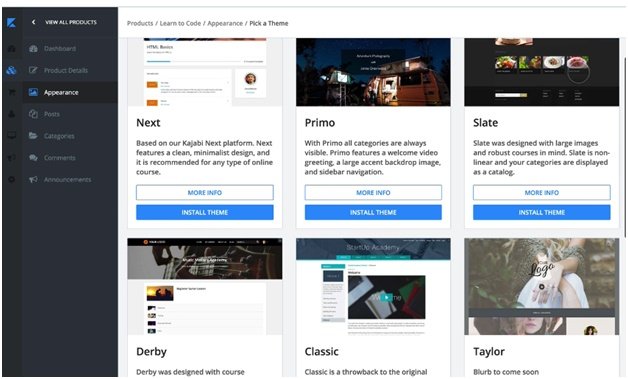 Moving on, you can add your content and categorize it. You can add content from your PC, Dropbox or Google Drive account. The tool also lets you toggle the visibility of comments on or off.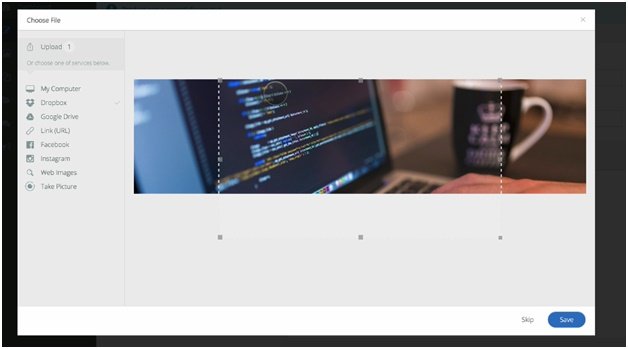 Kajabi has turned out to be a reliable hosting platform for videos. The encoding and delivery of videos are powered by WISTIA, ensuring a decent viewing experience.
Adding downloadable files to your products is a piece of cake too. You can easily upload documents, videos, audio, images or presentations to offer greater convenience to your customers.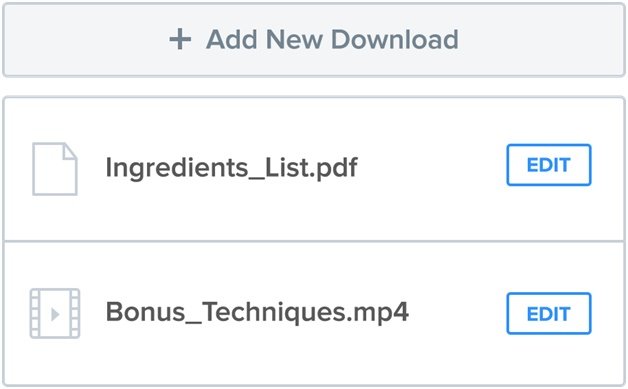 Community Building
Kajabi has emphasized on community building by integrating interactive discussions into the courses. It enables your customers to engage with you or other clients, eliminating the need for any third-party services. It lets you answer any queries related to your products and respond to your customers without any hassle.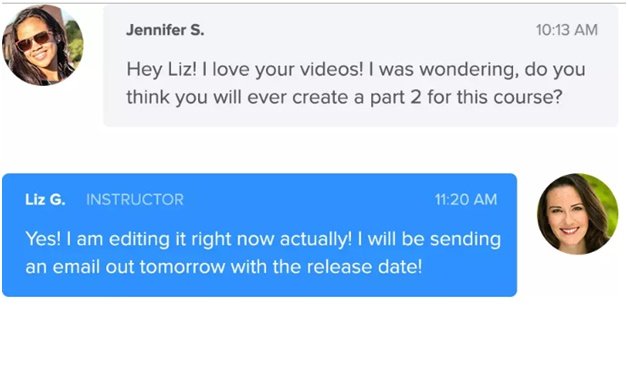 The tool also notifies your customers if they get replies to their comments, encouraging engaging discussions.
Drip Content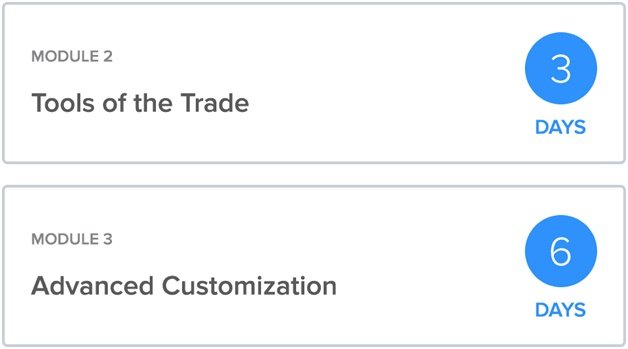 This is a unique and highly-functional feature, lauded by businesses. This feature causes your content to drip out to your customers on a schedule based on when they paid for the product or based on specified intervals. You can grant access to your members for the duration of your choice. For example, you can restrict access to individuals if they haven't been a member for a particular time.
Website
Kajabi provides an excellent platform to exhibit your product portfolio at one place. You can bring all your products together at one place, extending convenience to customers.
Kajabi allows you to customize the appearance of your website, to make it look attractive and suitable according to the theme of your business. You can apply themes and customize it to suit your requirements.
You can enable a single login process for your customers to let them access the library of their purchased products from a single location.
Kajabi also lets you customize the website to add your branding to it. You can add your logo, watermark, images, and color theme. The text that you're going to insert on your website can also be customized to address your customers with a certain writing style or font.
Moreover, Kajabi also provides custom domains, allowing you to get a custom URL of your choice, for your business.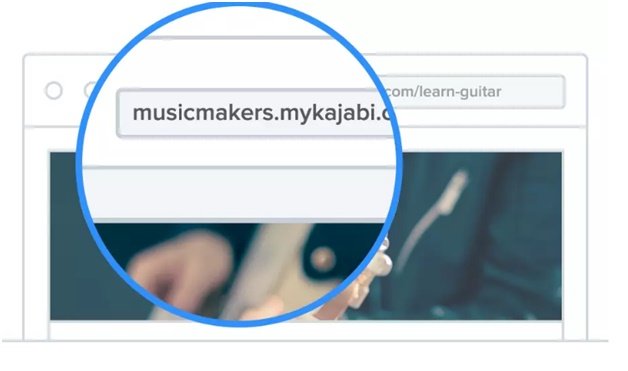 Kajabi enables you to create as many 'static' pages as you want, to share information such as About us, Contact, Privacy Policy, etc. You can add these static pages to the header/footer of your website. While we're at it, it would be worthy to know that Kajabi provides a 'default' Terms of use and Privacy policy, which you can use for your website as it is or amend according to your requirements.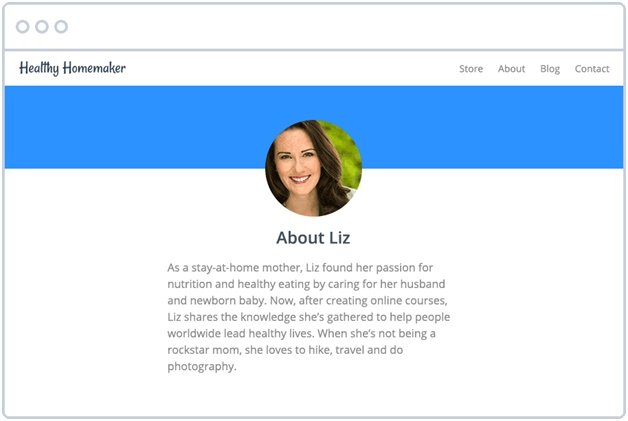 Websites on Kajabi also feature an integrated blog, to assist existing and potential customers and boost engagement.
Content Monetization
Kajabi equips your business with a reliable, fast, organized and flawless payment system, enabling you to receive payments via credit card from around the world.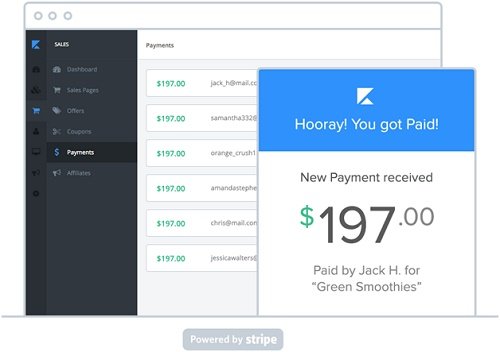 The payment system is built-in, eliminating the need for any third-person merchant or gateway. It offers multiple payment options, to accommodate customers from all over the world.
You can create 'offers' on your products to drive sales and engagement. You can also generate limited time pricing, coupons or bundle purchase offers.
To ensure that your customers are assisted to the nth degree and are highly satisfied, Kajabi offers different payment options that you can provide to your clients. You can give discounts, monthly subscriptions, installment plans or one-time payment on your products.
Upsell Products
Kajabi's upsell feature is worth mentioning too. This service allows you to present more products to your customers when they complete a purchase. You can upsell products to your clients' library with a single click.
Affiliate Tools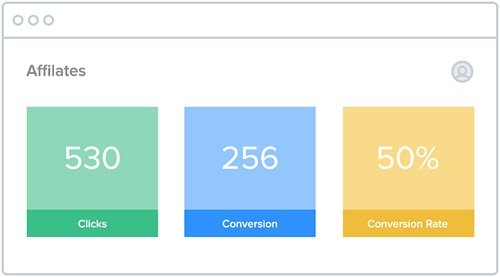 Kajabi is extremely accommodative towards affiliate marketing. It provides built-in affiliate tools, recording partner referrals, commissions, and sales.
Member Management
The member management system integrated into Kajabi is extremely organized.  You can filter members by product to see the list of members who purchased a certain product.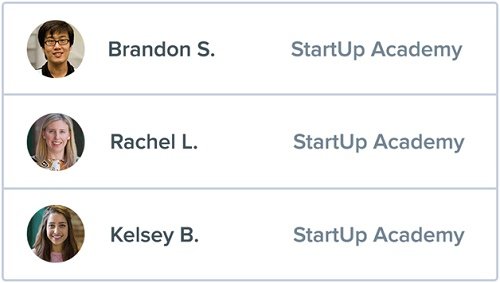 You can also look into the record of an individual member via member dashboard. It lets you see the purchases, log in and payments history for any particular member.
Marketing
Kajabi is a great platform to market your products and capture leads. It provides you an interface to design and generate alluring landing pages. The landing pages are highly customizable and incredibly easy to create. You can choose a template of your choice from the template library at Kajabi. It lets you create any type of landing page including signup pages, webinar pages, download pages, etc.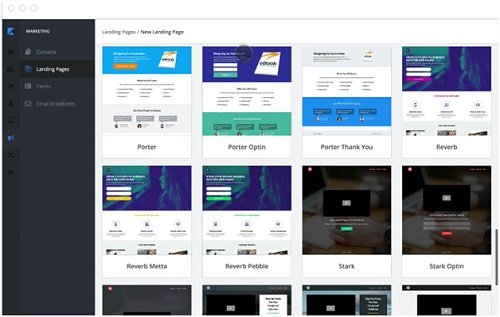 You can also add custom forms in your products, website or landing pages. You can create forms and add custom fields to collect visitor data and utilize it for marketing purposes.

Kajabi provides an integrated e-mail broadcasting system. You can send e-mail broadcasts to your existing and potential customers to encourage engagement and track the performance of your broadcasts using email analytics.
Pricing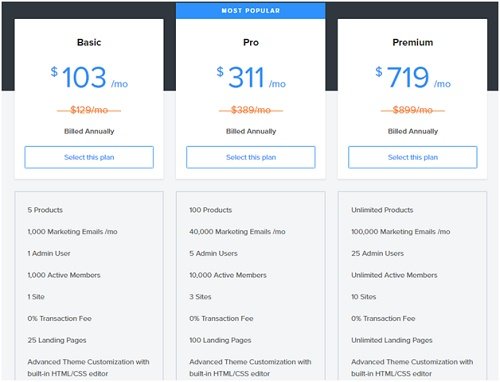 Kajabi offers three separate plans, for businesses operating with different operational scales.
Their most affordable plan is BASIC, which costs $129 per month.  It provides services for 5 products, 1000 marketing emails, access to 1 admin user, single website, 25 landing pages and 0% transaction fee.
PRO plan can be acquired for $389/month. It offers services for 100 products, 40,000 marketing emails, 5 admin users, 1000 active members, 3 websites, 100 landing pages and no sort of transaction fee.
Premium is the most advanced and expensive plan offered by Kajabi. You can add as many products as you want with this plan. It also includes 100,000 marketing emails,  access for 25 administrators, unlimited active members/landing pages, 10 websites and no transaction fee.
Verdict
Kajabi certainly is a considerable option for marketers operating at advanced levels. Individuals can employ Kajabi to avoid the hassle of creating, marketing and selling content online.
Kajabi isn't the most affordable option out there, particularly due to the scale of features and services it offers but for anyone seeking highly professional and automated solutions,  Kajabi is a great option to consider. You can register for Kajabi's 14-day free trial now.