MoneyPenny is a cloud invoicing software on the outset that comes with so many added features like tracking time, projects, teams and expenses from all your devices. MoneyPenny enables you to scale your productivity by allowing you to keep an eye on your time and scheduling it wisely by making use of the functions that is provided by it. MoneyPenny can create professional invoices and estimates, track expenses and time on the go, and even assist you in managing your clients with very little effort.
If you are the kind of person who is always running short of time and you've always dreamed about organizing things in your business to improve productivity, then you should consider using MoneyPenny. Let's take a deeper look at the software.
Interface:
MoneyPenny has a nifty and intuitive interface where the important functions are pieced together. You can have a quick overview right from the dashboard. More important details such as estimates, time spent on projects, projects, invoices can be accessed from the interface. There are two different versions of the software for client and business requirements. The gorgeous looking interface is filled with analytics to help you plan better. The UI is very user friendly and you will get used to it quite soon. MoneyPenny has many other added functionality that are helpful in time tracking and invoicing.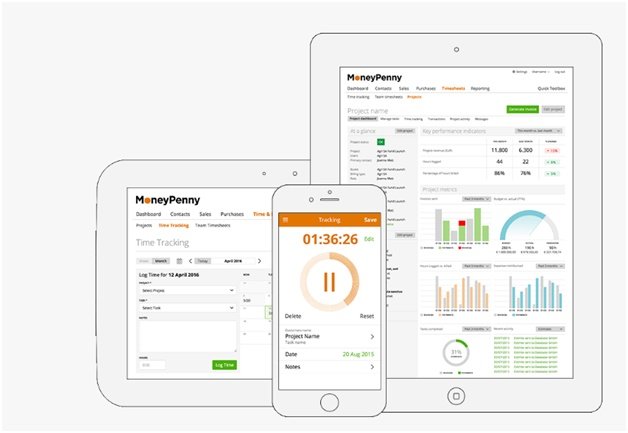 Creating Online Invoices:
MoneyPenny enables you to create invoices in a matter of a few seconds. You need not struggle with Word or other presentation software to create a perfect looking invoice every single time for your clients. Using the built in user-friendly process of MoneyPenny, you will be able to create invoices by just entering the values. There is quite a range of pre-built templates that will assist you in choosing the one that best suits your needs. There are added features such as swift payment reminders combined with automated recurring invoices that automates the process and makes it even easier to keep yourself organized with your invoices.
Time Tracking:
Keep an eye on your time spent on a project and generate invoices to your client accordingly. The built in project tracking facility will help you in keeping track of your projects as well. MoneyPenny is supported in Android and iOS devices as well, so if your work requires you to be on the move, you don't have to carry your laptop everywhere.
MoneyPenny offers a time tracking solution for teams.Live Time Tracker helps to monitor in real time all the activities and the work progress. Tracked time can easily be converted into timesheet report and send for approval.
Track Expenses:
For a business to be successful, it is highly critical to take care of the expenses based on the income. MoneyPenny has an integrated expense tracking system that helps you in keeping an eye on the expenses of your business. You will be able to set it up based on your needs and at the end of the mentioned time period, be it a month or week, you will receive your expenditure reports. Which will further facilitate you in organizing your expenses. There are other added features like Snap & go receipts, Instant expense updates and Ability to assign tax-friendly categories that helps in tracking expenditure.
Security:
MoneyPenny is a cloud-based software and thus they've set up industry standard security protocols to keep your data safe online. MoneyPenny comes with Swiss world-leading privacy protection, as they are based out of Switzerland.
Flexibility:
With MoneyPenny, It doesn't matter what industry you are in, the software is flexible enough to suit your needs. It is useful for both businesses and freelancers alike. With these flexible features, MoneyPenny always meets all the requirements of the users.
24/7 Support:
The software is very user friendly and using it is not a very big deal. A basic understanding of computers is good enough to use the software very efficiently. If you are struck anywhere, you can always use the 24/7 support to get yourself clarified.
Conclusion
MoneyPenny is a very good choice for those who are in need of an invoicing software that also doubles as a productivity software by organizing things. It has many features that will be helpful in your business and can serve your clients better. Give it a try by using the 30 day free trial and then you can purchase it based on your personal experience with the software.