Whether it's to ease the pressure on streaming platforms during peak times or to watch a video without any exasperating pauses, cut down on your data bill, or simply to enjoy a music video while you have no signal, sometimes it's necessary to download YouTube videos.
This article will compare 2 software tools that allow users to download and convert videos from YouTube and other video streaming websites: VDownloader and 4K Video Downloader.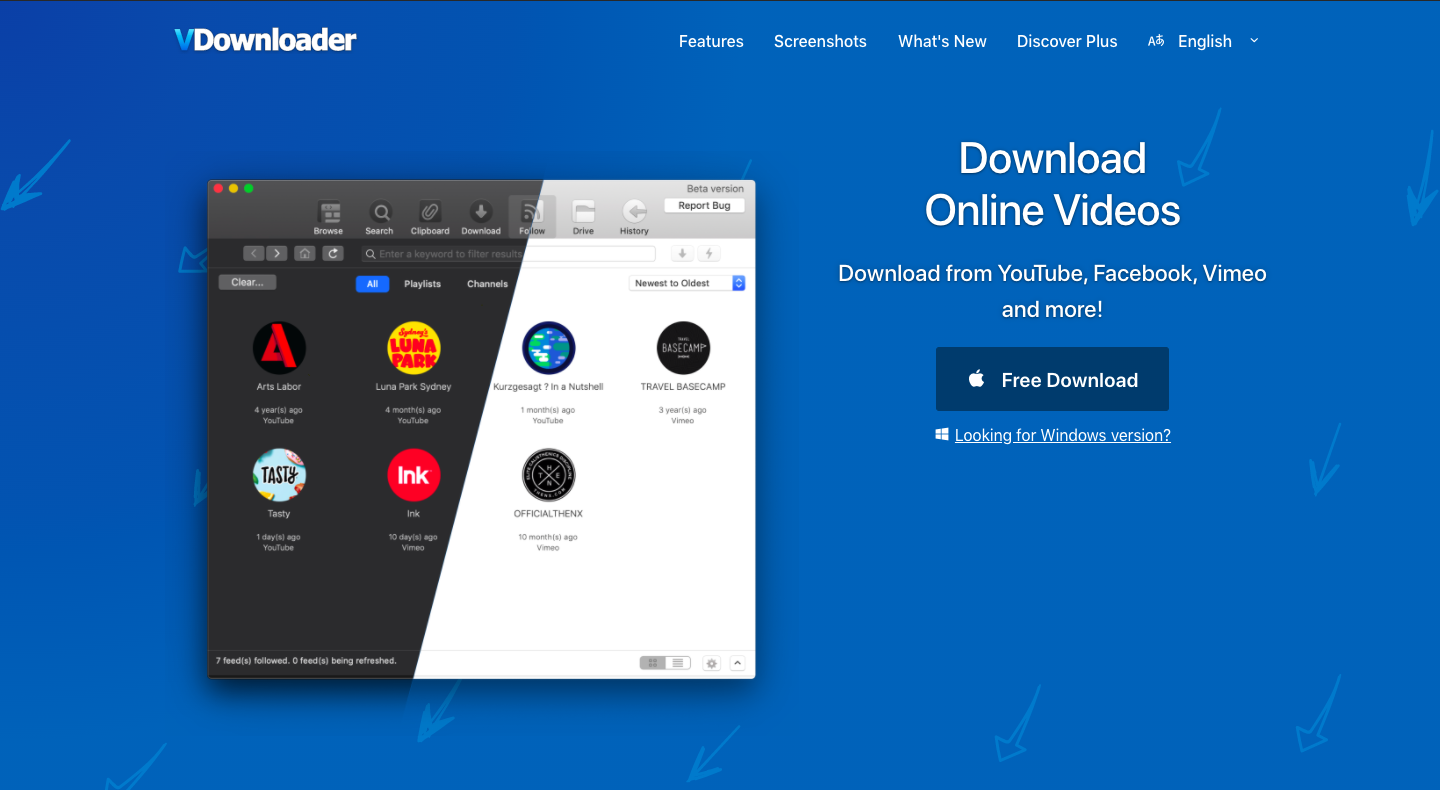 Available for Mac and Windows.
Available for Windows and Mac users, VDownloader is a complete solution for those who want to watch and/or listen to content offline whenever and wherever they choose. This intuitively designed software can download videos in any video or audio format, up to 8K or 320kbps respectively, from YouTube and any other video sharing platform, including Vimeo, LiveLeak, Facebook, and DailyMotion.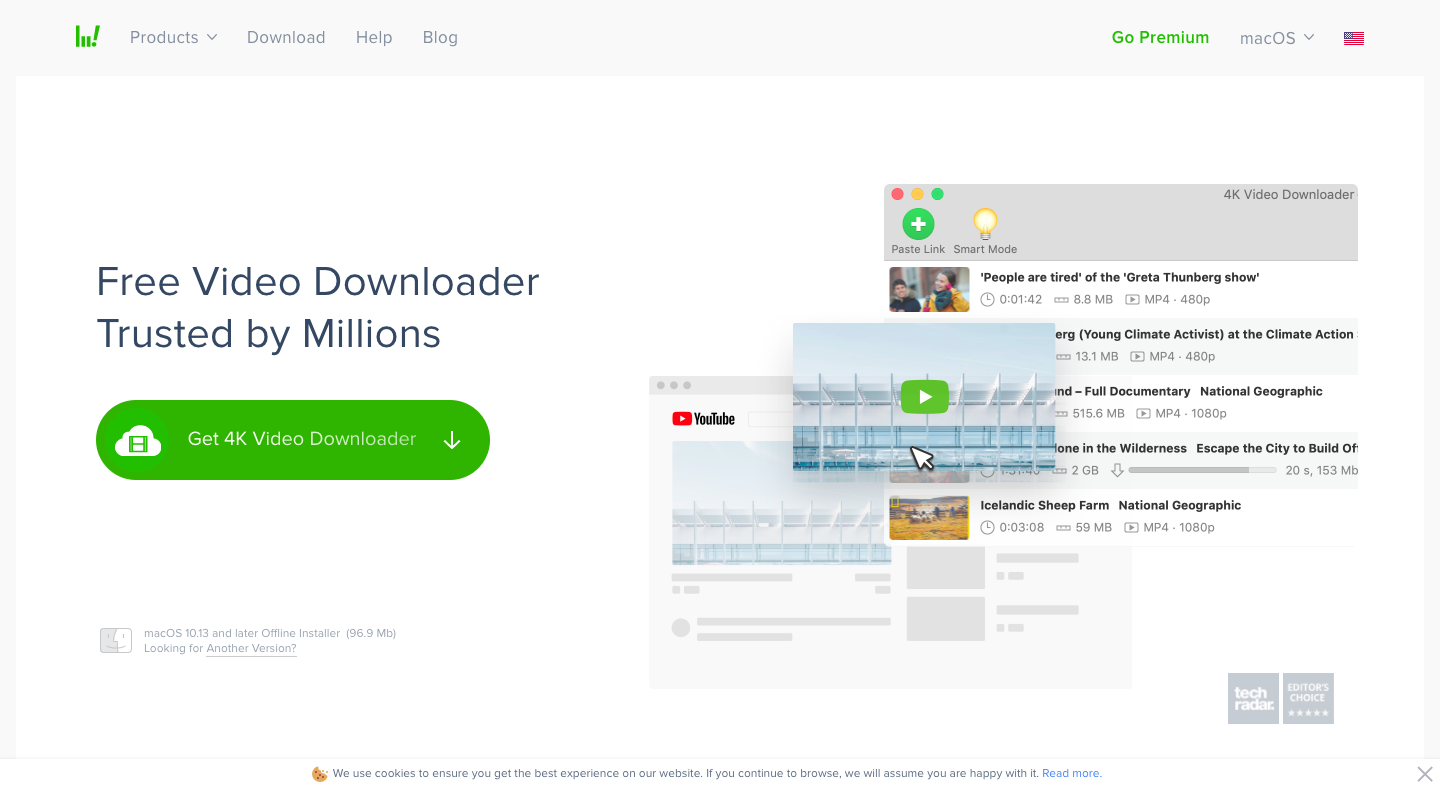 Available for Windows, Mac, and Linux.
Similarly, 4K Video Downloader is a free software enabling users to download videos in various video and audio formats from any video sharing platform, including YouTube, Facebook, Flickr, DailyMotion, and Vimeo. Available for Windows, Mac, and Linux users, 4K Video Downloader offers downloads of up to HD 1080p and 265kbps.
Comparing VDownloader and 4K Video Downloader
Both tools offer video downloads in a variety of formats and qualities, but how do they differ and which one is better?
User Interface
The functionality of a tool is important but means nothing if you are unable to understand and interact with it properly. Therefore, we have started the comparison by examining the user interface of both VDownloader and 4K Video Downloader.
VDownloader User Interface
At first glance, VDownloader's user dashboard seems busy and colorful but upon further inspection, the layout is simplistic and functional. The brightly colored logos represent popular video sharing platforms, enabling quick and easy access to websites as part of the tool's in-built browser feature. Alternatively, users can scroll through the A-Z of supported sites or use the URL/search bar at the top of the screen.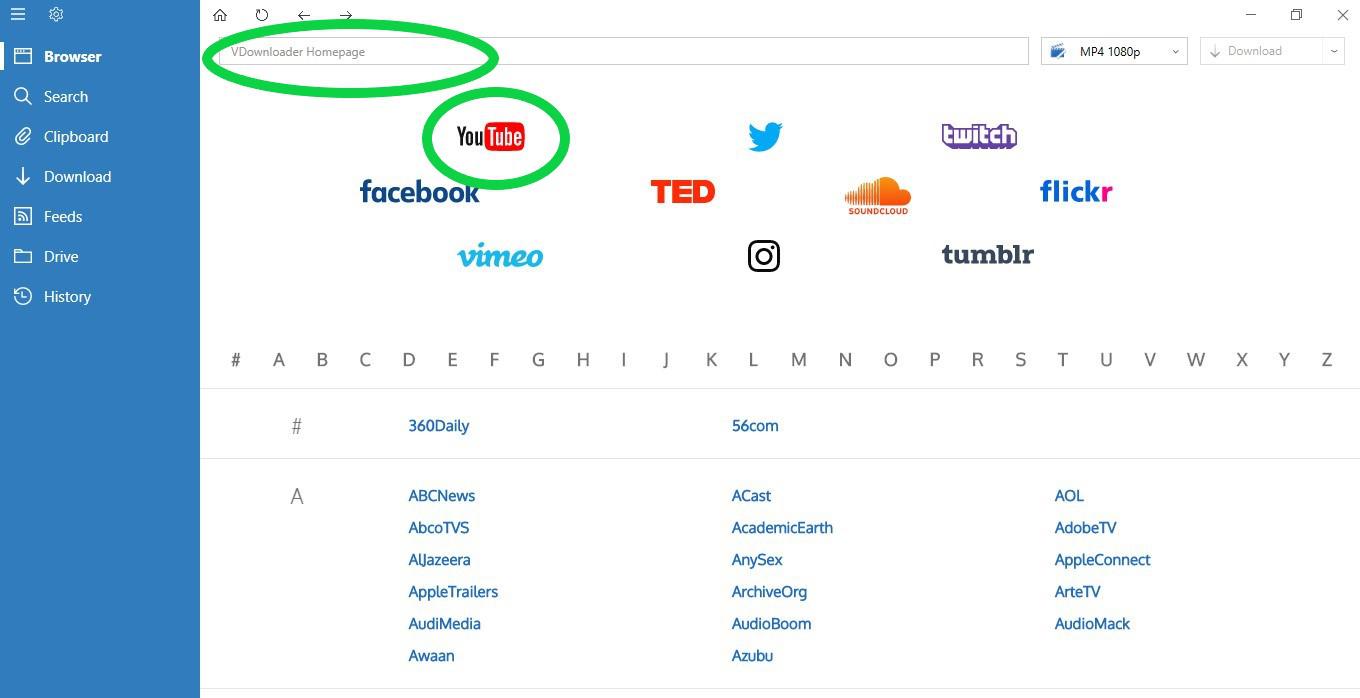 Choose your favorite video sharing platform or use the URL/search bar at the top.
Current downloads, subscribed feeds, download history, and the clipboard can be accessed via the side panel of the dashboard, with a drop-down menu for further functionality. VDownloader's interface is clean and easy to navigate.
4K Video Downloader User Interface
In comparison, 4K Video Downloader is dark and very simplistic, with a carousel of "how-to" instructional images to scroll through and a few basic buttons along the top of the dashboard. From here, users can click the "Paste" button after copying the URL for the video they want to download. They can also access their video download subscriptions, preferences, activate smart mode (download videos in bulk), upgrade to premium, and visit the support section of the 4K Download site.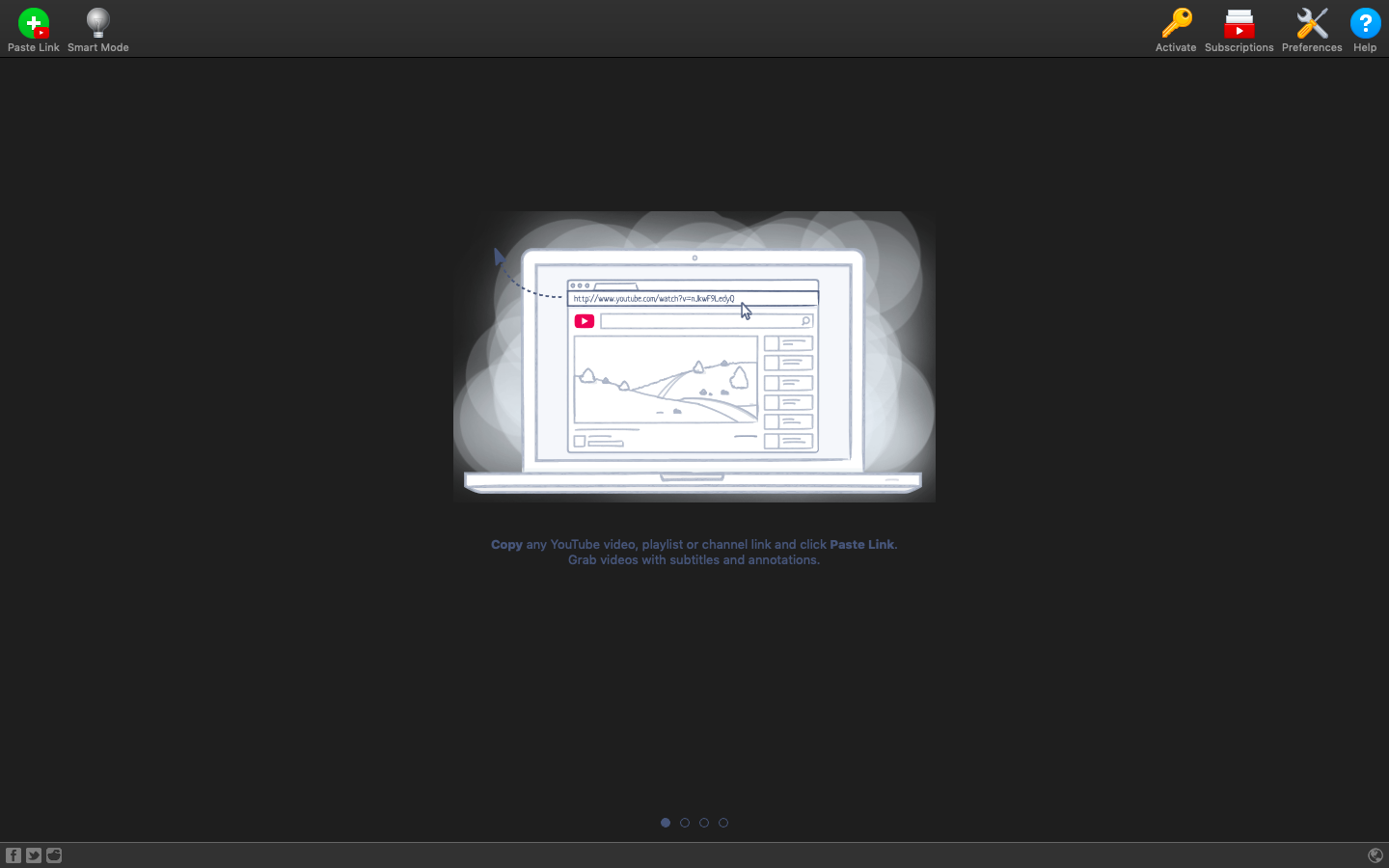 The interface is basic with a few colorful buttons and instructional images.
The interface is simple but effective but there is no in-built search function and users are unable to see their download history or access downloaded files.
Pricing and Features: What's Included?
While VDownloader and 4K Video Downloader are free to download and use, both products offer premium services. In the following section, we will compare the free features and the additional functionality you can unlock as a premium user.
VDownloader Pricing and Features
Unlike many video downloaders, VDownloader will not limit your downloads or conversions. That means you can keep downloading YouTube videos for free for as long as you want without having to upgrade to premium!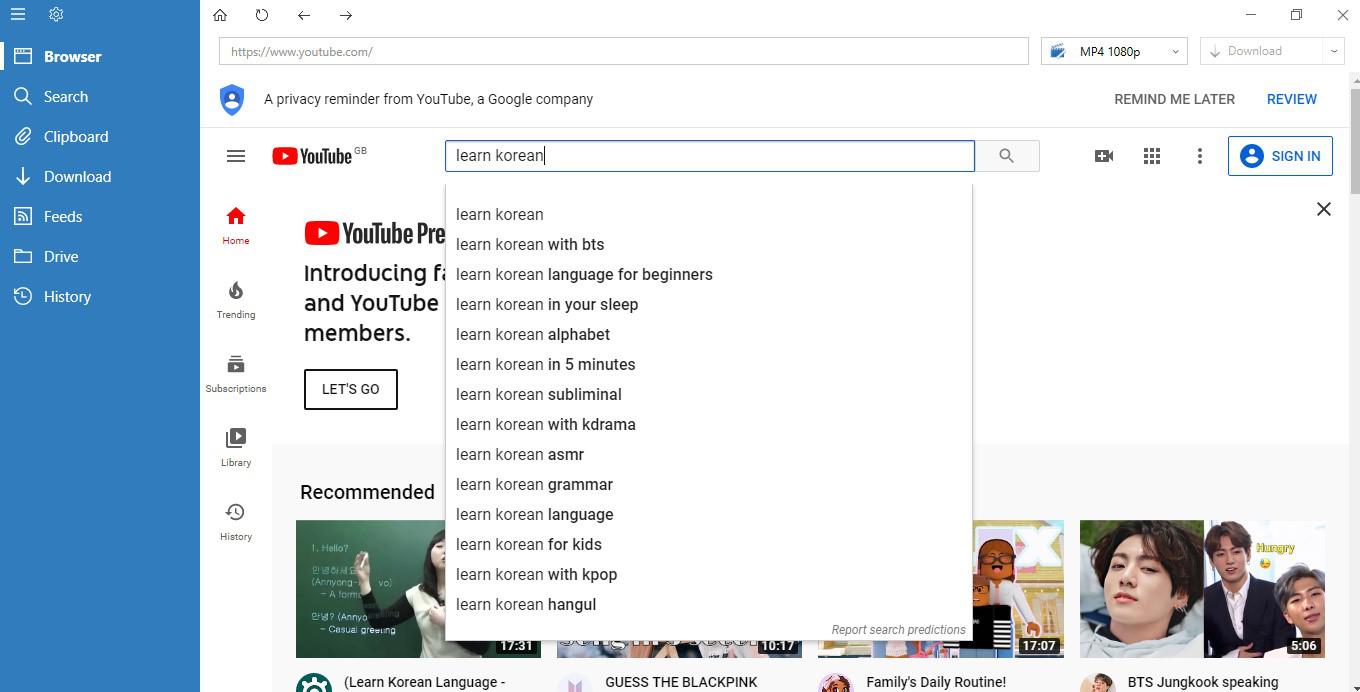 Users can use the in-built browser to search for YouTube videos.
Individual videos, playlists, or channels can be discovered and subscribed to using the software's in-built search function, downloaded with a single click, and even automated for new videos in a playlist or channel. What's more, VDownloader automatically registers when you copy a YouTube URL from your device's browser and a pop-up will appear to ask you if you would like to download the video.
Subtitles are supported in any language and VDownloader also offers a free YouTube proxy to access regionally-restricted content. Moreover, users are able to watch their videos free from advertisements, distractions, or frustrating buffering delays on their chosen mobile device by syncing their files to the Cloud.
VDownloader Premium enables users to schedule downloads and video conversions whenever they want, such as when the computer is idle. To save on power, this tool shuts down after the video conversion has completed! In addition, premium users are guaranteed a 100% ad-free experience, frequent updates, free upgrades, and full product support. VDownloader Premium is available at $17.99 yearly or $59 for a lifetime license.
4K Video Downloader Pricing and Features
Although 4K Video Downloader has many of the same features as VDownloader, as a free product, it is limited. Users are only able to download 25 videos from a playlist or channel and you won't be able to subscribe to YouTube channels or download automatically unless you pay for premium.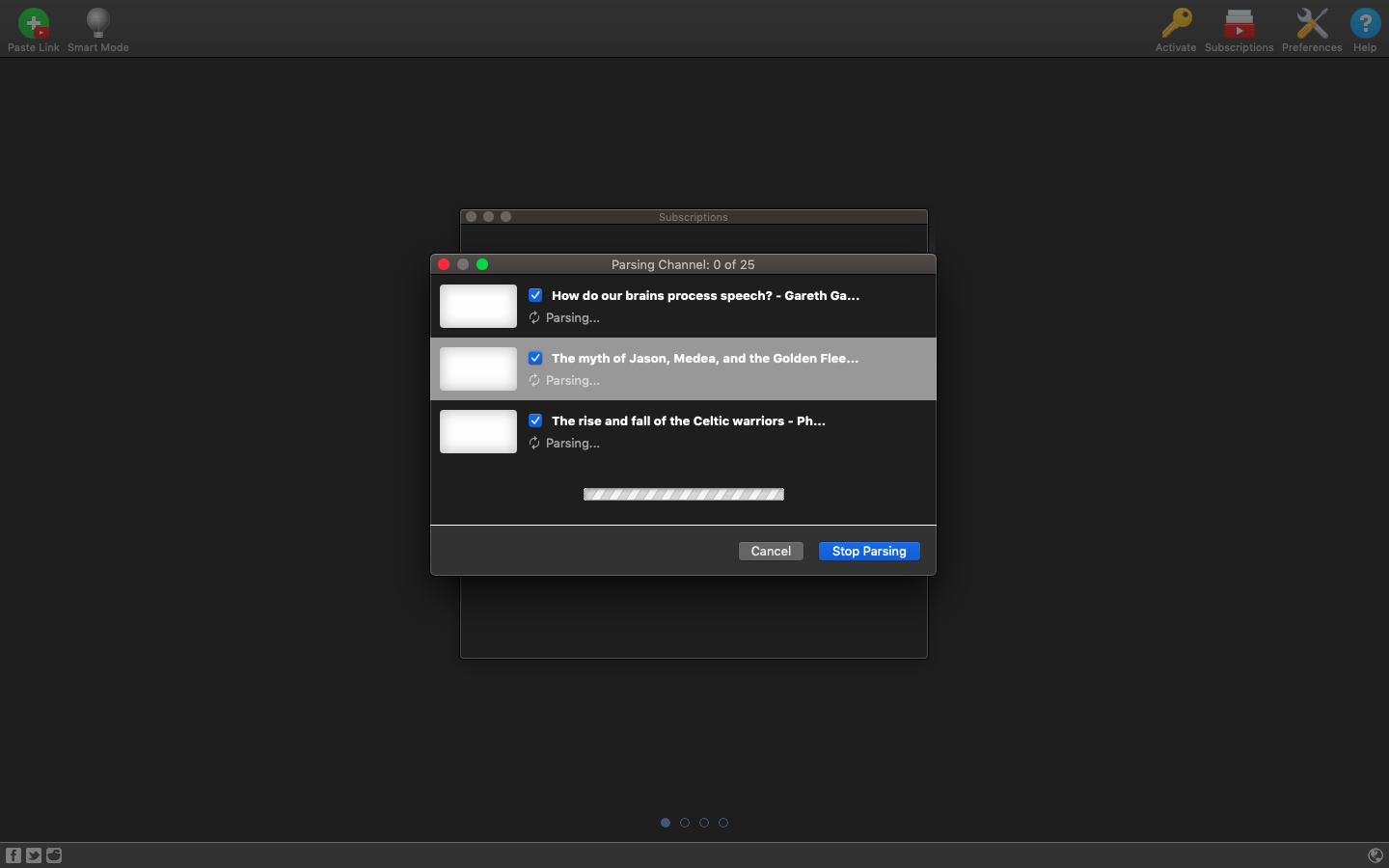 Batch download entire YouTube channels.
Nevertheless, the basic features are available for free, including unlimited video downloads, small playlist and channel downloads, subtitles, unlimited video to audio conversions, and the ability to download from other supported video sharing platforms. Users can also save their downloads to Cloud folders to watch offline content on other devices.
4K Video Download Premium is less expensive than VDownloader, priced at $15 as a one-off payment for lifetime service and 3 computer licenses. Paying for this will unlock an ad-free experience, the ability to subscribe to channels, unlimited playlist and channel downloads, future updates, automated downloads, and unlimited subtitle downloads. Most of these features are provided for free on VDownloader. Also, 4K Video Downloader does not offer a scheduling function.
Conclusion
Both VDownloader and 4K Video Downloader offer comprehensive download tools with easy-to-use and attractive interfaces. However, VDownloader is the clear winner due to its more complete functionality.
As a free service, it offers an impressive number of features to suit all of your video download requirements, including unlimited high-quality downloads and conversions and an in-built search function and browser. What's more, its intuitive design enables users to download video and audio quickly and effortlessly, in a single click! In contrast, 4K Video Downloader limits the free downloads and blocks users from subscribing to channels until they have upgraded to premium.
Finally, VDownloader's premium service offers something that 4K Video Downloader doesn't: for a small one-off fee, users can access the scheduler to download videos whenever they please!