Can you imagine that there was a staggering number of 5 million applications at the dawn of 2020? But big markets bring both opportunities and challenges. Thus, a large number of existing apps ushers in stiff competition for newbies and makes it especially challenging to survive in this swarming landscape. Therefore, businesses need something better than an off-shelf solution to get their place under the sun.
At the same time, a tidal shift in the demands of consumers has provided a new entry point for on-demand applications. Thus, one of the rippling effects of the global pandemic is the popularity growth of food delivery services. The pandemic has doubled the yearly revenue of such giants as UberEats and Grubhub, sparking a new round of boom for food ordering apps.
Although food tech biggies are currently ruling the roost, you can still scale a castle wall by introducing a unique food delivery app. And we'll tell you how.
But first, let's have a closer look at the UberEats platform and find out the secret behind its popularity.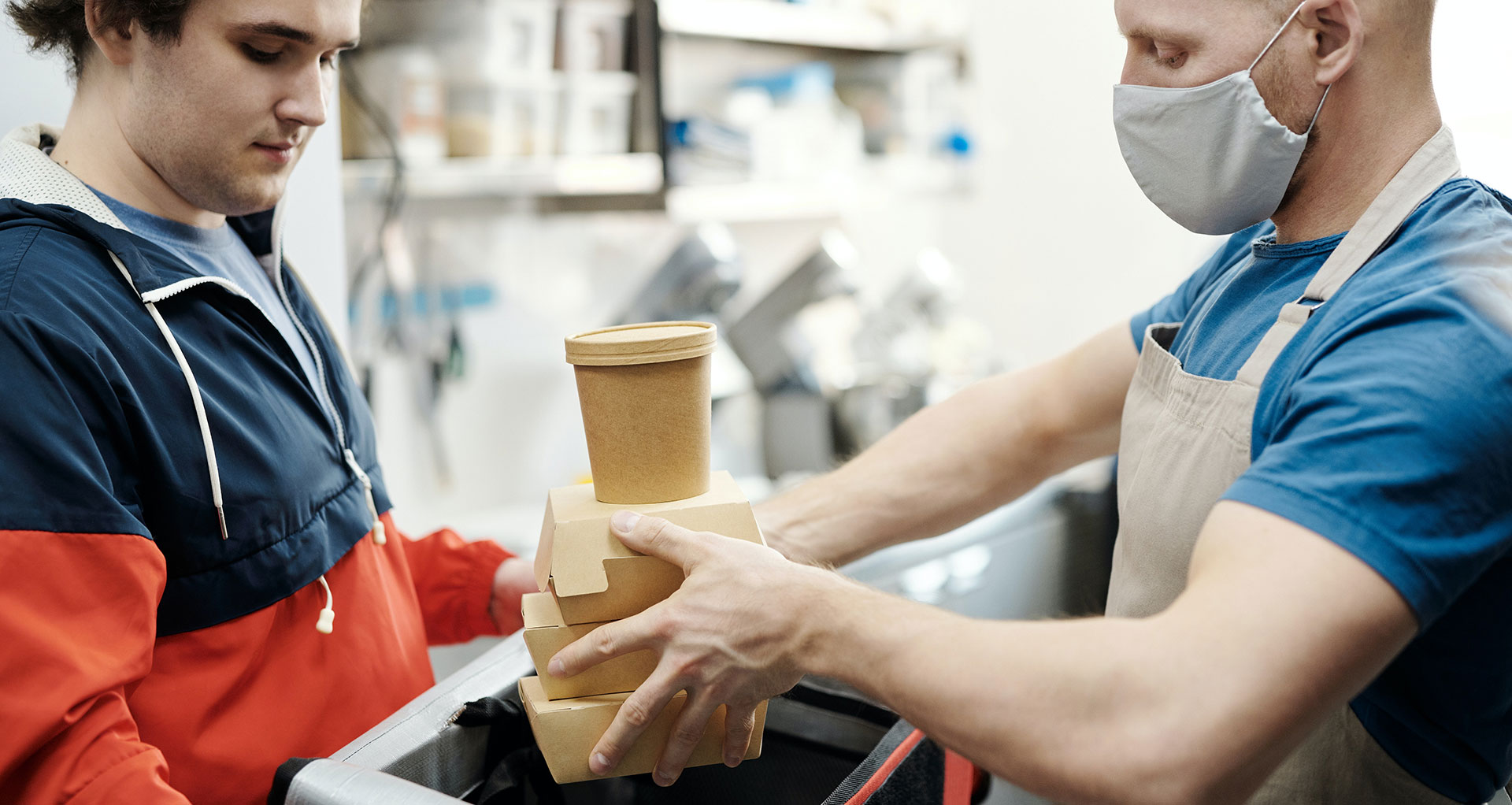 A Few Lines On UberEats
Uber has become a household name in many countries and seen unprecedented success. But the company decided to take a new turn in August 2014 and launched a new project which is now known as UberEats.
The platform is a food delivery service that is a branch of the Uber ride-hailing administration. You can put orders with neighborhood eateries from the UberEats site or portable application, and food is delivered right to your doorstep.
UberEats's value proposition contains 6 differentiators:
Fast delivery (within 30 minutes)

No minimum order price

Extensive user base

Existing Uber's assets

A thought-out algorithm

International outreach
This value proposition has ensured the resounding success of this food delivery platform and drawn in a large number of followers.
Now that we've gone through the basics, let's discuss UberEats business model.
How does UberEats make money?
UberEats is a multilateral marketplace that revolves around three parties: eaters, eateries, and couriers. Users pay the small delivery fee and sometimes cancellation fees. Drivers earn by making timely deliveries, and restaurants pay order fees to UberEats.
As a result, the platform provides a win-win situation for all parties involved. Thus, the company retains the customer base by offering more services, restaurants get more revenues and exposure, whereas delivery partners ensure reliable delivery.
Therefore, the main revenue channels of the UberEats platform include:
Commission on orders: this is the main revenue channel that brings the delivery giant a 30% on every order from the restaurant partners. The commissions may differ from 20 to 40% depending on the location and other factors.

Delivery fees: this revenue stream falls into three types of fees, including pickup fee, delivery fee, and distance fee (per mile).

Advertising: restaurant partners that want to reach a wider audience, pay a promotion fee to UberEats. This way, the restaurant will surface at the top of the search list.

Surge pricing: Uber Eats uses the same dynamic pricing model on peak hours that a ride-hailing counterpart does.
Now let's move from talking to taking action.
How To Make An Uber-Eats Clone: A Quick Guide
First and foremost, you'll need something better than just an UberEats clone to replicate the success of the platform. This section will uncover the useful insights that will help you to build an exclusive food ordering app that would give a run for its money.
Step 1: Perform market research
You cannot kick off the development process without gathering mission-critical data about your competitors, focus groups, and food industry trends. So the first step when jumping on the food delivery bandwagon is to get a firm grip of the status quo. Ask yourself the following questions:
What forward-runners rule the niche?

Who are your target eaters? Are they vegetarians?

Which must-have features should you integrate into your solution to steal the show?

What trends can you benefit from?
Step 2: Decide on the food delivery model
After running profound market research, you should identify the right food delivery model that will meet unique business demand. Overall, there are two types of food delivery models. Let us go over the major differences between them in the table below:
Order-Only model

Order & Delivery Model

Functionality

Food delivery platforms handle the orders. They don't have their own logistics system.

Companies handle and deliver orders. In this case, restaurant partners hand over the logistics issues to the delivery platform.

Monetization Methods

Platforms rake in the money by levying the eateries. Order only platforms can also offer promoting services.

These platforms make money by imposing fees to the restaurants and delivery fees to the users.

Examples

Grubhub

Seamless

Zomato

UberEats

DoorDash
Step 3. Decide on the must-have features
Although there are no tried-and-true sets of features that would lead you to a successful effort, you can incorporate the core functionality from UberEats and add a unique spark. Below you will find the must-have features for your future food delivery application: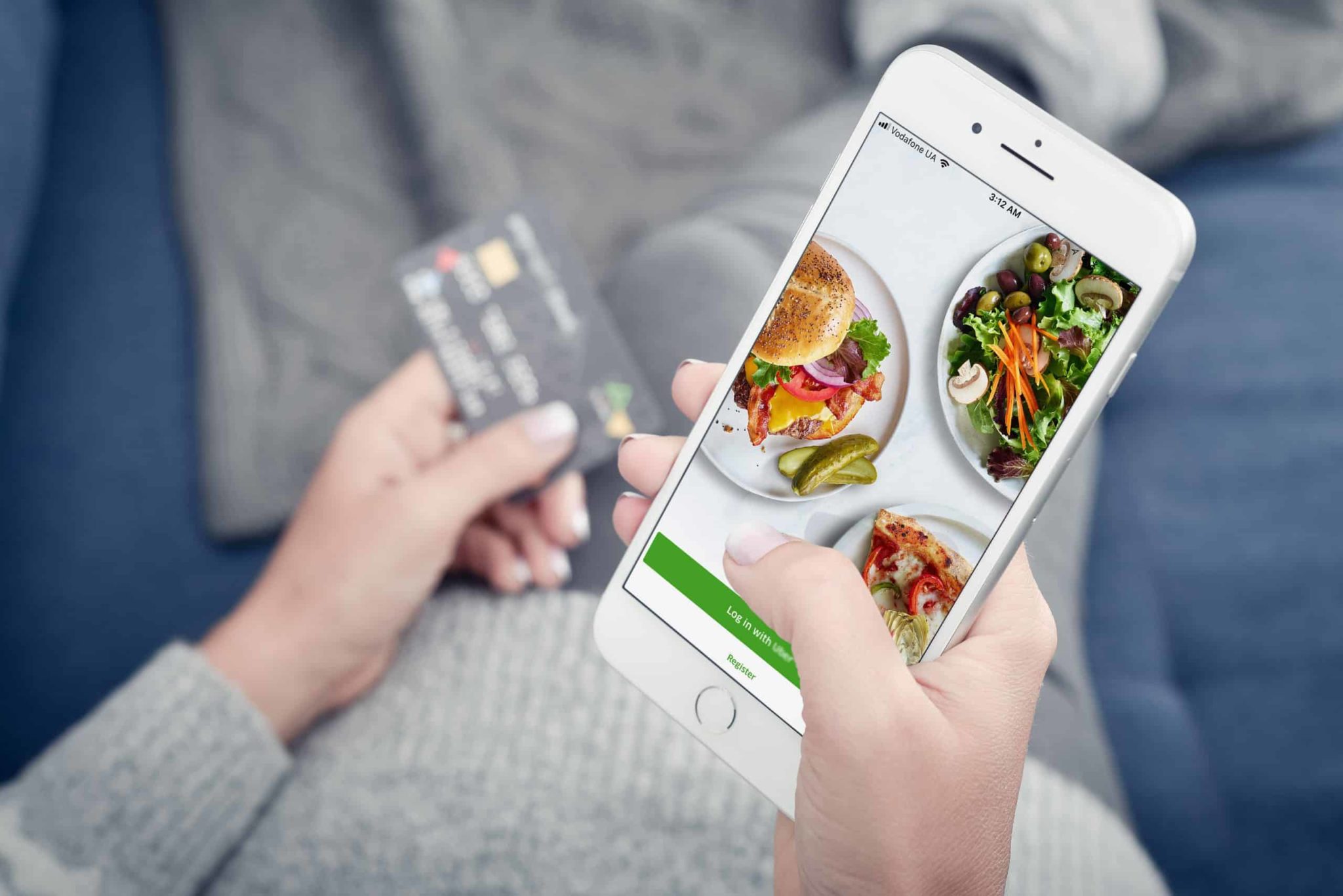 Admin Panel

Restaurant app

Customer app

Delivery boy app

Restaurant Management

Order Management

Sign-up

Login

Delivery management

Menu Management

Restaurant Listing

Push Notifications

Multilingual Feature

Multilingual Feature

Order Tracking

Delivery Management

Multi-Store

Tracking Payments

Multiple Payment Options

Live Tracking

Multi-Payment Option

Ratings & Reviews Management

Takeaway Options

Multiple Deliveries Management

Notifications

Track Delivery

Advanced Search

Reviews & Ratings

Reward Points
Step 4. Choose the right technology stack
The next step is to find an experienced team that will bring your business idea to life. Software developers will define the right set of technologies to power your solution. The choice of technologies relies heavily on the choice of app platform (Android, iOS, or cross-platform) and must-have features, like restaurant listing, payment gateway, navigation, live order tracking, etc.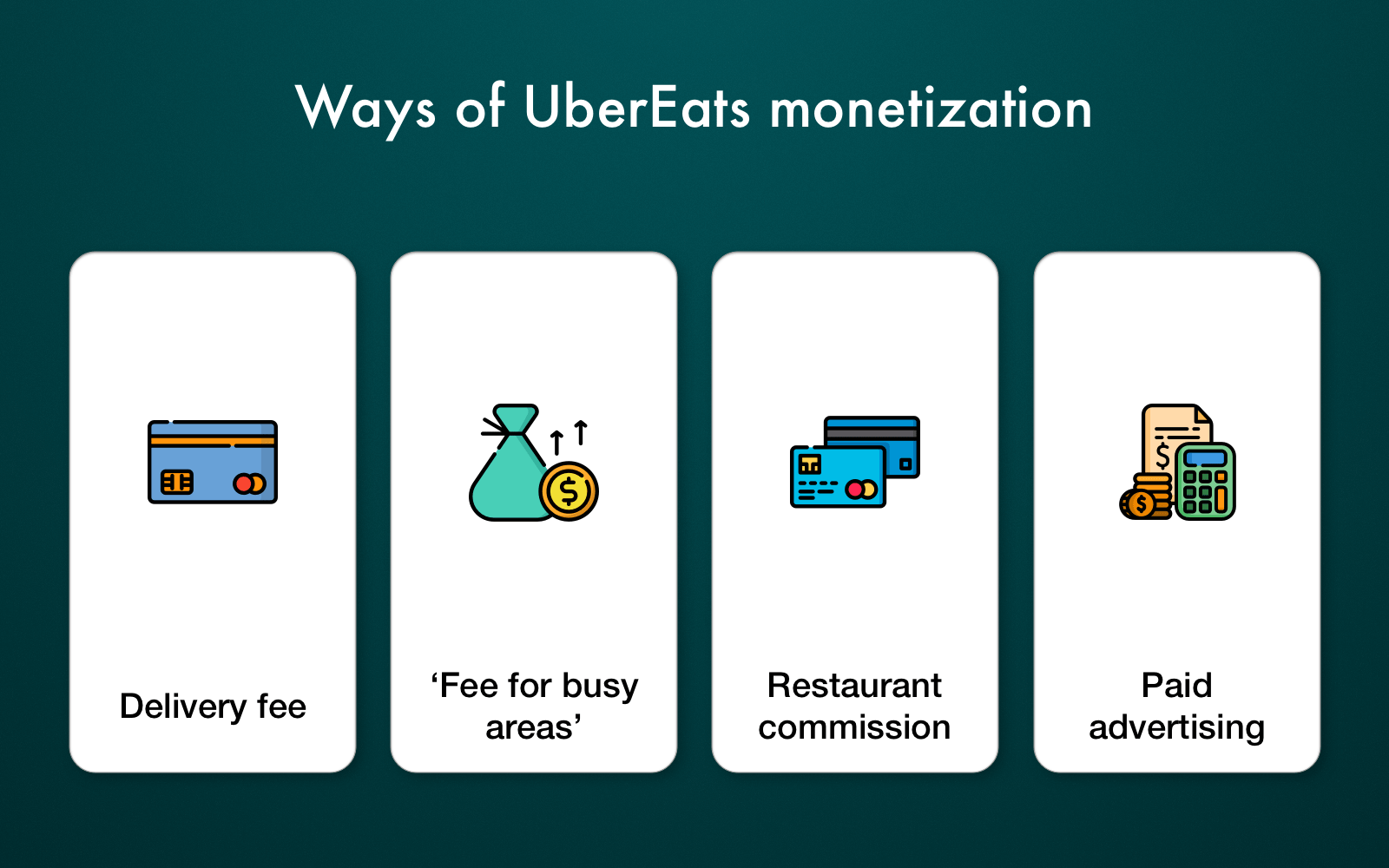 Building an UberEats Clone: The Costs
First of all, a hired software development agency can provide you with an accurate estimate only after the Inception or Discovery Phase. During this phase, the development team gathers valuable information that gives a clear understanding of the industry, unique business needs, and target audience.
All of the details that teams fetch during the Discovery phase will help them determine the scope of work, timeline, and plan for the project tasks, and ensure that you will receive a quality software product designed to meet your needs. Also, at the end of this stage, specialists provide you with a clear cost estimate.
Typically, app development companies charge an hourly fee, and this fee can vary greatly by country. In general, U.S. developers charge between $200 and $300, whereas European-based developers price their services at $50 to $200. The initial technical documentation and design process requires about 50 hours of work. The front-end and back-end development process require almost 300 hours of work, while testing and bug fixing can guzzle up about 100 hours of work. The work scope may include additional features and processes based on the choice of platform.
Overall, a standard food delivery app may cost you around $30k to $50k.
The Final Word
The rising demand for food delivery platforms is encouraging new entrants to make their appearance in the industry. If you want to join the party as well, you have to present a never-before-seen idea that will futureproof your app on a "level playing field". Now, that you've read our article, we hope that you're well equipped to go in the right direction.