Everyone who has had a DVD collection would come to a point where they badly want to digitize it. Of course, nothing beats the wonderful, physical collection of DVDs on the deck, but let's put some practicality into it. After a point, you would start seeing physical damages and the overall deterioration of quality. 
Moreover, in this age of digital entertainment, you would seriously prefer an MP4 file that you can play on your smartphone or your PC, right? And that is why most people go for DVD ripping and DVD backup options after a few years. Now, unlike the old days, you have so many options in this domain.
DVD Ripping and Backup Options in Town
There are so many DVD ripping tools in the market but finding the perfect choice is a bit tough. Remember, you are looking for a complete tool in DVD digitization assistant. You need something for backing up as well as converting contents from a DVD. 
It is also great to have some basic features like title control and subtitle options. More importantly, you need a tool that can do all these in lightning-fast speeds. These are some of the reasons why most people go for WinX DVD Ripper Platinum.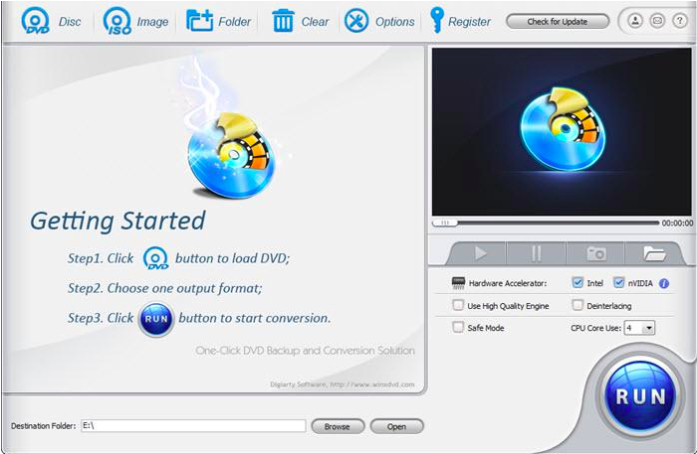 In this article, we would be talking about why WinX DVD Ripper Platinum is your best shot when it comes to backing up and digitizing your DVD collection. We are talking from our experience as well as what 70 million users of WinX DVD Ripper Platinum have been saying.
About WinX DVD Ripper Platinum
WinX DVD Ripper Platinum is an easy-to-use Windows DVD ripper that was launched in 2009. For the past 10 years, it has been helping DVD collection enthusiasts and other professionals. Just so you know, this product can be used for copying DVDs, backing up DVDs and converting content to convenient formats. And, we aren't even counting the additional features like editing tools.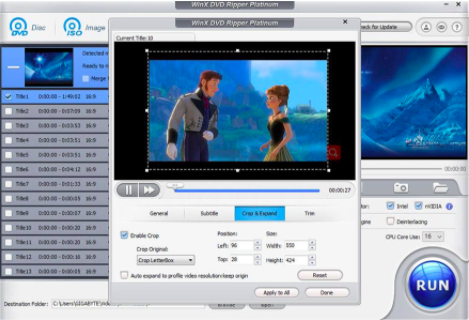 It's currently available for Windows PCs, running 10 or later. The installation process is easy, and the UI can't get more intuitive. It's amazing that even the most beginner and the most professional DVD ripper relies on WinX DVD Ripper Platinum at times. The fact that you can use the tool for handling a wide variety of discs is equally awesome.
What Makes WinX DVD Ripper Platinum Awesome?
Let's have a quick look at the wonderful features that make WinX DVD Ripper Platinum the right choice, shall we?
Compatibility is a strong forte of WinX DVD Ripper Platinum from every aspect. You can use this program for ripping a wide variety of DVDs and Blu-Ray discs. You can also use ISO files and DVD folders if you don't have the physical disc. And, when it comes to converting, the media format support is unparalleled. You would be able to copy DVD to ISO or portable formats like MP4, AVI, HEVC etc. The codec support is also superb.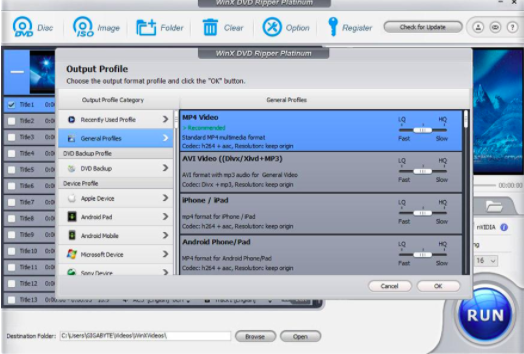 It Offers Ultimate Control
Users have almost full control when it comes to the ripping and backup process. You will be able to back up individual titles from the DVD or the DVD file. In addition, you have options like cropping, resolution change and codec management. You can also choose formats based on the device you want to use. This is something cool when you think from the compatibility point of view.
You wouldn't even believe how fast this Windows DVD ripper software is. Compared to other options we've seen in the market; this product is superb fast. Just to give you some idea here, you can convert a DVD into MP4 file with 6.5GB of file size and a resolution of 720*480. This conversion does not affect the overall video quality either. The tool also uses hardware acceleration and de-interlacing engine for speed boosting.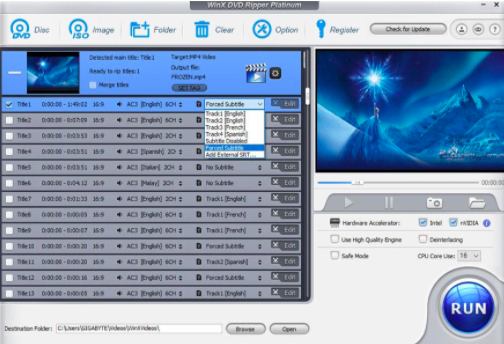 As though all these reasons aren't enough, WinX DVD Ripper Platinum is also running a giveaway as holiday seasons are coming. Through this WinX DVD Ripper Platinum Black Friday giveaway, you can get a free copy of the software. The developers are giving out up to 500 licenses every single day, and you wouldn't want to miss this chance.
The Bottom Line
We are sure the above-mentioned factors make WinX DVD Ripper Platinum one of the best DVD rippers you will find today. It also happens to be one of the most affordable DVD ripper you can purchase now, adding yourself to that bunch of 70 million users. What do you think?