Almost every single day, your phone rescues from inconvenience and boredom. That having said, there have been a few instances when your phone needs a rescue, you know. One of them is when you have deleted or lost something important from your device. For instance, we can take the case of text messages.
Like many others, you might have deleted all your text messages, in order to keep the junk out. It's all fine until you did find out that you badly needed a confirmation code or a personal message. In case you were thinking that a random recovery app from Play Store would help, you're wrong. It's in such situations that we need utilities like PhoneRescue.
In this article, we are going to cover how you can recover lost or deleted text messages from Android, using PhoneRescue from iMobie. Before that, you should know some things about PhoneRescue and what else it can be used for. So, before we get into the how-to tutorial on recovering deleted text messages, we will have an overview of PhoneRescue.
iMobie PhoneRescue — Your Phone's Savior
PhoneRescue from iMobie is actually available in two versions — one for Android and another one for iOS. You can download both versions for both Windows and macOS. For this tutorial, we are using PhoneRescue for Android, running on Mac. Coming to the software, it's actually a package of multiple tools. You can use it for recovering almost any kind of data that you lost from your Android device. Even better, you can even rescue a device if you forgot the passcode of the screen lock.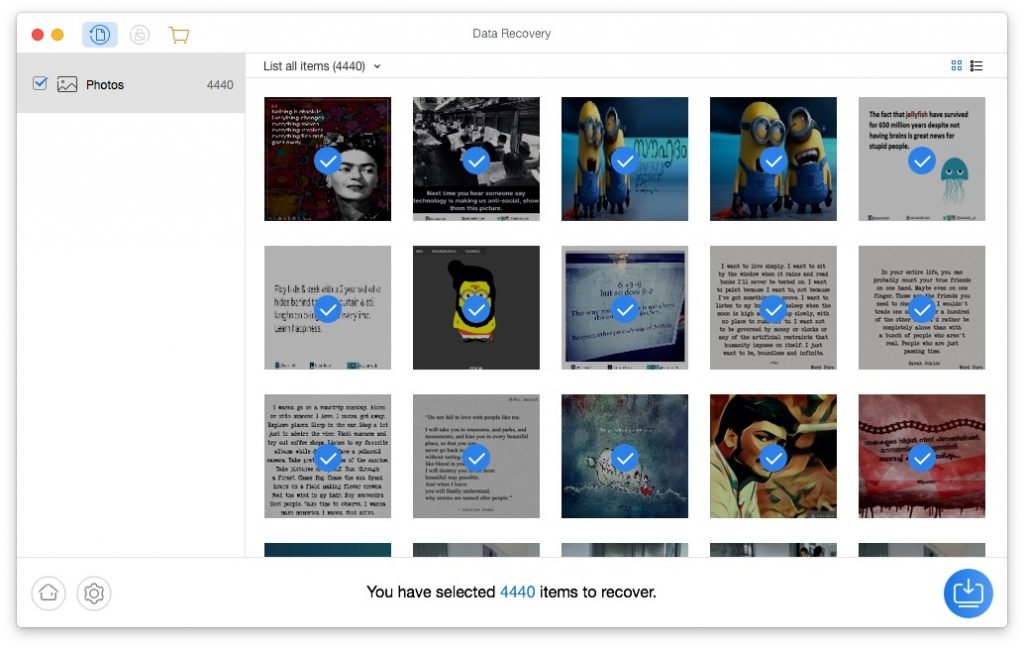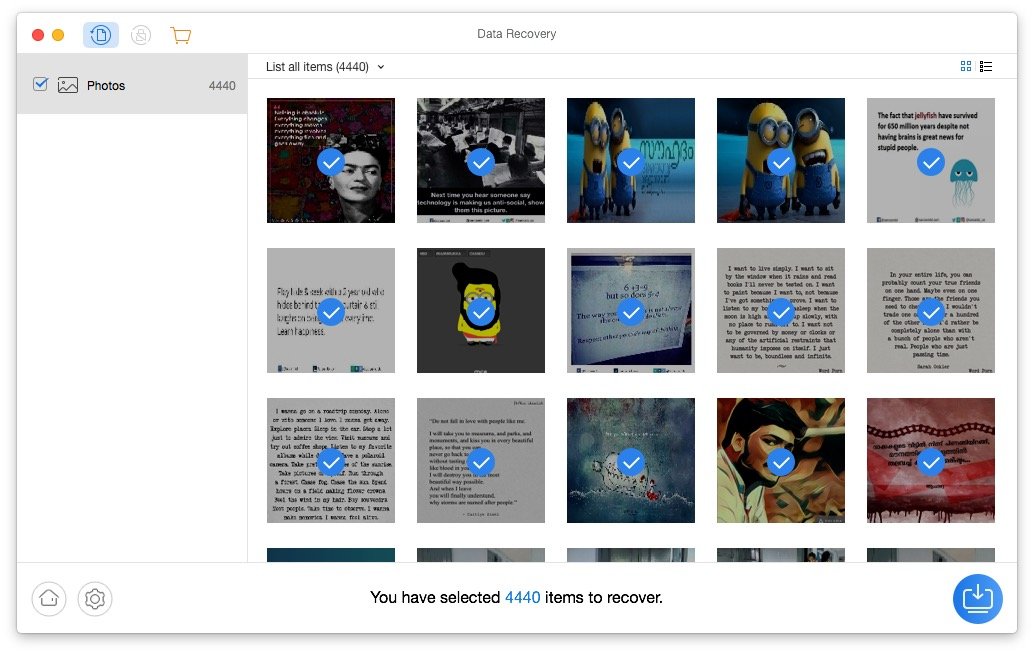 As we said earlier, PhoneRescue is the single package you'd need for rescuing your Android or iOS device. In this case, we are going to rescue your Android phone to recover lost or deleted messages. There is a bunch of things that we love about PhoneRescue, such as the ability to work without rooting and high effectiveness when it comes to recognizing and recovering files. So, that puts PhoneRescue as one of the effective utilities for recovering data from Android and iOS.
PhoneRescue is also noted for its outstanding technical support. So, don't you worry about doubts.
Now that you have a clearer idea about PhoneRescue, shall we move onto the tutorial?
How to Recover Lost/Deleted Text Messages from Android?
You can find the detailed steps below. All you need is a few things: your computer with PhoneRescue in it, a USB cable to connect your Android device and some patience. Shall we start?
Step One
You have to launch PhoneRescue on your computer after the installation is done. It's a minimal-weight tool, still awesome when it comes to recovery rates.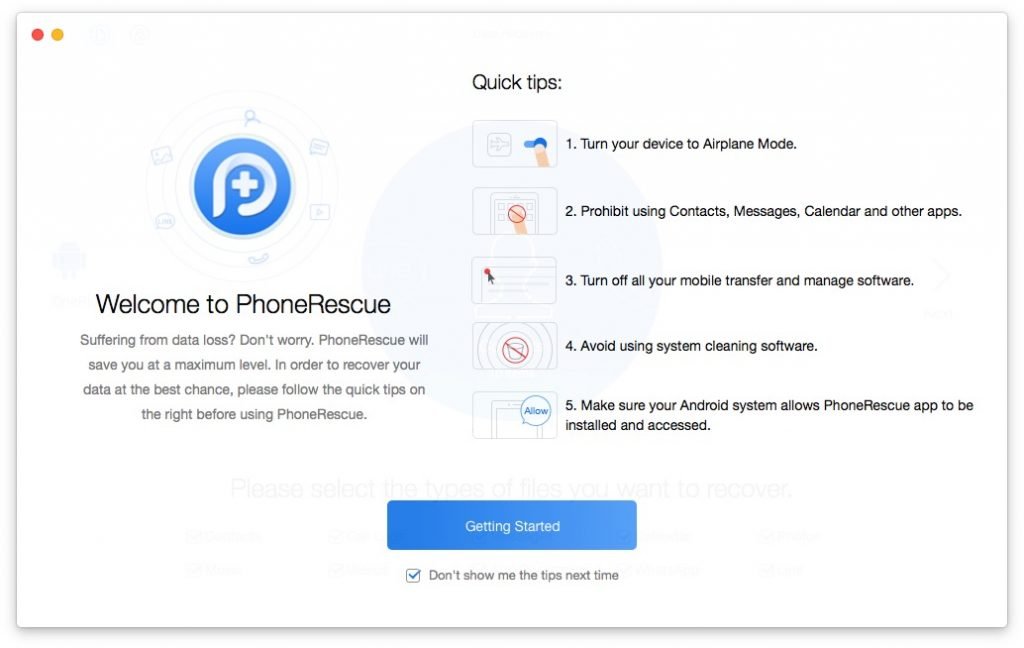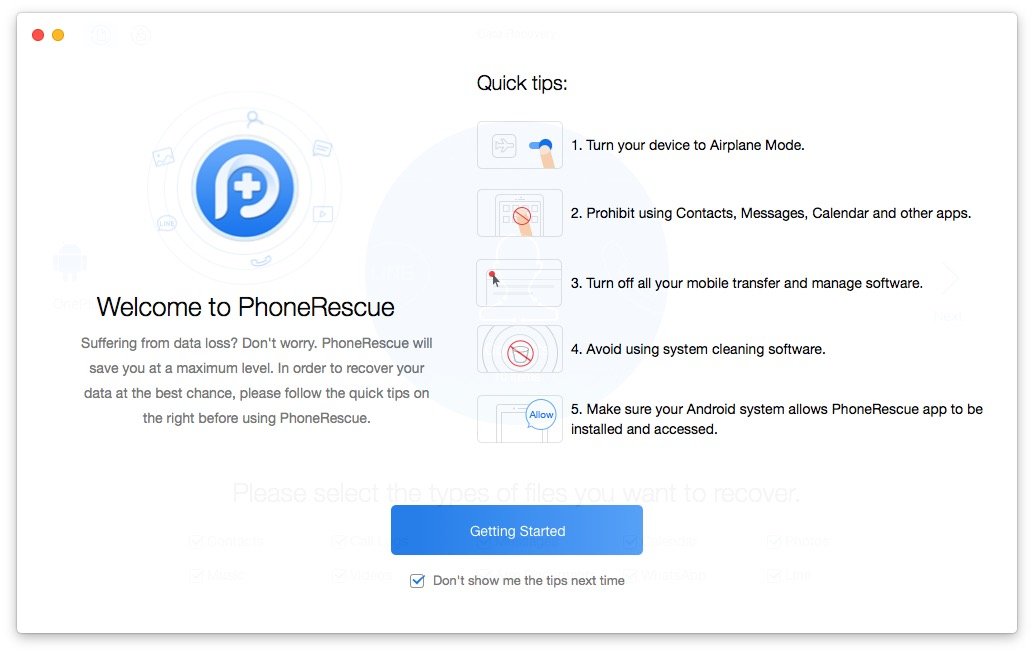 Once the main UI comes up, you have to connect your Android phone via USB. Make sure that you've taken care of all the tips mentioned on the page.
Step Two
Once PhoneRescue has identified your device, it will show you the options of recoverable files types. As you can see, it lets you recover a wide variety such as Photos, Videos and more.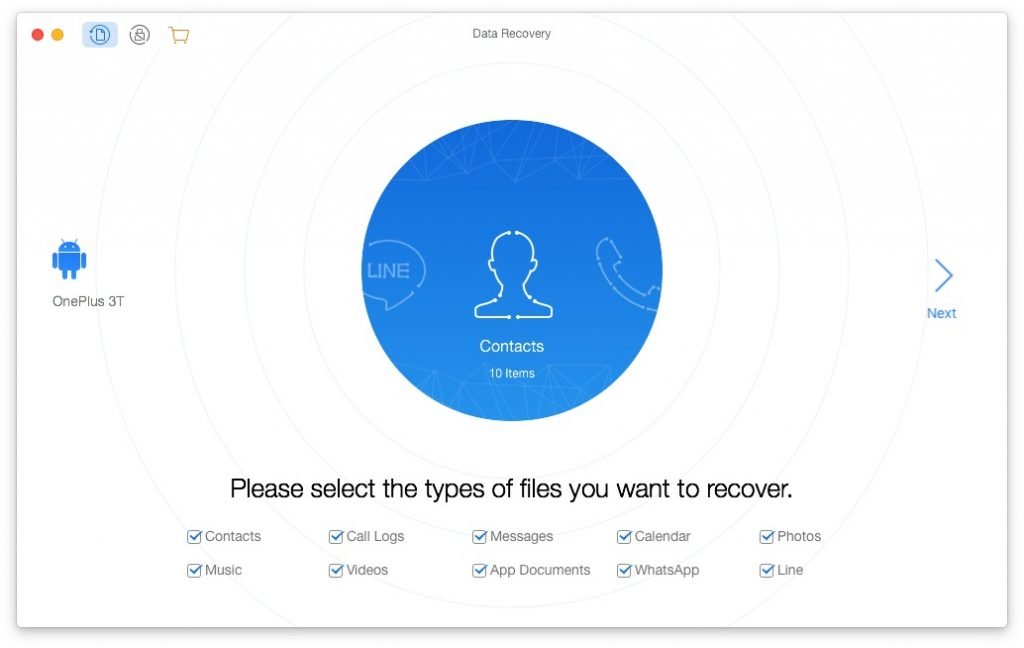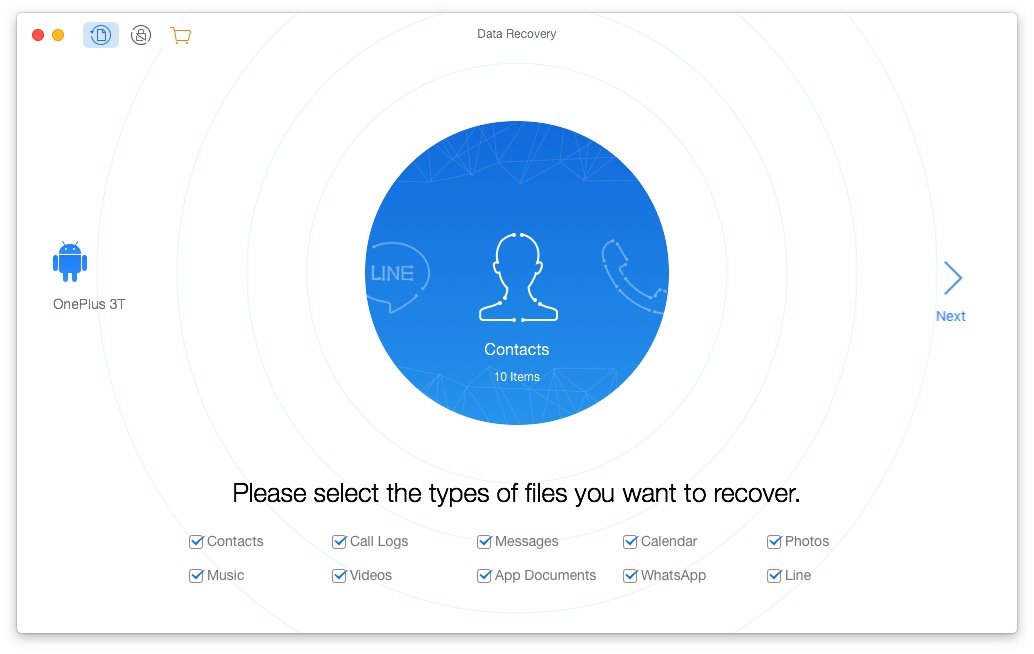 In this scenario, however, you can simply choose Messages and untick everything else. Click the > button on the right side to continue.
Step Three
In this step, you have to make a choice between Quick Scan and Deep Scan. While Deep Scan is a lot more effective, it needs a rooted Android device. On the other hand, Quick Scan works on unrooted devices also.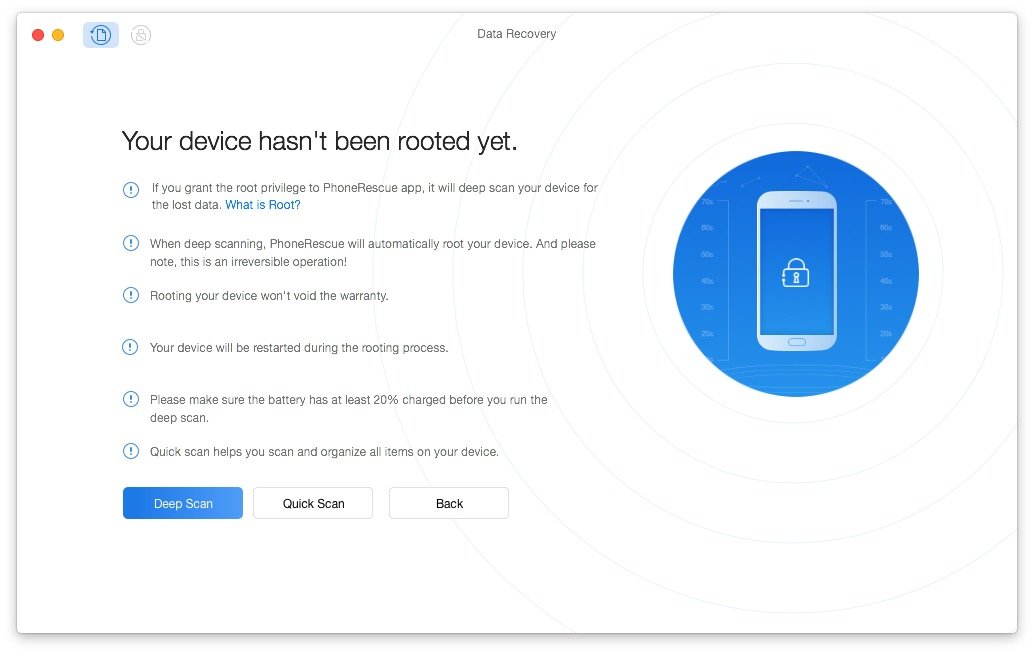 So, as per your convenience, you can choose one option and continue. By the way, if you choose Deep Scan and continue with an unrooted device, the phone will be automatically rooted.
Step Four
Now, wait while PhoneRescue scans your device for recoverable data. This may take a few seconds or even a few minutes, depending on the size and quantity of content to be recovered.
In the next screen, you can see the list of recoverable messages in the phone. Just select the ones you want and hit the Recover button.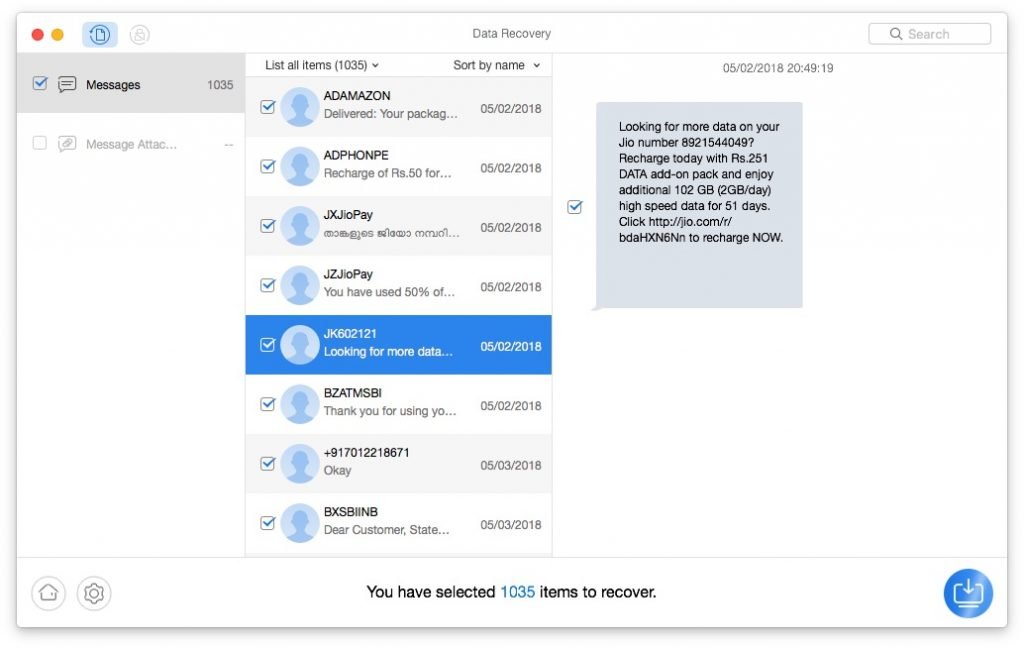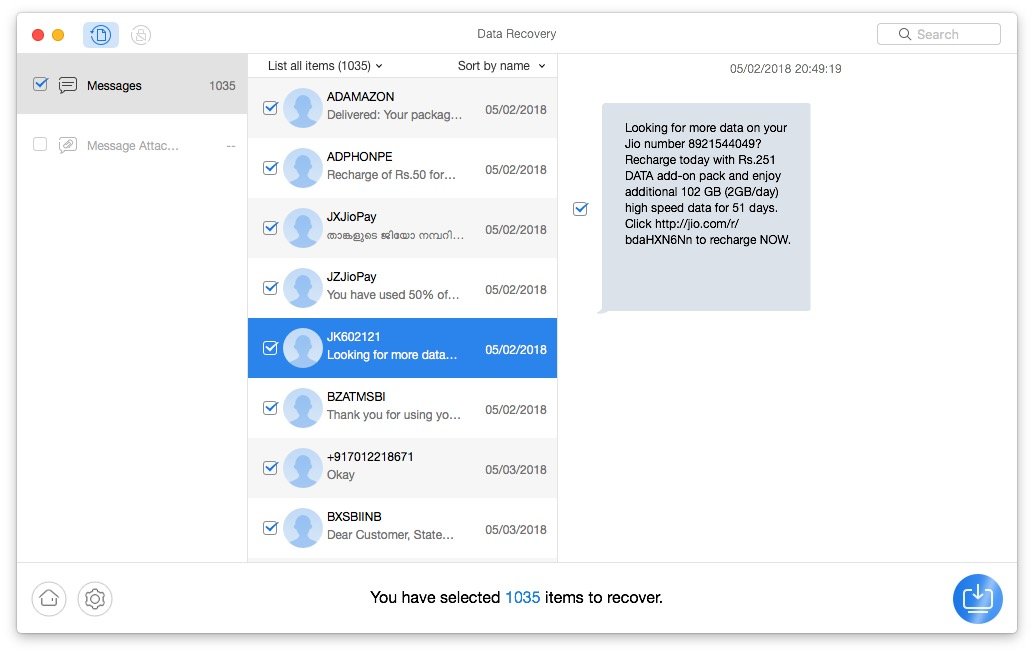 That's it, folks. All the selected text messages would be stored back to your device. We think that will be the best thing about PhoneRescue, since you do not have to copy and paste the messages from computer to Android.
By the way, are you an iPhone user who wants to recover text messages too? Don't worry; PhoneRescue will help you to retrieve lost/deleted text messages on iPhone 8, no matter whether you have backup. You can also check out a step-by-step tutorial from the link.
The Bottom Line
Don't you think PhoneRescue is the best solution for recovering deleted/lost text messages from Android? As we said earlier, it can help you recover other types of data as well. You can download PhoneRescue for free, but you have an option to upgrade to the premium version for better features.