Wondershare TunesGo is an amazing multi platform software that offers you a lot of flexibility when it comes to the management of data from your iTunes and iOS to the computer. You cannot find such flexibility in iTunes. However, this does not imply that iTunes are on their way to extinction or are becoming inferior.You can use the WonderShare TunesGo app on the Windows operating system among other computer applications.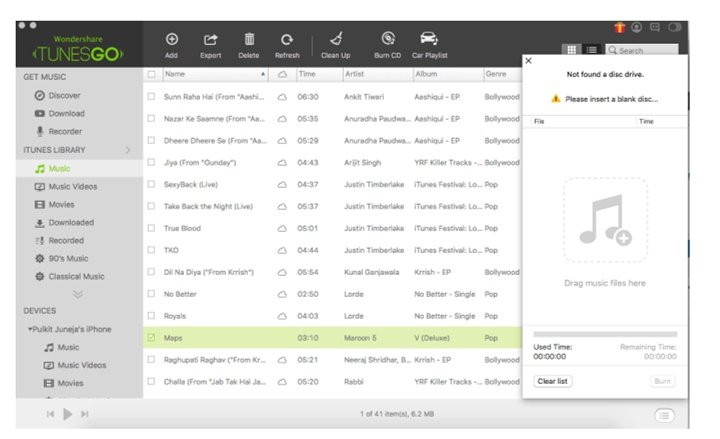 The main features of WonderShare TunesGo (Win) include its ability and accessibility to copy songs several Apple devices. The application can also convert your media files into formats that you can view on the iOS. However, you will still be required to use the Apple software because the application is not unhinged to the windows operating system.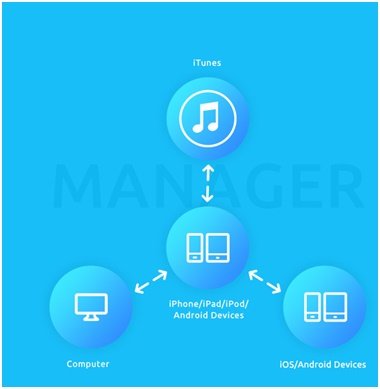 The design of WonderShare TunesGo provides the user with a lot of convenience. The software has some additional features that you cannot find in the most prevalent iTunes software. One of the best ways to view this application is the middle path that the software utilizes. It is designed in such a way that it fits the right between any devices that are powered by the iTunes and Apple operating system.
However, you need to decide whether the WonderShare TunesGo is capable of becoming your standalone program instead of iTunes.
Main Features of the WonderShare TunesGo
Conversion of YouTube to MP3 and MP4
Free movie downloader
Free song downloads from over 1000 sites
MP3 and MP4 downloader
Convert spotify to MP3
Record live streaming music that you can listen to later
Discover your favorite site
The application can allow you to discover your favorite songs from the library as you listen to new ones.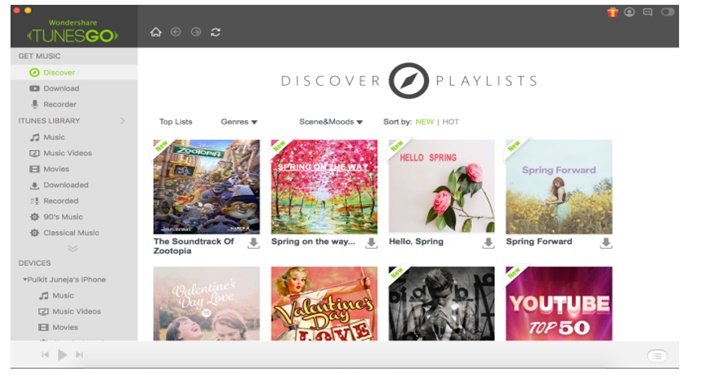 Ease of Use and Interface
The WonderShare TunesGo has an extremely easy to use interface that is uncluttered. You don't need a lot of technical knowledge for you to use this application. You can start using the software without prior training. It has minimal compatibility issues making it the best application for file transfers.
The WonderShare TunesGo application has very flexible backup options. It also allows you to make a choice between an external drive, folder or any other backup device that is powered by the Apple operating system. You cannot find this feature in any iTunes.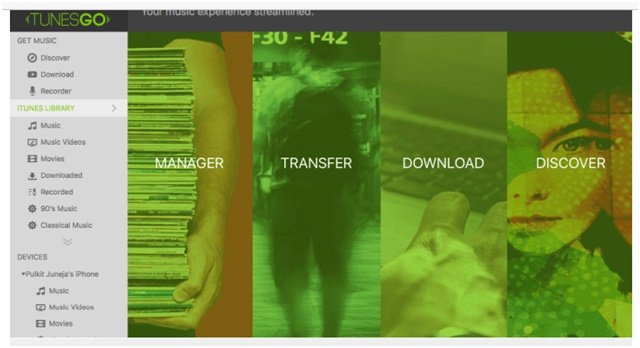 Media files download
WonderShare TunesGo allows you to download media files from several sources including MTV, Vivo, Vimeo, Sound Cloud, and YouTube just to name a few. the software is extremely fast and efficient when it comes to downloading content.
Seamless Platform Support
This is an important feature because it is not available in iTunes. You can use this platform to transfer files from your computer to any android/apple device and vice versa. WonderShare TunesGo can access data and transfer files from almost all devices. The software supports android2.1 devices including iPhone/iPod/iPad Touch with iOS 5.0 among other modern devices.
Burn CD directly from the Software
The application allows you to burn your CD by just clicking on the "Burn CD" button on the upper menu.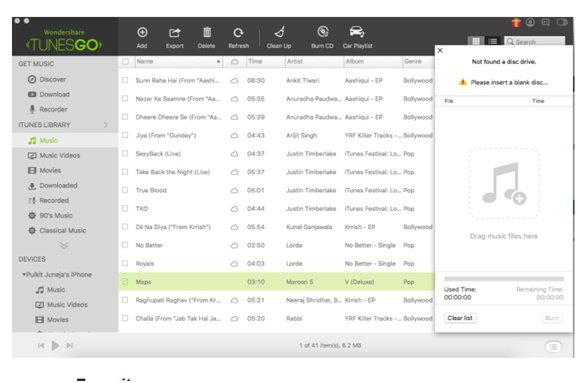 Main Pros of WonderShare TunesGo
WonderShare TunesGo has one of the safest methods of restoring files from your iOS devices. This comes in handy for individuals who have no iTunes backup
You can export entertainment files using the software with a lot of ease. You can also use the WonderShare TunesGo to export any form of content within the windows or Mac computers.
The application allows you to backup import; export files, and restore them according to your requirements
The software optimizes the media that you import in such a way that it can be used by the Apple operating system
Cons of the WonderShare TunesGo
One of the challenges of this application is that it does not allow you to edit smart playlists. You can also not Import other formats of the playlist in to the Apple operating system.
Another challenge is that the WonderShare TunesGo has exorbitant prices when you compare it with other iTunes that come free of charge.
Conclusion
After reviewing this product, I don't see anything that can hold you back from getting one. I strongly recommend that you try out this software because you will get the value for your money.
The main purpose of this WonderShare TunesGo review was to assist you identify the top features of TunesGo. You can try out the application and share your experience with other readers by simply commending. Head straight to the WonderShare TunesGo website and download it.